Insider's view of the end of an Olympic swimming career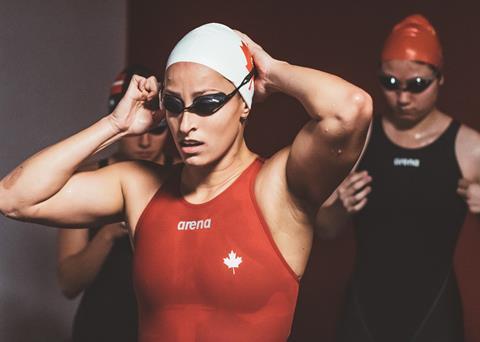 Dir/scr: Pascal Plante. Canada. 2020. 107 mins
Sporting glory comes at a cost, that's a given. But this scrupulously honest and layered insider's view of the end of an Olympic career achieves what many sports movies fail to do. It unpicks the complex motivations behind success and explores the character flaws which are every bit as necessary as the strengths when it comes to athletic excellence. Unfolding over the course of several days in a parallel reality in which the 2020 Tokyo Olympics went ahead as planned, the film stars real-life Olympic swimmer Katerine Savard in the role of Nadia Beaudry, a bronze medallist celebrating her win while also grieving the end of her career and searching for an identity outside of the pool. Like its direct, unadorned title, this is filmmaking of lean precision; the documentary sensibility and core of authenticity more than compensating for the fact that, in terms of actual story, it sometimes seems to be treading water.
Such an intriguing addition to the sports movie canon
Writer and director Pascal Plante was himself a competitive swimmer until the age of 19, and it is his clear-eyed and unsentimental insight into the all-consuming 'abusive relationship' with athletic achievement which makes this such an intriguing addition to the sports movie canon. A film about anti-climax and the sudden, disorientating relaxation of a hitherto rigid regime, it rejects the expected story beats of the sport film genre, and as such, will fare best with festival and arthouse audiences. The involvement of actual sports personalities – in addition to Savard, the film also features fellow pro swimmers Ariane Mainville, Hilary Caldwell and Cailin Mcmurray – might provide an marketing angle for potential distributors and streamers.
Although the script is not based on themselves personally, Savard and Mainville are training partners in real life as well as in the film, and their friendship is a solid framework around which this film of mercurial moods and fleeting impressions is constructed. Plante has a keen eye for details which speak volumes about the conflicted space in which Nadia finds herself, as a medallist who has chosen to 'go out on a high' but is starting to realise how much of her identity and the world around her is conditional on her status as a sportswoman. To cries of disagreement from the rest of her relay team, she argues that athletes are basically selfish; that their success as a team was the sum of four fiercely motivated solo performances. And as the film progresses, so does a sense of disengagement, almost estrangement, from the rest of the team. Nadia is dressed differently, sitting slightly out of line with the others.
Another telling detail is Nadia's difficulty when it comes to relaxing the rules. After cutting loose for one riotous drink and sex-filled celebratory night, when the damn of decades of self denial breaks, she is tortured the following morning. Back to her usual regime of punishing stretches, she succumbs to temptation: a few mouthfuls of junk food rather than the protein powders and power drinks which constitutes her training diet. To a young woman whose weight is policed and whose appearance is judged every bit as harshly as her sporting prowess, a handful of crisps seems almost as illicit as the MDMA-fuelled orgy the night before.
With an agile camera that clings to Nadia, catching her mercurial moods and her all too frequent disappointment in herself, the film's approach is largely naturalistic. But Plante allows himself a few playful aqueous motifs – a flowing, trickling score; dissolve edits which flood the screen with water; listless koi carp superimposed over scenes of Tokyo nightlife. And amid this, a central character who finds herself temporarily all at sea.
Production Company: Nemesis Films
International Sales: Wazabi Films anickp@wazabifilms.com
Producer: Dominique Dussault
Cinematography: Stéphanie Weber Biron
Editing: Amélie Labrèche
Production Design: Joëlle Péloquin
Main cast: Katerine Savard, Ariane Mainville, Hilary Caldwell, Cailin Mcmurray, Pierre-Yves Cardinal, John Ralston, Amélie Marcil, Eli Jean Tahchi, Andrew Di Prata, Marie-José Turcotte