In Senegal, a wise Iman faces a challenge from his own brother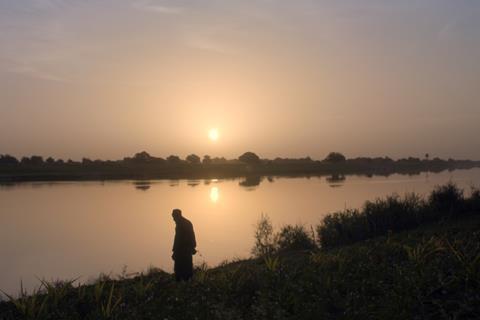 Director: Mamadou Dia. Senegal, 2019. 107 minutes
Various matters of the heart plague a Muslim cleric in Senegalese writer-director Mamadou Dia's feature debut Nafi's Father (Baamum Nafi), an effective microcosmic examination of religious and political intersections in today's West Africa. The film's festival career began with a bang at Locarno back in August 2019, Dia landing not only the discovery-oriented Cineasti del Presente competition but also the award for the event's overall best first feature. Numerous festival berths and a respectable haul of prizes followed in subsequent months, and the Fula-language picture now has a fighting chance of extending Senegal's impressive International Feature Oscar record. Both of the country's previous submissions, Alain Gomis' Félicité (2017) and Mati Diop's Atlantiques (2019) made the shortlist,though both fell short of actual nomination.
A solidly promising display from the New York-trained Dia
Like its more arthouse-oriented predecessors, mainstream-friendly Nafi's Father is directly and sympathetically concerned with the experience of a young woman. Aged around 18, Nafi (Aicha Talla) is a spirited, genial and studious aspiring scientist whose ambitions lie far beyond the horizons of her village — Yonti, a fictional backwater near Senegal's northern boundary with Mauritania. Her father (Alassane Sy) is the village's Imam, practising a tolerant form of Islam which incorporates elements of the area's traditional, animistic folk-beliefs.
A reflective, undemonstrative, confrontation-averse sort in his late thirties who suffers from chronic cardiac problems, this saturnine fellow is known to all as the 'Tierno'. This is an honorific title signifying warm respect; indeed, everybody seems to have forgotten his actual name (which the picture never reveals.) The story begins with the Tierno's city-educated brother Ousmane (Saïkou Lô) joyously announcing the betrothal of his son Tokara (Alassane Ndoye) to Nafi — news which comes as an unwelcome surprise to the Tierno, who regards his daughter as too young for marriage.
It soon emerges that the Tierno's objections are actually much wider. He suspects the devious Ousmane of plotting to usurp his authority as part of plans to make the village embrace the much harsher, more militant form of Islam followed over the border — and personified by the imposing, cash-rich hardliner Munzir (Débé Sow.) The Tierno's fears prove eminently well-founded: there will be considerable anguish, conflict, bloodshed and tragedy for nearly everyone before events reach their broadly optimistic conclusion.
This is a solidly promising display from the New York-trained Dia, who handles a large and diverse cast well; his inexperience chiefly emerges on the scriptwriting front. Ousmane is a disappointingly two-dimensional "villain", while the ardour underpinning the pivotal, plot-driving romance between Nafi and Tokara is something audiences simply have to take on trust. And although marriage between cousins isn't so unusual in this part of the world (the Tierno and his understanding spouse have an identical relationship), the picture's tight focus one family's feud smacks of contrivance.
Giving the fragile Tierno only months to live because of his cardiac condition is a further touch of melodrama that Nafi's Father could probably have done without. Overall, however, Dia and company handle matters with functional efficiency — Gavin Brivik's mournful, strings-dominated score is largely deployed with welcome restraint — so that their parable-like, topical tale fulfils its commendable aims while delivering the desired emotional impact.
Production company/international sales: Joy e Didi, baempire@gmail.com
Producer: Maba Ba
Screenplay: Mamadou Dia
Production design: Jean Jacques D'Erneville
Editing: Alan Wu
Cinematography: Sheldon Chau
Music: Gavin Brivik (also featuring songs by Baba Maal)
Main cast: Alassane Sy, Aicha Talla, Saïkou Lô, Alassane Ndoye, Penda Daly Sy, Débé Sow