Kamila Andini's fourth feature is a melancholy drama set during the Indonesian communist purge of the 1960s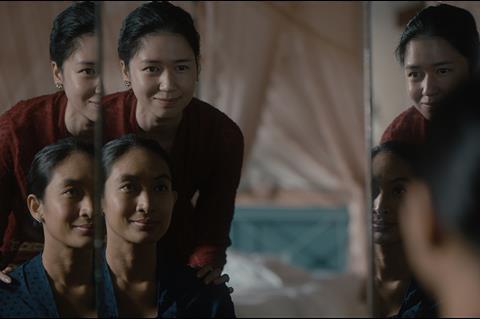 Dir/scr: Kamila Andini. Indonesia. 2022. 103 mins
The tumultuous years of the 1960s following Indonesia's independence are viewed through their disruptive impact on the life of Nana (Happy Salma), a poised but unhappy young woman who has lost her first husband during the conflict and the anti-communist purges. This decorous, slow-burning drama is inspired by the real life events and the story of Raden Nana Sunani, as touched upon in the novel 'Jais Darga Namaku' by Ahda Imran. It's a handsomely mounted period piece, which acknowledges the strength required by previous generations of Indonesian women to rise above the patriarchal demands of a restrictive society. But the storytelling, by writer and director Kamila Andini, is exceptionally slow and can be rather laboured in the points that it makes.
Should serve as a launch pad for further festival bookings, in particular in events with a female focus
This is the fourth solo feature from Andini, whose previous film, Yuni, won the Platform prize at Toronto in 2021. Both her debut, The Mirror Never Lies, and her second feature, The Seen And Unseen, screened in Berlin, in the Generation Kplus strand, with the latter taking home the Grand Prix in addition to several other awards at subsequent festivals. Nana: Before, Now & Then is Andini's first picture in Berlin's main competition, which should serve as a launch pad for further festival bookings, in particular in events with a female focus. The film's genteel approach won't be for everyone, however, and it may be a little too demure to connect with wider audiences.
We first meet Nana as a traumatised mother of an infant child, fleeing with her sister through the jungle. Separated, forcibly, from her husband, she scans the forest for his image, fretting that she is already forgetting what he looks like. An unwieldy chunk of exposition reveals that her father has lost his life, her husband's whereabouts are unknown, and the leader of the gang which has terrorised her family wishes to take her as his wife. Nana's grief still haunts her fifteen years later when the audience sees her again. She is married to Darga (Arswendy Bening Swara) a much older man whose wealth provides her with a comfortable and respectable life, but whose infidelities undermine her hopes of happiness.
The first hint of his latest affair comes with a scarf which has been left in her husband's room. Around the same time, a mysterious woman starts leaving parcels of meat as a gift, and anonymous notes addressed to "My Dearest" plead for another meeting. Nana struggles to stomach the stew that she makes with the meat, and soon realises that her rival is the woman who runs the local butcher's stall at the market, Ino (Laura Basuki). But rather than conflict, she finds an unexpected kinship with the woman, who encourages her to taste freedom by jumping into a river fully clothed. Surrounded by judgement and false friends, Nana comes to see Ino as someone she can confide in, sharing her deepest secrets: not least the fact that, having haunted her dreams for over a decade, her missing first husband has finally returned to her life.
Andini crafts a sense of sedate melancholy and suppressed emotions with a polite cello-heavy score and numerous shots of slow hair-brushing. It's certainly a thing of beauty, with its jewel-toned colour palette and, in Salma, a striking presence and graceful lead performance. But ultimately, Nana: Before, Now & Then can come across as all a little too languid for its own good.
Production company: Fourcolours Films
International sales: Wild Bunch International, ediederix@wbinter.eu
Producers: Ifa Isfansyah, Gita Fara
Screenplay: Kamila Andini, Ahda Imran
Cinematography: Batara Goempar
Editing: Akhmad Fesdi Anggoro
Production design: Vida Sylvia
Music: Ricky Lionnardi
Main cast: Happy Salma, Laura Basuki, Arswendy Bening Swara, Ibnu Jamil, Rieke Diah Pitaloka, Chempa Puteri, Arawinda Kirana