Caetano Veloso revisits a time in Brazil when he was locked up for no reason in a softly emotional documentary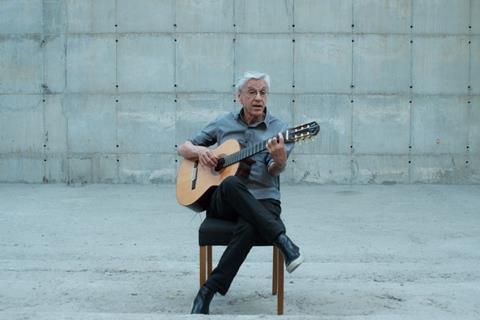 Dirs/scr: Renato Terra, Riccardo Calil. Brazil. 2020. 83 mins
It is more than half a century since Brazilian musician and activist Caetano Veloso was arrested and held without charge. It feels like yesterday in Narcissus Off Duty, a feature-length interview with Caetano produced by his former wife and manager Paula Lavigne. Directors Renato Terra and Riccardo Calil make no concessions to those unfamiliar with Caetano or this period in Brazilian history. Those in the know will relish the chance to hear the inside story, making this ideal for arts documentary channels.
Caetano is given the space to tell his own story
It was early in the morning of December 27th, 1968. 26 year-old Caetano was at home in Sao Paulo having spent the night talking, singing and socialising with friends, including fellow musician Gilberto Gil. Both of them were arrested by the federal police, transported to Rio de Janeiro and ultimately held in solitary confinement. Caetano expected everything to be cleared up with a ten-minute interview. His incarceration would last fifty-four days.
It was quite some time before Caetano would even discover why he was being held. He now recalls the torture of not knowing, the anguish of isolation and the way a vivid imagination can conjure up fears and insecurities.
Terra and Calil strip away everything to focus on Caetano. There is no footage of him in concert, no other voices to amplify the story, no archive newsreels showing the military dictatorship. It is only in the closing minutes of the film that we see photos of Caetano from 1968 and 1969. Opening titles do explain the importance of Institutional Act Number 5, a decree that shut down Congress, imposed censorship and established strict penalities for those guilty of "cultural terrorism". The ghosts of the past make easy to draw some parallels with the Brazil of Bolsonaro.
Filmed against a stark, industrial-looking backdrop with a concrete floor, a seated Caetano is given the space to tell his story. The interviewer (we assume it is one of the directors) is well-informed and able to nudge or encourage with an occasional question. It is an intimate approach that really demands that the viewer takes in every detail-the tremor of a hand, the misting over of his eyes, the shifts in body language along a spectrum from protective to relaxed.
Caetano is at his most emotional recalling a guard who broke the rules to allow a visit from his then wife Dede. Hindsight allows him to acknowledge the ridiculousness of the situation as he reads the full transcript of an interrogation in which he defended himself against accusations of disrespecting the national anthem. That appears to have been his crime in the eyes of the authorities.
The only break in the flow of Caetano's memories is when he pauses to sing. He performs 'Irene', a song inspired by this experience, and 'Hey Jude', the Beatles song that gave him hope in 1969. Then and now, music is his language of understanding and a source of solace.
Production companies: Uns Producoes e Filmes, Videofilmes Producoes Artisticas Ltd
International sales: Uns Producoes e Filmes paulalavigne@unsproducoes.com.br
Producer: Paula Lavigne
Editing: Henrique Alqualo, Jordana Berg
Cinematography: Fernando Young
Music: Caetanao Veloso
Featuring: Caetano Veloso