Dir. Gabriel Mascaro. Brazil-Uruguay-Holland. 2015. 103 mins.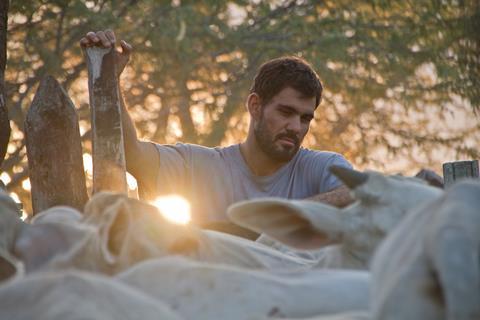 Set in Brazil's north-eastern provinces, Gabriel Mascaro's tale of an odd family that tours the local rodeo shows with a truck-full of bulls is an unexpected delight, at times as carnal, sweaty and instinctive as its main characters but also playfully original and thought-provoking. The tough, tender story impresses thanks not only to its sometimes dreamlike mise en scene, but also the way it plays with the gender expectations of a world which turns out to have a fascinatingly nuanced turbulence beneath its rippling macho surface.
Odd families can be rather conventional, of course; but thanks to some carefully-dosed revelations, this one turns out to be odd in interesting ways.
A thematically rich film that is as much about animals as humans, and the extent to which there's plenty of one to be found in the other, Neon Bull should attract some serious arthouse distributor interest after its Venice debut, though one explicit, and intensely erotic, sex scene may prove a challenge in some territories.
It's interesting to see that fellow director Marcelo Gomes gets a script credit: there's something of the freewheeling spirit of the latter's fine 2005 debut Cinema, Aspirins And Vultures here – not just because both films craft kooky modern Westerns out of the landscapes and redneck culture of north-eastern Brazil. Like Gomes' film of a decade ago, Neon Bull takes us straight into a world that has little room for refinement. Powerful bull-flesh, crammed into narrow wooden gates, dominates the screen in the opening scenes, set in the holding pens of a provincial stadium where the rodeos known locally as Vaquejadas take place. A bull is unleashed, and two mounted horsemen flank it as it charges out until one of them is able to grab the beast's tail and bring it crashing to the ground.
In these stadium scenes, the director makes a nice contrast between the dark, pungent behind-the-scenes world where expert bull-handler Iremar (Cazarre) works, and the flash and noise of the rodeo itself. Though this isn't quite a circus, it's close, and in its view of the way itinerant entertainers form alternative families, Neon Bull is the latest in a long tradition of films stretching back to La Strada, Tarnished Angels and beyond.
At first we're not sure whether Iremar is the father of tough, pouty, pre-adolescent Caca (Santana), whose bottle-blonde mother Galega (Jinkings), an exotic dancer, would rather the girl was back home with her grandmother. He's not, it turns out, but in his laconic way he gives Caca more affection than her mother seems able to muster. Caca is horse-mad in this world of muscular bulls, but she helps out in the pens, together with tubby cattlehand Ze (Pessoa), with whom she exchanges insults like a pro.
Odd families can be rather conventional, of course; but thanks to some carefully-dosed revelations, this one turns out to be odd in interesting ways. Muscular Iremar is nurturing the dream of becoming a designer of glamorous womenswear, while Galega – for whom he creates a horse costume that features in a striking nightclub sequence – spends much of her spare time fixing the truck she, Caca, and the men use to drive from one rodeo to the next, and is fiercely possessive of her tools.
By the time we meet a pregnant Avon lady who also doubles as an armed security guard and another well-built bull-handler who spends much of his time 'ironing' his waist-length hair, we've realised there's something deeper and more subtle going on than commercial Brazilian neo-realism in the Walter Salles mould. But Neon Bull's dislocations of the norm are so well integrated into an intensely real setting – given added authority by Mascaro's documentary background and the work that has clearly gone into making his cast of professional actors behave like genuine vaqueros – that they never seem forced.
Occasional scenes, like one involving a spotlit man-and-horse ballet, don't so much advance the story as take it off into music-video impressionism, but such is the assurance of this ravishingly shot and creatively scored feature that we are prepared to indulge a little showing off.
Production company: Desvia Producoes
International sales: Artscope (Memento Films International), sata@memento-films.com
Producer: Rachel Ellis
Screenplay: Gabriel Mascaro, Marcelo Gomes, Cesar Turim, Daniel Bandeira
Cinematography: Diego Garcia
Editor: Fernando Epstein, Eduardo Serrano
Production designer: Maira Mesquita
Music: Otavio Santos, Claudio N & Carlos Montenegro
Main cast: Juliano Cazare, Aline Santana, Maeve Jinkings, Carlos Pessoa, Vinicius de Oliveira, Josinaldo Alves, Samya de Lavor