Dirs: Jiang Wen, Mira Nair, Shunji Iwai, Yvan Attal, Brett Ratner, Allen Hughes, Shekhar Kapur, Natalie Portman, Fatih Akin, Joshua Marston, Randy Balsmeyer. US. 2009. 104 mins.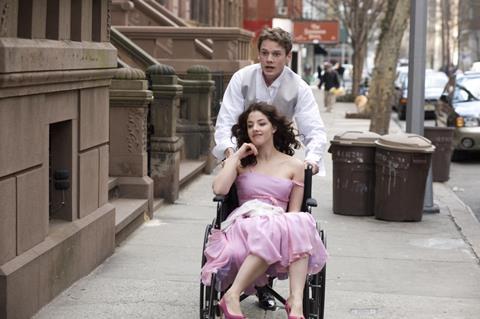 The second film in the "Cities Of Love" series which began with Paris je t'aime, New York, I Love You isn't as consistently beguiling as its predecessor, but the novelty of the omnibus concept allows filmmakers of very different stripes to explore their distinctive visions of modern courtship. Predictably, not all of these 11 short films fully connect, but after a few early duds, New York's stronger sequences present themselves, making this an affair to remember if not quite cherish.
One of New York, I Love You's considerable pleasures comes from watching these accomplished feature directors work in a more concise storytelling format.
Opening domestically October 16, New York, I Love You should charm the same upscale audiences who enjoyed Paris Je T'Aime ($17.3m worldwide). In terms of star wattage, New York boasts a higher-profile cast than Paris – including Shia LaBeouf, Bradley Cooper, Orlando Bloom and Hayden Christensen – but this small-scale release with an unconventional narrative structure probably won't transcend the art-house market.
New York, I Love You traces the seemingly unrelated stories of people living in the Big Apple, many of whom are struggling with issues of love and relationships. Characters include a retired opera singer (Julie Christie), an elderly married couple (Eli Wallach and Cloris Leachman), an aspiring film composer (Bloom) and a smooth-talking author (Ethan Hawke).
The "Cities Of Love" series plans to continue creating anthology films inspired by and located in major world cities – the next film will be based in Rio de Janeiro, followed by Shanghai – and while New York, I Love You demonstrates the durability of the concept, this romantic comedy-drama lacks some of the freshness and inspiration that made Paris je t'aime such a lark.
Perhaps not wanting a repeat of Paris, the producers have been more ambitious with New York, doing away with the director title cards between each segment and thereby creating more of a coherent through-line between the different shorts. Sometimes characters from one short bump into those from another, enhancing the impression that these disconnected individuals are subliminally linked because of the city they inhabit and their shared romantic preoccupations. Still, though, New York, I Love You's doesn't have the cumulative comedic and dramatic power of Parisje t'aime's nimbler films.
One of New York, I Love You's considerable pleasures comes from watching accomplished feature directors work in a more concise storytelling format. Of course, the downside can be that these eight-minute shorts end up being too slight or self-indulgent, but after Jiang Wen's awkward pickpocket romance (starring a wooden Christensen) and Mira Nair's drab cross-cultural drama (featuring Portman), New York, I Love You finds its footing with several shorts that examine love from unique angles.
Among the highlights, Allen Hughes (one half of the Hughes brothers) sensually captures the excitement and worry that linger after a passionate one-night stand, while Portman impresses behind the camera directing a poignant short about divorced parents and the children trapped in the middle.
But Shekhar Kapur, working from a script by the late Anthony Minghella, delivers the most memorable segment with a ghostly meditation on aging and regret highlighted by Christie's melancholy performance. Interestingly, it's one of two shorts to focus on issues of mortality. In the other, Joshua Marston affectionately observes Wallach and Leachman's long-bickering elderly couple, which ends the movie on a note of delicate grace, accentuating New York, I Love You's overall theme of love's maddening, mysterious impermanence.
To sign up for Screen's weekly Reviews Newsletter with all the week's new releases, international openings and full festival reviews delivered free to your mailbox every Friday, please click HERE
Production companies
Palm Pictures
Sherezade Films
Benaroya Pictures
GrosvenorPark Media
Ever So Close
Visitor Pictures
Plum Pictures
2008NY5
Grand Army Entertainment
Domestic distribution
Vivendi Entertainment
International sales
QED International
(1) 323 785 7900
Producers
Emmanuel Benbihy
Marina Grasic
Co-producer
Parker Bennett
Screenplay
Hu Hong
Meng Yao
Suketu Mehta
Shunji Iwai
Olivier Lecot
Yvan Attal
Jeff Nathanson
Xan Cassavetes
Stephen Winter
Anthony Minghella
Natalie Portman
Fatih Akin
Joshua Marston
Hall Powell
IsraelHorovitz
James Strouse
Cinematographers
Mark Lee Ping-bing
Declan Quinn
Michael McDonough
Benoit Debie
Pawel Edelman
Jean-Louis Bompoint
Mauricio Rubinstein
Andrij Parekh
Production designer
Teresa Mastropierro
Editors
Affonso Goncalves
Allyson C. Johnson
Shunji Iwai
Jennifer Auge
Mark Helfrich
Cindy Mollo
Jacob Craycroft
Tricia Cooke
Melody London
Music
Tonino Baliardo
Mychael Danna
Shoji Mitsui
Mark Mothersbaugh
Atticus Ross
Leopold Ross
Claudia Sarne
Paul Cantelon
Nicholas Britell
Ilhan Ersahin
Marcelo Zarvos
Jack Livesey
Peter Nashel
Main cast:
Bradley Cooper
Hayden Christensen
Andy Garcia
Rachel Bilson
Natalie Portman
Irrfan Khan
Emilie Ohana
Orlando Bloom
Christina Ricci
Maggie Q
Ethan Hawke
Anton Yelchin
James Caan
Olivia Thirlby
Drea De Matteo
Julie Christie
John Hurt
Shia LaBeouf
Ugur Yucel
Taylor Geare
Carlos Acosta
Shu Qi
Chris Cooper
Robin Wright Penn
Eli Wallach
Cloris Leachman