Trine Dyrholm takes to the stage as the 60s icon as she searches for meaning in music later on in her life.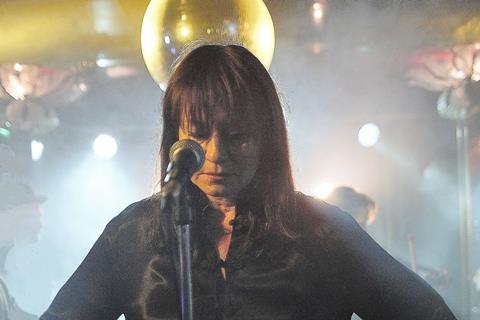 Dir/scr. Susanna Nicchiarelli. Italy/Belgium. 2017. 93 mins.
All yesterday's parties come to the screen in the appropriately enigmatic Nico, 1988; not from the vibrant heyday the Andy Warhol muse and Velvet Underground vocalist is best known for, however, but the later, darker jaunts when music rather than popularity became her motivation. In exploring the German singer's life after her '60s fame had waned, writer/director Susanna Nicchiarelli and star Trine Dyrholm craft a late-career biopic that acts not only as a portrait of a complex figure, but recognises the considerable toll of daring not to conform.
Nicchiarelli's script shapes stories shared by those who knew its real-life subject into an unsentimental account of an uncompromising woman
Opening Venice's Orizzonti section eight years after winning the festival's Controcampo award for her feature debut, Cosmonaut, Nicchiarelli brings broader contemplations that help lift the film beyond the usual run-through of sex, drugs, rock 'n' roll, regrets, righting past wrongs, carving out meaningful relationships with those previously neglected along the way, and facing the future on one's own terms. Danish lead Dyrholm delivers a committed performance, interpreting rather than impersonating both on stage and off, and serving up a suitably spirited take on Nico's lived-in defiance (far-from-believable hair aside).
While this is a fairly familiar European road trip through standard music bio territory ultimately results — albeit an aesthetically and emotionally immersive one — the movie proves as accessible to newcomers as it is to seasoned fans, which should enhance its chances of finding a broader audience. And, based on Nico's name alone, further festival play is assured.
With her early successes still well known, Nico, 1988 wastes no time addressing them — and her response to it. "Don't call me that, I don't like it," she tells a Manchester radio DJ in 1986 when labelled "Lou Reed's femme fatale", though that's not the only lable that bristles. Soon afterwards, she advises the club owner who will become her new manager, Richard (John Gordon Sinclair, a compellingly sturdy presence), not to use her stage name either.
Born Christa Päffgen, that's the name she now prefers as she embarks upon a tour across the continent. The year rolls by, and she wades through her struggles with her now-grown photographer son Ari (Sandor Funtek) in Paris, petulantly refuses to finish a gig by the Roman seaside, and narrowly escapes a run-in with authorities in Prague, all while chain-smoking and continuing to feed her drug dependency. Sometimes enamoured, sometimes just along for the ride, her entourage watches on, many with issues of their own. Violinist Sylvia (Anamaria Marinca) worries about guitarist Alex's (Calvin Demba) similar habit, while Richard buries his unrequited affection in a physical encounters with offsider Laura (Karina Fernandez).
Stops in Poland and Nuremberg, and an attempt to kick narcotics for a cleaner life all form part of Nico, 1988's trajectory as all paths eventually lead to a fateful Ibiza stay. There are few narrative surprises on offer, but ample chances to delve into the feature's central figure. And though the film might not dive as deeply as it could and hits plenty of expected notes, Nicchiarelli's script shapes stories shared by those who knew its real-life subject into an unsentimental account of an uncompromising woman grappling with, but largely unapologetic about her past and present choices.
Given the '80s setting, all of the on-the-road antics come with darkened bars, a gritty gig atmosphere and splashes of bright, colourful lighting, with cinematographer Crystel Fournier giving the movie's boxed-in imagery as much texture as her regular work with Céline Sciamma. A similar level of detail resounds in the fittingly moody soundtrack, as is to be expected, courtesy of Gatto Ciliegia Contro il Grande Freddo's re-arrangements of Nico's songs, with singer-turned-actor Dyrholm convincingly recording her own vocals.
Production companies: Vivo Film/Tarantula
International sales: Celluloid Dreams, info@celluloid-dreams.com
Producers: Marta Donzelli, Gregorio Paonessa, Joseph Rouschop, Valérie Bournonville
Executive producer: Alessio Lazzareschi
Cinematography: Crystel Fournier
Editor: Stefano Cravero
Production designer: Alessandro Vannucci with Igor Gabriel
Music: Gatto Ciliegia Contro il Grande Freddo
Main cast: Trine Dyrholm, John Gordon Sinclair, Anamaria Marinca, Sandor Funtek, Thomas Trabacchi, Karina Fernandez, Calvin Demba, Francesco Colella