Guillermo del Toro's rich remake of the 1947 noir stars Bradley Cooper and Cate Blanchett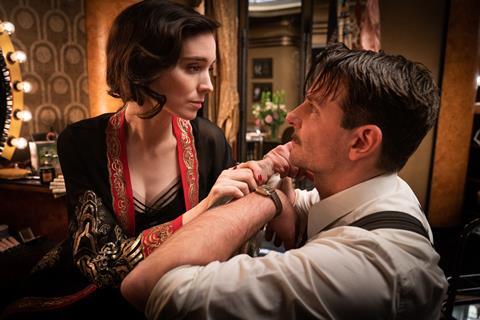 Dir: Guillermo del Toro. US. 2021. 150 mins.
Guillermo del Toro sets aside his fascination with exotic creatures and strange beings for a study of some real-life monsters in Nightmare Alley, a noir richer in mood than compelling characters. This adaptation of the William Lindsay Gresham novel, which previously inspired the 1947 picture starring Tyrone Power, takes a dim view of humanity, casting Bradley Cooper as a con artist with no moral compass and Cate Blanchett as a femme fatale who sees right through him. The period details are impeccable, the look and feel are seductive, but the muddled script lacks the killer instinct of its central figures.
Nightmare Alley tends to see its characters as noir types, and the performances are a bit too knowing without always revealing the depth underneath
Opening on December 17 in the US and arriving in the UK the following month, Nightmare Alley is del Toro's first feature since winning the Best Picture Oscar for The Shape Of Water. He has assembled a stellar cast, which includes Toni Collette, Richard Jenkins and Rooney Mara, and the film's sophisticated air of looming danger will certainly appeal to upscale audiences.
Set from 1939 to 1941, the film stars Cooper as Stanton, a man with a mysterious dark past who finds work at a carnival, sleeping with a fortune-teller named Zeena (Collette) and learning a complicated system by which a mentalist can fool an audience into believing he's all-seeing from her husband Pete (David Strathairn). Winning the heart of the kindly performer Molly (Mara), he whisks her away to Buffalo to make his fortune as a mind-reader — drawing the attention of Lilith (Blanchett), a psychiatrist who conspires with him to bilk wealthy Ezra (Jenkins), a patient who has shared with her all his secret shame and regrets. Stanton will convince Ezra that he can help him make contact with his dead loved ones — for a hefty price, of course.
The 1947 Nightmare Alley was notable for its casting of Power, a romantic swashbuckler who saw in Stanton an opportunity to show audiences an edgier side of his personality. Cooper has played disreputable characters, so the transformation isn't as notable in this new film, but we can sense the actor's glee at depicting such a profoundly crooked soul — someone who will say whatever it takes to curry favour, his eye always on his own self-interest.
But although Cooper projects the right amount of folksy menace, Nightmare Alley tends to see its characters as noir types, and the performances are a bit too knowing without always revealing the depth underneath. Mara's loving Molly is the quintessential innocent young lass, while Blanchett savours every moment of Lilith's cold calculation. From her perfect blonde hairdo to her sharp outfits, she's clearly the picture's femme fatale, and Blanchett luxuriates in the genre conventions as comfortably as Lilith sits behind her gorgeous office desk.
Tamara Deverell's Art Deco production design is entrancing, complemented by Nathan Johnson's elegant, consciously old-fashioned orchestral score, and whether at the grubby carnival or in snowy, cosmopolitan Buffalo, the viewer feels cocooned in del Toro's hyper-real settings. The director's underlying themes are less resonant, however. Del Toro has frequently championed outcasts and misfits, but in Nightmare Alley he has at last found an outsider who isn't deserving of our sympathy. Cooper hints at the demons tormenting Stanton — there's a reason he doesn't drink — but the film is notably chilly, viewing the world as a place full of cynical takers and the easy marks they prey upon. Stanton's fraud mentalist and Lilith's refined shrink are merely different strains of hustlers selling false hope to suckers.
Those ideas are tantalising, but del Toro often lets the genre trappings and lush production values overwhelm the narrative. As an exploration of an unrepentant schemer, Nightmare Alley doesn't dig as deeply into Stanton's twisted psyche as one would like, offering more of a superficial portrait of greed and moral rot. Likewise, Stanton's flirtatious back-and-forth with Lilith, who is as much of a snake as he is, has plenty of overt pleasures, but not the powerful erotic pull that the best noirs provide.
That said, the film does feel like a determined effort on del Toro's part to move away from the fantasy elements that have defined his oeuvre, observing our very human need to believe in something — even if it's a con artist — and placing the story in a crushingly everyday world where there's no magic or sarcastic superheroes like Hellboy to save us. Nightmare Alley builds to what one might call an ironic tragedy, suggesting that, in the end, everyone gets what's coming to them. That parting thought stings when it should cut us to the core.
Production company: Double Dare You
Worldwide distribution: Walt Disney Studios
Producers: Guillermo del Toro, J. Miles Dale, Bradley Cooper
Screenplay: Guillermo del Toro & Kim Morgan, based upon the novel by William Lindsay Gresham
Production design: Tamara Deverell
Editing: Cameron McLauchlin
Cinematography: Dan Laustsen
Music: Nathan Johnson
Main cast: Bradley Cooper, Cate Blanchett, Toni Collette, Willem Dafoe, Richard Jenkins, Rooney Mara, Ron Perlman, Mary Steenburgen, David Strathairn