Justin Kurzel tracks the mental disintegration of Australia's notorious mass murderer, played by Caleb Landry Jones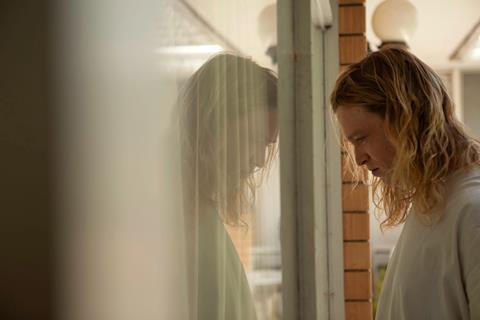 Dir: Justin Kurzel. Australia. 2021. 111 mins.
"What is wrong with you?" screams the father of Nitram's title character, a troubled young man who is once again acting inappropriately in public. Director Justin Kurzel's character drama recognises there's no clear-cut answer to such a question, especially considering that his film is inspired by Martin Bryant, an Australian who killed 35 people and injured nearly two dozen more during a 1996 mass shooting in Tasmania — the worst in the country's history. Caleb Landry Jones is perfectly cast as Nitram, whose eventual violent outburst is telegraphed by his unnerving, emotionally fragile demeanour. But although Nitram is a thoughtful exploration of mental illness, highlighted by a strong cast, Kurzel can't fully transcend what is familiar about this handwringing portrait of a ticking time bomb set to go off.
More of a mournful footnote to a tragedy than a necessary addendum
This Cannes Competition title arrives at a time when mass shootings, sadly, remain very much in the news. (It's worth noting that, in 2003, a similarly-themed drama, Elephant, won the Palme d'Or.) Nitram's real-world origins will add awareness, and the film's supporting cast includes respected veterans such as Judy Davis, Essie Davis and Anthony LaPaglia. But the subject matter may scare off some, although Kurzel intriguingly opts not to show any of the bloodshed wrought by his character.
The twenty-something Nitram (Jones) is an overgrown kid, but not in a charming way. Rather than sweet and boyish, he's rambunctious and ill-tempered, bringing misery to his long-suffering parents (Judy Davis, LaPaglia) with whom he still lives. Nitram is on antidepressants and, in his mother's terminology, "slow", but when he meets an eccentric heiress, Helen (Essie Davis), he finds his first chance at a happy life — although their relationship is only platonic.
Kurzel and screenwriter Shaun Grant draw from many details of Bryant's life, but avoid using his actual name and, instead, reverse the letters for their protagonist. The filmmakers have said the choice, in part, was to avoid lending notoriety to Bryant's crimes and, certainly, Nitram is hardly a flattering or overly sympathetic portrayal. Jones has made a career out of playing men who have menace pumping through their veins, and in Nitram he's found a character whose bratty behaviour, childlike impulsiveness and intimidating presence suggest he could explode at any moment.
While Nitram lays out the factors that contributed to Nitram's implosion — as we see from his haunted dad, there's a family history of mental illness — the picture refuses to justify his actions. Rather, there's a glum resignation to the proceedings as Nitram goes from bad to worse, initially throwing tantrums before moving on to impishly grabbing the steering wheel when others are driving. The anticipation of brutal tragedy hangs heavy over Nitram, and Kurzel, who has always been adept at depicting the dark side of his characters, slowly ratchets up the dread without lapsing into exploitation or insensitivity.
And yet the film falls victim to a common trap: while it's appreciated that Kurzel doesn't romanticise this killer, by placing his story within the context of a traditional cinematic narrative, it nonetheless imposes a sequential logic to Bryant's senseless actions. As a result, Nitram (intentionally or not) invites the viewer to draw conclusions about what drove Bryant to kill, creating a cause-and-effect tidiness that runs counter to Jones' unpredictably anguished performance. This problem is compounded because the picture ends up recalling myriad other films about mass murderers and serial killers. No doubt Nitram wishes to strip away any lurid fascination surrounding Bryant, but as a consequence Nitram doesn't seem especially different than so many of his ilk we've seen on the big screen.
Their characters listed as simply Mum and Dad, Judy Davis and LaPaglia are gripping studies in contrast, with Davis utterly rigid as a woman who cannot tolerate her son's behaviour any further, while LaPaglia projects a wishy-washy affability to suggest his character's denial of the situation. Meanwhile, Essie Davis has a trickier assignment as Helen, whose kindness toward Nitram seems improbable, even though it's based on Bryant's actual relationship with heiress Helen Harvey.
At Nitram's end, Kurzel respectfully cuts away before the character goes on his rampage, leaving the audience with a title card indicating that, although Bryant's killings helped stiffen Australian gun laws, they have become more lenient in recent years. (In fact, there are more firearms in Australia now than there were in 1996.) The fear of guns falling into the wrong hands resonates, and Nitram certainly presents a nightmare scenario of what can happen when a tormented individual has easy access to high-powered weapons. But the film doesn't have much to offer beyond its laments — it's more of a mournful footnote to a tragedy than a necessary addendum.
Production company: Good Thing
International sales: Wild Bunch, aguilhem@wildbunch.eu
Producers: Nick Batzia, Virginia Whitwell, Justin Kurzel, Shaun Grant
Screenplay: Shaun Grant
Production design: Alice Babidge
Editing: Nick Fenton
Cinematography: Germain McMicking
Music: Jed Kurzel
Main cast: Caleb Landry Jones, Judy Davis, Sean Keenan, Essie Davis, Anthony LaPaglia