Steven Soderbergh explores the dark underbelly of 1950s Detroit in this knotty heist drama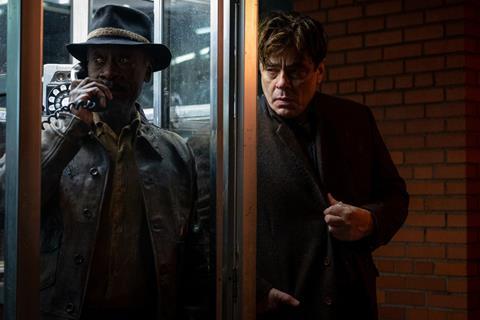 Dir: Steven Soderbergh. US. 2021. 114mins.
It's best not to fuss over the labyrinthine plot of Steven Soderbergh's latest, which turns a seemingly straightforward heist into an increasingly twisty, richly evocative noir full of double-crosses and MacGuffins. Unlike his Ocean's Eleven pictures, however, this caper is a darker-toned affair, sneaking in some social commentary amidst a confidently told tale of scheming small-time hoods in 1950s Detroit. Unquestionably overreaching but also compulsively watchable, No Sudden Move is a typically idiosyncratic project from a filmmaker who plays with genres as if they were Silly Putty, giddy to discover what new shapes he can mould them into.
No Sudden Move has thematic ambition to match its elaborate visual and tonal strategy
Premiering at Tribeca, the film hits HBO Max in the US on July 1, featuring a starry cast that includes Don Cheadle, Benicio del Toro, David Harbour, Ray Liotta and Jon Hamm. This slow-burn thriller doesn't offer the snappy pleasures of an Ocean's Eleven, although genre fans should appreciate his homage to 1950s crime dramas, which encouraged audiences to get lost in their moody atmosphere and convoluted plotting.
Cheadle plays Curt, who's just been released from prison and is recruited for a job alongside two other crooks — Ronald (del Toro) and Charley (Kieran Culkin) — who have never met. The man who's hired them, Jones (Brendan Fraser), explains that they are to strong-arm Matt (Harbour), an automobile executive, into removing a top-secret file from his offices' safe. Donning masks and brandishing guns, Curt, Ronald and Charley execute their mission perfectly — until Matt goes to the safe and discovers that the file has already been taken.
There's a breezy assurance to No Sudden Move as the director (working from a screenplay by Ed Solomon) moves from set piece to set piece — some tense, some more reflective. As it turns out, the heist is merely the film's first act, with the crooks soon trying to figure out where the file has gone and whether this job was a setup from the start.
As has been true of several of Soderbergh's recent outings, No Sudden Move is both elevated and somewhat hamstrung by his impish approach to the kind of film he's making. Hannah Beachler's sumptuous period production design captures a Detroit suffused with racial tension and economic disparity, highlighting both the city's seedy restaurants and stylish executive suites. And Soderbergh utilises older camera lenses to give the picture a sense of a bygone era, incorporating exaggerated canted angles and fisheye perspectives so that we're always cognisant of the melodramatic tenor he's seeking. On the whole, the self-conscious visual style is striking but it can also be distancing, with the director occasionally sacrificing character nuance to privilege his layered milieu.
Thankfully, his leads give unaffected performances that grab you by the lapels. Cheadle is especially good as an ex-con seeking a better life — it's a gritty, weary turn that has lovely shades of melancholy underneath. Del Toro's stoic Ronald proves to be a fine complement as we watch these two wary strangers begrudgingly work together to unravel the scheme going on around them.
No Sudden Move has thematic ambition to match its elaborate visual and tonal strategy, but here Soderbergh isn't always so sure-footed. This ostensibly easy heist will eventually lead to Detroit's corridors of power, precipitating some surprising star cameos and unconvincing monologues about society's haves and have-nots. The film takes place during Detroit's heyday as a car-manufacturing colossus, and the screenplay examines how such an industry monopoly led to moral decay — particularly in the way the community's black neighbourhoods were essentially bulldozed to accommodate affluent whites. This period specificity provides ample colour, but isn't as compelling as Soderbergh's juggling of disparate settings and characters. (Hamm shows up as an unscrupulous detective, while Liotta and Bill Duke play equally menacing crime bosses after that missing mystery file.)
At some point, many viewers may choose to give up tracking all the different entities conspiring to imperil our antiheroes. (As will become obvious, just about everyone in No Sudden Move has his or her own agenda — and their own plan to get rich off of the file's contents.) But the density of betrayals and shifting loyalties is, like any MacGuffin, almost beside the point; just another thread in the absorbing tapestry Soderbergh weaves. The plotting gets confusing, but what's crystal-clear is the filmmaker's skill at concocting a grippingly pessimistic worldview that permeates his den of thieves. No Sudden Move makes an impact, even when it doesn't always make sense.
Production company/worldwide distribution: Warner Bros.
Producer: Casey Silver
Screenplay: Ed Solomon
Production design: Hannah Beachler
Editing: Mary Ann Bernard
Cinematography: Peter Andrews
Music: David Holmes
Main cast: Don Cheadle, Benicio del Toro, David Harbour, Ray Liotta, Jon Hamm, Amy Seimetz, Brendan Fraser, Kieran Culkin, Noah Jupe, Craig muMs Grant, Julia Fox, Frankie Shaw, Bill Duke