Jordan Peele reaches for the stars with his thrillingly ambitious third feature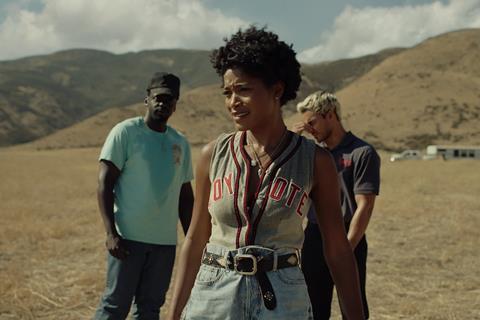 Dir/scr: Jordan Peele. US. 2022. 130mins
Don't look up: Jordan Peele's third feature makes the sky overhead a place of endless terror. Nope finds the Oscar-winning writer-director boldly expanding his canvas, aspiring to Spielberg-ian levels of popcorn spectacle without sacrificing the emotional and thematic heft of his previous work. A tale of a grieving brother and sister joining forces to obtain proof of what they believe is a UFO, this sci-fi/horror film is thrillingly ambitious and occasionally terrifying; its only flaw being that its final showdown doesn't quite live up to the picture's dazzling earlier sequences.
There's a restless intelligence at work trying to marry this interstellar premise with a quieter exploration of loss and family
Setting down in US theatres on July 22, then arriving in the UK on August 12, Nope will be an attractive option for mainstream filmgoers thanks to Peele's track record as the auteur behind Get Out and Us, bolstered by a buzzy cast that includes Daniel Kaluuya, Keke Palmer and Steven Yeun. Universal has wisely preserved the picture's mysteries in its marketing, only further fuelling audience anticipation.
Kaluuya plays OJ, the soft-spoken proprietor of a struggling horse ranch once owned by his loving father (Keith David), who supplied animals to film and television productions across Southern California. It's been six months since his dad's puzzling death — he was struck by a small object that fell from the sky — and OJ is trying to keep the family business afloat with the help of his immature younger sister Emerald (Palmer). But one night, they think they see a flying saucer; if they can get photographic evidence, they can sell the footage and save the ranch.
Opening with a chillingly random image of a bloody chimp staring directly at us, Nope quickly gets under your skin, Peele slowly introducing his cast of characters while hinting at the scares to come. Soon, we meet Jupe (Yeun), a former child star who now runs a faux-Gold Rush tourist trap in the middle of the desert nearby OJ's ranch, and Angel (Brandon Perea), a savvy tech geek who works at an electronics superstore. These men will be drawn into OJ and Emerald's mission, Peele sprinkling in laughs while focusing on an air of dread that will only grow more suffocating.
The biting societal critiques that drew blood in Get Out and Us aren't as sharp in Nope, although Peele does sink his teeth into Hollywood's erasure of its early Black artists — not to mention American society's tendency to glorify the Old West, particularly in Hollywood Westerns. But the commentary takes a backseat as OJ and Emerald, who have unresolved issues that have been stirred up by their father's passing, come to terms with the frightening truth of what they've uncovered. Ably assisted by Hoyte Van Hoytema's sumptuous 65mm photography, Peele delivers a series of striking scenes that illustrate his growing mastery of multiplex spectacle. Even if some viewers will be able to guess where Peele is headed, he makes the journey sufficiently startling and funny.
Reuniting with his Get Out director, Kaluuya plays a mournful man labouring to maintain the family business, one that was passed down from his grandfather. OJ doesn't say much, but when he does it's often in a weary tone, the Oscar-winning actor dispatching Peele's deadpan one-liners with casual elan. OJ and Emerald are a study in contrasts — him reserved and reflective, her brash and emotional — and Kaluuya and Palmer communicate these siblings' fractious bond, especially Emerald's lifelong resentment that she was never as close to their dad as her older brother was.
Those intimate character details become more important once Nope unveils what is actually going on. After coyly teasing possible explanations regarding that strange object in the heavens, Peele at last shows his hand in two exceptionally well-calibrated horror sequences. It would be unsporting to say more but, simply put, there are moments of unalloyed terror (juxtaposed with a crowd-pleasing giddiness) that make Nope worth not just seeing on the big screen but with as huge a crowd as possible.
For all of Nope's audacious narrative gambits — including a crucial flashback to the late 1990s — Peele can't entirely avoid an inevitable letdown near the picture's end. As skilful as the buildup and reveal are, Nope stumbles coming up with a finale that tops (and ties together) everything that came before. It's the only sequence in which Peele seems less than wholly confident but, even so, there's a restless intelligence at work trying to marry this interstellar premise with a quieter exploration of loss and family. Rarely has a filmmaker's reach exceeded his grasp so bracingly.
Production company: Monkeypaw Productions
Worldwide distribution: Universal Pictures
Producers: Jordan Peele, Ian Cooper
Cinematography: Hoyte Van Hoytema
Production design: Ruth De Jong
Editing: Nicholas Monsour
Music: Michael Abels
Main cast: Daniel Kaluuya, Keke Palmer, Steven Yeun, Michael Wincott, Brandon Perea, Wrenn Schmidt, Barbie Ferreira, Keith David