Dir/scr: Joseph Cedar. US/Israel. 2016. 118mins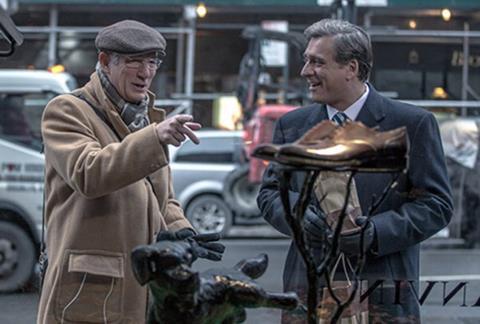 A sprightly tale about a sad man, Norman gives Richard Gere a fantastic platform playing a New York nobody who's fully confident he's one deal away from being somebody. Writer-director Joseph Cedar (Footnote) has crafted a very entertaining character piece in which an aspiring wheeler-dealer lucks into his big break by befriending a politician who will become Israel's next prime minister. This clever comedy-drama strains credibility in its final reels, but some suspension of disbelief is appropriate for a film about a protagonist who survives on his ability to twist reality.
What's best about the film is how Cedar and Gere have dreamed up a character who's equally desperate and preternaturally ingratiating
Sony Pictures Classics will no doubt focus its marketing on Gere's exemplary performance, which will appeal to older art-house crowds. It's doubtful Norman will become a breakout hit, but the veteran star can expect some of his best reviews, probably stirring talk of a late-career renaissance after his fine recent turns in Arbitrage and Time Out Of Mind.
Subtitled The Moderate Rise And Tragic Fall Of A New York Fixer, Norman stars Gere as Norman Oppenheimer, whose job appears to be insinuating himself awkwardly into the lives of Manhattan's power elite. Constantly on the phone and shadowing influential figures in business and finance, Norman is slowly exposed to be a two-bit hustler, desperately dropping names and suggesting close connections to influential people when, in fact, his consulting business is nothing but a sham.
Cedar offers Norman a bit of good fortune, though, when he chats up Micha Eshel (Lior Ashkenzai), an Israeli politician who feels an instant connection to a fellow Jew who offers him kindness when he's spiritually adrift. Three years later, Eshel is prime minister, and Norman's close friendship suddenly makes him an important force in the New York-Israeli community.
But Norman has surprises in store for its odd hero, and indeed what's best about the film is how Cedar and Gere have dreamed up a character who's equally desperate and preternaturally ingratiating. There's a bit of Rupert Pupkin — Robert De Niro's deranged, pathetic stand-up from The King Of Comedy — in Norman, although Cedar's character doesn't have a homicidal edge. Instead, Gere constructs Norman through a series of understated, lovely touches that suggest underlying dysfunction: a nervous tic, a pinched smile, the sadness that flashes across his eyes when he knows no one's looking. It's a performance that's both painfully funny and gently touching — we find ourselves rooting for Norman even though we acknowledge what a disaster his life is.
As Eshel assumes the prime ministry, Norman introduces an element of intrigue that forces Norman to use his passion as a "fixer" to confront a situation with global stakes. It's fair to argue that Cedar lurches toward preposterousness. (For one thing, Eshel's continued friendship with Norman seems highly unlikely considering their vastly different social circles.) But because the filmmaker approaches the plot twists with a light touch, Norman skates by on its slightly loopy tone, as if adopting its protagonist's eternal blind faith in his charm and optimism.
And yet, the film is, at its core, a very melancholy lament about people's need to belong and to feel important. Norman may be the most blatant in his craving, but we observe how he's able to persuade people to his side because they, too, want to be associated with the well-connected. Steve Buscemi is superb as a rabbi who believes Norman can help raise sufficient money to save their synagogue — partly because he's enraptured by Norman's patter. And, in a nice twist, Hank Azaria plays a fellow schemer who starts hustling Norman, using the same transparently obsequious strategies. To Norman's surprise, even failures can bluff their way into attracting disciples.
Production companies: Tadmor Entertainment, Blackbird, Cold Iron Pictures, Movie Plus Productions, The Solution Entertainment Group
International sales: The Solution Entertainment Group, malee@thesolutionent.com
US distributor: Sony Pictures Classics, www.sonyclassics.com
Producers: Oren Moverman, Gideon Tadmor, Eyal Rimmon, David Mandil, Miranda Bailey, Lawrence Inglee
Executive producers: Jim Kaufman, Amanda Marshall, Caroline Kaplan, Michal Graidi
Cinematography: Yaron Scharf
Production design: Kalina Ivanov, Arad Sawat
Editor: Brian A. Kates
Music: Jun Miyake
Main Cast: Richard Gere, Lior Ashkenzai, Michael Sheen, Steve Buscemi, Charlotte Gainsbourg, Dan Stevens, Hank Azaria, Harris Yulin, Josh Charles