Hafsteinn Gunnar Sigurðsson's English-language comedy about a bunch of stranded aerophobes struggles to land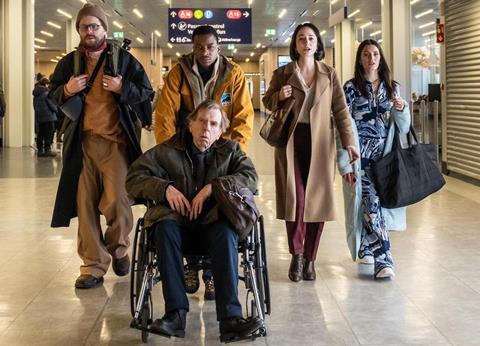 Dir: Hafsteinn Gunnar Sigurðsson. Germany/Iceland/UK. 2023. 97mins
A successful property developer, a retired special forces operative, a tech whizz-kid on the brink of launching a new app: on paper, they have little in common. But all three have signed up for a course to combat their fear of flying and – along with a hapless instructor and the influencer girlfriend of the tech-bro – end up in Iceland, traumatised after severe turbulence and partial engine failure. The English-language feature debut from Icelandic director Hafsteinn Gunnar Sigurðsson favours a similar sense of spiralling recklessness and bad choices to that of his previous picture, Under The Tree. But it's not the most relatable of dramas: with their return flight delayed, the stressed-out passengers are checked into a luxury hotel which comes with its own geothermal lake. As problems go, it skews firmly towards the first-world variety.
Lacks the sharp writing and satirical bite of Under The Tree
This is the fifth fiction feature from Sigurðsson, who also directed a documentary about the Icelandic football team's qualification for the 2018 World Cup. His breakthrough title, the black comedy drama Under The Tree, premiered in Venice Horizons in 2017, going on to win several prizes at other festivals, as well as seven of Iceland's Edda Awards. While Northern Comfort could find further interest on the festival circuit, it lacks the sharp writing and satirical bite of Under The Tree and may struggle to match the momentum of its predecessor.
Doing a lot of heavy lifting as the film's most immediately likeable character is Lydia Leonard, whose previous credits include the TV shows Gentleman Jack and The Crown. She plays Sarah, a capable London-based career woman who can strike fear into the hearts of shoddy building contractors but who quavers at the thought of a short-haul hop to a holiday destination. For reasons best known to the screenwriters, she has lied about the extent of her flying phobia and is booked on an exotic trip with her new boyfriend and his daughter. She just needs to cure her fear of flying, hence her desperate Iceland jaunt the day before she is due to travel to Cape Verde.
Also on the course is novelist Edward (Timothy Spall), a Falklands veteran who has jumped out of planes and abseiled down buildings under siege, but has belatedly developed a crippling anxiety about air travel. And Alfons (Sverrir Guðnason) realises that he has to cure his phobia if he hopes to keep his travel influencer girlfriend, Coco (Ella Rumpf). Frazzled by the thought of their flight home, all three start to unravel.
A choral motif in the score is an effective device: an urgent falsetto, the sound of frayed nerve endings. And Leonard makes the most out of her character's misadventures and encounters with an oversharing pilot and a strung-out taxi driver through an exasperated, deadpan comic performance. But the plot is laboured and the pressure is contrived – the jeopardy for these characters boils down to a delayed flight and a luxury layover. And as such, any tension or peril is rather undermined by the fact that, as with so much in life, there are few issues here that can't be resolved by common sense and access to a well-stocked minibar. Rather like the ill-fated plane, the comedy struggles to land.
Production company: Netop Films
International sales: Charades sales@charades.eu
Producers: Grímar Jónsson, Sol Bondy, Fred Burle, Mike Goodridge
Cinematography: Niels Thastum
Production design: Eggert Ketilsson, Hulda Helgadóttir
Editing: Kristján Loðmfjörð
Music: Daníel Bjarnason
Main cast: Lydia Leonard, Timothy Spall, Ella Rumpf, Sverrir Guðnason, Simon Manyonda, Rob Delaney