Pierfrancesco Favino anchors Mario Martone's passionate contemporary ghost story set in Naples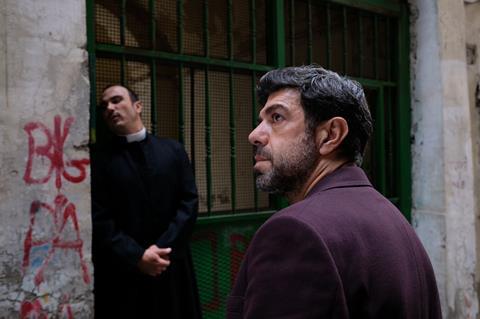 Dir: Mario Martone. Italy/France. 2022. 118 mins.
Italian auteur Mario Martone's last film to play in competition at Cannes was Troubling Love (L'amore molesto), way back in 1995. It's somewhat fitting that, 27 years later, he has been invited back with another film that probes the dark underbelly of his native city, Naples. Adapting local author Ermanno Rea's last novel of the same name – published posthumously in 2016 – Martone crafts a passionate, angry film that is full of atmosphere and great performances, but never fully convincing or compelling as a drama.
Gradually and subtly, Nostalgia reveals itself as the parable of a man and a city teetering between redemption and damnation.
Remarkably, this is Martone's first feature since Rehearsal For War in 1998 to be set in the present day. Period films have become something of a speciality since then for a director who also works extensively in the theatre, with The King of Laughter, his 2021 biopic of Belle Epoque Neapolitan stage impresario Eduardo Scarpetta, selling to multiple territories. Audiences keen to spend a couple of hours in the pulsing heart of southern Italy's biggest city will find ample payback here, but Nostalgia may struggle to break out into wider play after its Cannes Competition debut.
Familiar to audiences abroad for his turn as Mafia informer Tommaso Buscetta in Marco Bellocchio's The Traitor, the always watchable Pierfrancesco Favino plays Felice Lasco, a man in his mid-50s who returns to Naples, ostensibly to spend some time with his ageing mother, but also, we soon discover, to grapple with demons from the past. The chief demon has a name: Oreste Spasiano (Tommaso Ragno). Felice's best buddy back in their wild teenage years, he has since become a much-feared neighbourhood crime boss nicknamed O malommo – the 'bad man'.
Only 15 when he left Naples for the Middle East, for reasons that will soon be revealed, Felice has been away for so long that he doesn't even speak Italian perfectly anymore: Arabic is his go-to language, and there is a suggestion that he might have converted to Islam. But verbal expression is not the only communication issue to plague the ironically named Felice (a first name that also means 'happy' in Italian). He seems blocked, emotionally cauterised, and when he leaves his bland high-rise hotel to visit the tough, chaotic Rione Sanità district where he grew up, it is as if he is viewing it through the eyes of a tourist. It's in his reconnection with the mother he hasn't seen in forty years that Felice begins to open up. These early mother-son meetings are some of the film's most affecting moments, thanks also to the delicacy and grace that veteran actress Aurora Quattrocchi brings to her performance. In one beautiful scene with a ritualistic feel, Felice bathes his naked mother in a bare, tomb-like room while she weeps silently.
The film's long and often meandering second act follows Felice's stubborn search for the brooding Spasiano, who is elusive, while flashbacks in Super8 format fill us in on the teen camaraderie of Felice and Oreste back in the day. When a motorbike he buys in a fit of 'nostalgia' is torched, it's clear someone wants Felice out. Along the way, he meets Don Luigi Rega (Francesco Di Leva), an unorthodox, inspirational local priest inspired by a real-life Rione Sanità prelate. Martone is clearly fascinated, to the detriment of plot tension, by this pugnacious man of God who has dedicated himself to countering the Camorra's influence on the district and creating opportunities for its young people – going so far as to turn the church sacristy into a boxing gym.
Gradually and subtly, Nostalgia reveals itself as the parable of a man and a city teetering between redemption and damnation. The photography of DoP Paolo Carnera – who also shot TV series Gomorrah – sensitively conveys this double nature through the use of light and shadow, bringing out both the life-force and the death-wish of a district whose grand 18th-century townhouses have become crumbling hulks where families live crowded into small apartments. The film's evocative soundscape plays the same game; bleeding traffic noise, car horns and wails move into an offbeat selection of early tracks by German electronic music pioneers Tangerine Dream.
But the atmosphere and symbolic force of Martone's latest feature comes at a price. Despite a few calls home to a doting wife in Cairo, we never get much of a feel for Felice as a character. He remains a cipher, his sudden need to reclaim his past and determination to reconnect with a crime boss who has become Rione Sanità's heart of darkness never fully understood or explained. Martone has created a contemporary ghost story that says a lot about Naples today, one that holds out the possibility that the Felice we see might really be a ghost, and the whole tale the fever-dream of a nostalgia-stricken man who never did return home. But it's a haunting many in the audience will find it difficult to fully engage with.
Production companies: Mad Entertainment, Picomedia, Medusa Film, Rosebud Entertainment Pictures
International sales: True Colours, sales@truecolours.it
Producers: Luciano Stella, Roberto Sessa, Maria Carolina Terzi, Carlo Stella
Screenplay: Ippolita di Majo, Mario Martone, based on the novel 'Nostalgia' written by Ermanno Rea
Production design: Carmine Guarino
Cinematography: Paolo Carnera
Editing: Jacopo Quadri
Main cast: Pierfrancesco Favino, Francesco Di Leva, Tommaso Ragno, Aurora Quattrocchi, Sofia Essaidi, Nello Mascia, Emanuele Palumbo