Sarajevo opens with a comedy-drama by Danis Tanovic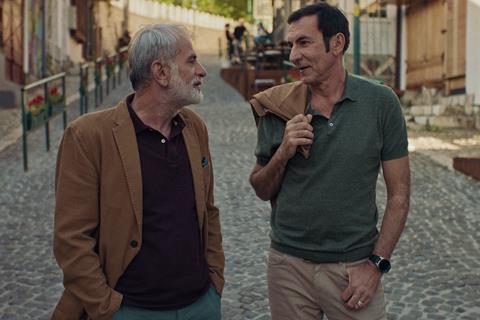 Dir: Danis Tanovic. Bosnia and Herzegovina/Turkey. 2021. 90 minutes
Two decades years after his internationally acclaimed Oscar-winner No Man's Land, Bosnian writer-director Danis Tanovic delivers a limp comedy-drama suitable for home consumption with Not So Friendly Neighbourhood Affair (Deset u pola), a film which chronicles the not-so-interesting neighbourhood feud between veteran fast-food vendors on the sloping, cobbled streets of Sarajevo's picturesque Old Town.
Everything feels somehow neutralised and deflavoured
The opening slot at the Sarajevo Film Festival and a cast which includes a handful of high-profile Balkan-region actors should translate to decent domestic returns. The presence of Turkey's national broadcaster TRT as chief co-producers could also trigger some interest in that territory, and diasporan Bosnian communities may respond given appropriate marketing. Elsewhere this half-baked affair, which plays like an extended soap-opera pilot, seems likely to struggle.
No Man's Land co-lead Branko Djurić reteams with Tanović to play middle-aged Enes, whose long-standing friendship with his neighbour and business rival Izet (Izudin Bajrovic) is about to be cemented via the marriage of Enes' son Orhan (Kerim Cutuna) with Izet's daughter Lana (Helena Vukovic). The latter's return from studying in Berlin (where she has become vegetarian, much to her father's horror) happens to coincide with the visit of Croatian vlogger Gordana (Anja Matkovic). This glamorous influencer is on a mission to find out which business offers Sarajevo's best cevapi — the sausage-like "meat fingers" which are Bosnia's most renowned culinary export: the film's original title 'Ten in a half' refers to the optimal serving suggestion for the dish, ten sausages in half a bun.
Gordana's internet praise of Izet's wares eventually sparks enmity between the two proprietors, which later escalates to the point where a dozen or so of the city's leading cevapi-makers take part in a competition to settle the title. Much-discussed throughout the picture's brief running-time, the contest itself only gets started in the final five minutes. By this point various professional, social and romantic complications have been unimaginatively combined in Tanovic's screenplay, co-written by Nikola Kupresanin and dotted with topical references to the Covid-19 pandemic (including some nifty character-detailing via mask-etiquette).
Unfolding in the Old Town's tourist-magnet Kovaci district, Not So Friendly Neighbourhood Affair imparts very little actual street-life atmosphere: the oddly underpopulated thoroughfare in and around which the action unfolds looks freshly scrubbed in every shot; the "famous Sarajevo charm" mentioned in the final moments is conspicuous mainly by its absence. Everything feels somehow neutralised and deflavoured, and in the large ensemble only Croatian man-mountain Goran Navojec makes significant impact as the imposing and gruff, but drolly genial cafe-owner Jasa — whose previous life as a unit-commander in the Bosnian war comes in handy when the ćevapi shenanigans trespass onto the territory of local organised crime.
The prominence of the Romeo-and-Juliet subplot, however, makes it doubly unfortunate that Cutuna and Vukovic should register so ineffectually, with no palpable chemistry between a pair supposedly caught in a tempestuous romance. This is in keeping with a production of notable blandness in all crucial areas, with Brano Jakubovic's over-prominent score an especially beige ingredient in a recipe crying out for just a little spice.
Production companies: Obala Art Centar, TRT, nuprodukce
International sales: Obala Art Centar, info@oac.ba
Producers: Amra Baksic Camo, Jovan Marjanovic, Mirsad Purivatra, Emrah Kilic
Screenplay: Danis Tanovic, Nikola Kupresanin
Production design: Sanda Popovac
Editing: Redzinald Simek
Cinematography: Damir Sagolj
Music: Brano Jakubovic
Main cast: Branko Djuric, Izudin Bajrovic, Kerim Cutuna, Helena Vukovic, Anja Matkovic, Goran Navojec