Cédric Jimenez's dramatic thriller about the November 13 Paris Bataclan terrorist attack is muscular but messy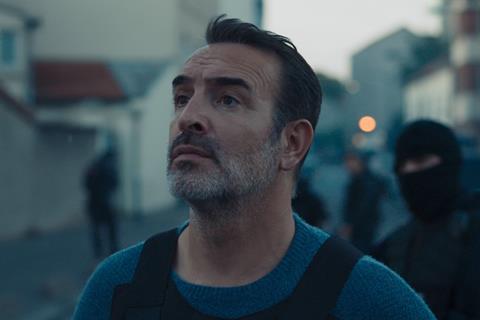 Dir: Cédric Jimenez. France. 2022. 100mins
In the five days following the deadly Bataclan attacks on 13 November 2015, two terrorists implicated in the deaths of over 130 people are at large in Paris and its surroundings, and the police anti-terrorism unit must — somehow — locate them. Cédric Jimenez's (The Connection, HHhH, and The Stronghold aka BAC Nord) fact-based look at key individuals in the human-needles-in-a-haystack hunt is muscular in execution but frequently messy in its story-telling. Five days was long enough to make mistakes, bark up the wrong trees and, ultimately, get results. While the source material is inherently fascinating, November may take built-in confusion a step too far for many viewers beyond France. Sadly, many nations have their own horrific and unique history of terror attacks, and it's cavalier to assume that potential viewers have the necessary background to fully appreciate the proceedings as depicted here.
What should be gut-wrenching is too often flat
This is a story worth telling and eventual foreign distributors — following the film's premiere out of Competition in Cannes — may be able to add a few expository sentences on screen and beef up the subtitles to give non-French viewers more context about who's who and what's what. What is clear is that two, possibly three, terrorists with a three-hour head start could be anywhere.
There was no dithering but there was also no template for finding the unidentified perpetrators and their accomplices, with the credible threat of additional planned attacks on schools and other public gathering places ever-present. It's a very large-scale manhunt in which at least three women are shown to play crucial roles. Héloise (Sandrine Kiberlain) heads up the anti-terrorism branch of the French police. She and her chief commander, Fred (a suitably sober Jean Dujardin), are both seasoned leaders with government officials breathing down their necks. We have already met Fred in a visually striking prologue set in Athens 10 months before the Paris attacks when a stake-out came close to capturing a presumed figure in terror circles, only to have the suspect get away. This establishes — sort of — that Fred's work takes him beyond France, and that he doesn't like to fail but can reluctantly take it in his stride.
On the night of 13 November in Paris, terrorists mostly connected with a neighbourhood in Brussels and presumably taking orders from contacts in Syria attacked the Stade de France stadium, cafe terraces and then the audience inside the Bataclan concert hall. None of this is shown. The start of the watershed night of the three-pronged attacks is conveyed with elegant yet horrifying economy via the sight of lone police official Marco (Jérémie Renier) in a large open plan office as first one and then dozens of telephones start ringing off the hook. The ambient urgency will not let up from that moment on. Younger team member Ines (Anaïs Demoustier) takes more initiative than a plainclothes investigator should.
Legwork, including interviews with some of the over 400 wounded in hospitals, accompanies endless hours staring at computer screens and at photos of mostly young men with mostly Arab-sounding names covering bulletin boards, desks and floor space. Useful details are gleaned, particularly some Belgian license plate numbers and multiple descriptions of a man wearing Day-Glo orange sneakers. Dialogue is often along the lines of "We'll have the images analysed in 30 minutes" followed by "That's too long. See that it's finished in 15."
An arms dealer already in prison claims he had no idea the weapons he sold were destined for fanatical Islamic terrorists. Sometimes the French police end up with a bit of leverage over a suspect — "Tell us what you know and I promise not to post on Facebook that your girlfriend is Shīʿīte" — and sometimes they end up on the receiving end of an escalating proclamation about how this is just the beginning and true believers doing the work of their Prophet are coming to slaughter as many infidels as they can find, starting with women and children.
Drowning in tips, the police first miss several calls from a woman named Samia (Lyna Khoudri) in a suburb just outside Paris who says she knows where the two hotly sought terrorists are hiding. Samia, a Muslim, describes a man with bright orange sneakers. ("The Man With The Orange Sneakers" might be a catchier title for export.) At enormous personal risk, Samia has come forward of her own volition, but Marc and Ines don't seem sufficiently impressed by her testimony which will, in fact, prove crucial.
Filming and editing show off the protective gear, weaponry and courage of elite fighting units as well as the impatience and tension in conference rooms with government and military representatives all eager to help the populace feel safe. But what should be gut-wrenching is too often flat. Stern expressions and the contrast between investigators closer to 50 and those closer to 30 are mostly what we get in place of character development.
There is absolutely no polite conversation when a fully armed brigade shows up to shoot up your presumed lair. There is no witness protection program for civilians — only for criminals who decide to snitch. This leaves Ines in an ethical quandary and law-abiding citizen Samia in the dreadful realm of no-good-turn-goes-unpunished.
The trial for the surviving individuals connected to perpetrating the terror attacks has been underway in Paris for months, with verdicts expected in early September. November imparts the news that while this manhunt was resolved, the challenges of combatting terrorism are not only on-going but unrelenting.
Production Company: Chi-Fou-Mi Productions
International Sales: StudioCanal
Producer: Hugo Sélignac
Screenplay: Olivier Demangel, Cédric Jimenez
Cinematography: Nicolas Loir
Production Design: Jean-Philippe Moreaux
Editor: Laure Gardette
Music: Guillaume Roussel
Main cast: Jean Dujardin, Sandrine Kiberlain, Anaïs Demoustier, Jérémie Renier, Lyna Khoudri, Cédric Khan