An undocumented Vietnamese woman lives life on the margins in Malaysia in Chia Chee Sum's debut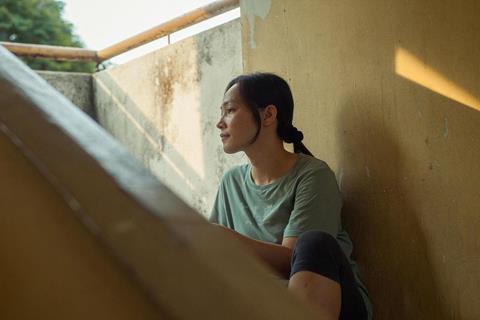 Dir/scr: Chia Chee Sum. Malaysia, Singapore, France. 2023. 90mins
Marginal spaces and peripheral lives are given centre stage by Chia Chee Sum in his measured and gently moving character study of a Vietnamese woman who is living an undocumented life in Malaysia. Developed at the year-long Thailand-based South East Asian Fiction Film Lab (SEAFIC), it has received awards at Locarno Open Doors and Talents Tokyo, among other places, and these amassed credentials, along with Chia's assured slow-burn approach, are likely to see Oasis Of Now attract further festival interest after its world premiere in the New Currents competition at Busan Film Festival.
A measured and gently moving character study
Hanh (Ta Thi Diu) has an assortment of jobs, helping out with a young child here, adjusting the fit of a dress or cleaning up there. Her interactions with one young girl are all the more poignant because we are aware that she doesn't get to share such bonding moments with her own daughter Ting Ting (Aster Yeow Ee), who is being raised by a Malaysian family. Although the precise arrangement is never fully explained, the intimation is that it's part of Hanh's attempt to give Ting Ting a better life.
"Don't be angry. Let's play together," Hanh says to Ting Ting. They are at one of their irregular get-togethers on the stairs of an apartment block, a liminal space that, for a few moments, becomes the centre of their world as they play a stone-tossing game and talk about Ting Ting's school work. In a hallmark of the subtlety of Chia's direction, the focus here is on the schoolbooks as the mother and daughter's hands flip through the pages, the reconnection of almost touching a game in itself.
When Hanh is pictured inside the homes of those she works for, Chia frequently lets objects intrude to narrow the frame so that she seems marginalised even when she is nominally the focus of attention. Cinematographer Jimmy Gimferrer's static framing demands we look hard at the detailed textures of life presented within each scene, while Chia withholds as much as he delivers, asking us to enter those empty spaces and read between the lines.
The spareness of the film extends to the soundtrack, which relies on ambient sound design from Laura Arto, including the dripping of drying washing and bird song, rather than a score – although Teo Wai Yong offers up a suitably melancholic brass melody over the end credits. Meanwhile, the sense of Malaysia as a cultural melting pot is emphasised by the range of languages spoken, from Vietnamese, Tamil and Malay to Cantonese, Burmese and Mandarin.
The writer/director has no interest in dramatics. An immigration raid may carry weight in the mind of Hanh but Chia barely gives it screen space, showing only the after effects observed from a distance. The director often keeps the action outside the frame altogether, requiring us to imagine what is happening as conversations take place; a manouevre that could prove divisive for audiences in terms of whether they find it intriguing or frustrating. The film is built around the emotional arc of Hanh as she goes about her day-to-day life, rather than major narrative revelation.
Things shift almost imperceptibly for her through her interactions with Ting Ting, the various people she works for and an elderly man who lives near the spot where she meets her daughter and with whom she forms an unexpected bond. Chia invites us to join us in his game as he throws these story and emotional fragments into the air, and asks us to catch them if we can.
Production companies: theCommonist, Afternoon Pictures, Akanga Film Asia, La Fabrica Nocturna Cinema
International sales: Diversion, sales@diversion-th.com
Producers: Lee Yve Vonn, Fran Borgia, Xavier Rocher, Chia Chee Sum
Screenplay: Chia Chee Sum
Cinematography: Jimmy Gimferrer
Production design: Ivy Choong Kah Min
Editing: Chloe Yap Mun Ee, Chia Chee Sum
Music: Teo Wai Yong
Main cast: Ta Thi Diu, Aster Yeow Ee, Abd Manaf Bin Rejab