Documentarian Madeleine Sackler makes her feature debut with this drama shot inside a real-life prison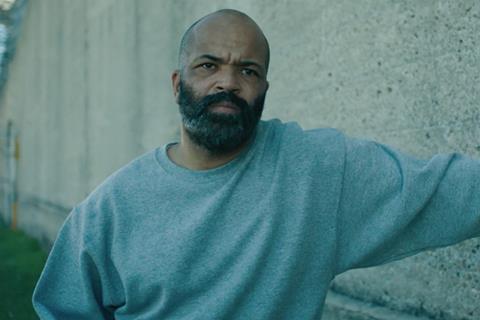 Dir: Madeleine Sackler. US. 2018. 113mins
Jeffrey Wright is impressively, intensely insular as a convict staring down the possibility of freedom in O.G., a thoughtful drama whose backstory ultimately proves more fascinating than the film's execution. Making her feature directorial debut, documentarian Madeleine Sackler shot this character study at an actual prison, using inmates as background actors and supporting players. While that aura of realism amplifies the proceedings' bleak urgency, it can't fully redeem the lukewarm storytelling or familiar narrative beats.
Wright's intelligent, empathetic performance is the film's most insightful commentary on incarceration
Premiering in US Narrative Competition at Tribeca Film Festival — which will also screen Sackler's companion documentary, It's A Hard Truth, Ain't It, containing testimonials from the prison's inmates — O.G. could strike a chord with viewers who have watched other recent films about America's massive prison population, including Crown Heights, The House I Live In and the Oscar-nominated 13th. Wright brings commercial clout, and no doubt the movie's novel approach to achieving verisimilitude will raise awareness.
O.G. introduces us to Louis (Wright), who's close to being released from a maximum-security Indiana prison after 24 years for murder. Respected in the yard but seeking to keep his head down and avoid trouble, Louis meets Beecher (Theothus Carter), a cocky young inmate who's just arrived. Louis is drawn to the man, trying to take him under his wing and advise which prisoners to avoid, but he soon discovers that his own release may be jeopardized because of his desire help.
Sackler, who previously made the 2010 documentary The Lottery, about the American school system, sets O.G. within the walls of Indiana's Pendleton Correctional Facility, where Carter is currently incarcerated for armed burglary and attempted murder. Knowing the behind-the-scenes story of the film's making can't help but add a sense of claustrophobia and rawness as Wright acts alongside real prisoners in a real institution. (Professional actors, including William Fichtner as a crusty warden, fill out the cast list.)
This formal strategy forces the viewer to ponder the realities of prison, and to see these inmates not as extras but as flesh-and-blood individuals living in terrible circumstances — each of these men the product of a combination of poor decisions, bad luck or monstrous behaviour. In effect, Sackler seeks to humanize the prison drama and question the genre's clichéd elements.
O.G. is helped immensely by Wright's effortlessly commanding performance as a murderer who's had to sit with the enormity of his crime for more than two decades. There's no Hollywood gloss to Louis — he wasn't wrongly convicted or a former bad man who's been redeemed into a righteous soul. Instead, Wright plays him with worn-down gravitas, almost as if a life behind bars has slowly driven him into himself, his body becoming its own kind of cage.
Wright's intelligent, empathetic performance is the film's most insightful commentary on incarceration, bringing artistry to Sackler's stripped-down, observational technique. Unfortunately, those efforts are undercut by Stephen Belber's underpowered screenplay, which gives Louis a predictable series of dilemmas, including meeting with the family of his victim, being presented with an ethical quandary, and trying to be a guardian angel to Beecher — who may be too arrogant to be saved.
None of this is particularly inventive or piercing — even the grim uncertainty of what Louis' life might look like after prison is a common trope in such stories — and the movie's on-location aesthetic doesn't automatically ennoble the threadbare plotting. And while Carter is a bright, edgy presence as Beecher, there is, like much of O.G., a disappointing familiarity in the way that the character has been conceived. You may walk away from the film thinking more about Carter's actual plight than Beecher's — which is, no doubt, part of Sackler's intent, although it only makes her movie's fictional scenario feel all the more extraneous.
Production companies: Maven Pictures, Brookstreet, Smokehouse Pictures, Great Curve Films
International sales: Creative Artists Agency, nick.ogiony@caa.com
Producers: Stephen Belber, Ged Dickersin, Nick Gordon, Trevor Matthews, Celine Rattray, Trudie Styler, Madeleine Sackler, Boyd Holbrook
Screenplay: Stephen Belber
Production design: Michael Bricker
Editing: Frédéric Thoraval
Cinematography: Wolfgang Held
Music: Nathaniel Méchaly
Main cast: Jeffrey Wright, Theothus Carter, William Fichtner