Shinobu Terajima and Josh Hartnett headline this Critic's Week drama set in Tokyo and Los Angeles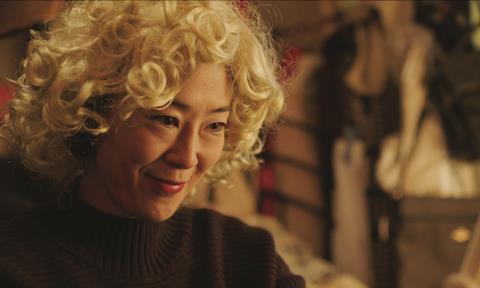 Dir/scr: Atsuko Hirayanagi. Japan/US. 2017. 97mins
Japanese filmmaker Atsuko Hirayanagi explores the transformative power of human connection in Oh Lucy!, a film which seems to play like a standard culture clash comedy but reveals itself to run significantly deeper. Despite relying too heavily on its well-worn East-Meets-West credentials, this story of a lonely Tokyo woman and her journey of discovery, which takes her from the greys of corporate Japan to the blue skies of California and Josh Hartnett, has moments of genuine emotional poignancy.
There's pleasingly little sentimentality and much honesty to be found in Atsuko Hirayanagi's screenplay
With its Japanese filmmaker, cast and evocative use of the Tokyo setting, Oh Lucy! should find an appreciative audience in its home territory. Further festival play is also possible after its Cannes Critics Week berth, helping it to modest success on the international stage.
In adapting her award-winning 2014 short, Hirayanagi further expands on its themes of identity and isolation which, although stretched too thinly by the feature length, still resonate in this age of decreasing human interaction. A nuanced central performance from prolific Japanese actress Shinobu Terajima is key, and also helps keep the narrative focused through its sometimes-haphazard tonal shifts.
Terajima plays 55-year-old single woman Setsuko, whose daily experiences don't run to anything more than her cramped Tokyo apartment and tiny, unfriendly office. Indeed, life in this supposedly vibrant neon city is shown to be a thankless, trudging treadmill which, as demonstrated by the film's impactful opening sequence, the city's inhabitants frequently throw themselves off.
When a convoluted setup sees Setsuko's peppy niece Mika (Shioli Kutsuna) persuade her to attend English lessons she's already paid for, Setsuko suddenly finds herself in the orbit of John (Josh Hartnett), a self-confident American whose teaching methods involve giving her a blonde wig and English name — the Lucy of the film's title — and encouraging her to hug. Her interest piqued, Lucy returns for a second lesson only to find that John and Mika have run off together to California. With Mika's dragon-like mother Ayako (Kaho Minami) in tow, Setsuko heads for the US for reasons which are more about personal dreams than familial responsibility.
When Setsuko touches down on American soil, the horizon expands, the light increases, the music becomes more upbeat and this familiar collision of cultures moves into more interesting territory. As Setsuko begins to absorb Western influences and shed her inhibitions, she initially appears charmingly naive as she enjoys her first spliff or tries her hand at pumping gas. As her interest in John grows increasingly obsessive, however, her behaviour becomes more extreme; a self-destructive spiral where rock bottom becomes the only destination.
There's pleasingly little sentimentality and much honesty to be found in Hirayanagi's screenplay, particularly in its acknowledgement that new experiences can make you lose, as much as broaden, your mind. It's also sharp in its critical appraisal of the expectations placed on women of all cultures to be paired up. While Setsuko never passes comment on her single status — unlike her vitriolic sister — her grim countenance in the film's early stages would suggest she's not entirely happy with her lot; although she would never admit it.
Hartnett is charming in the underwritten role of John, whose initial confidence hides the fact that he is also adrift in his own life. Yet Setsuko's attraction to him is more about what he may represent; universal ideals of companionship, freedom and, of course, the Hollywood notion that love conquers all. How fitting, then, that the unravelling of this particular myth should take place in the dream factory setting of Los Angeles.
Production companies: Matchgirl Pictures, Meridian Content, Gloria Sanchez Productions, in association with NHK
International sales: Elle Driver sales@elledriver.eu
Screenplay: Atsuko Hirayanagi, Boris Frumin
Producer: Atsuko Hirayanagi, Han West, Jessica Elbaum, Yukie Kito
Executive producers: Meileen Choo, Razmig Hovaghimian, Will Ferrell, Adam McKay
Cinematography: Paula Huidobro
Production design: Norifumi Ataka, Jason Hougaard
Editor: Kate Hickey
Music: Erik Friedlander
Main cast: Shinobu Terajima, Josh Hartnett, Shioli Kutsuna, Kaho Minami