Arnaud Desplechin's latest is a murder mystery based on a real-life crime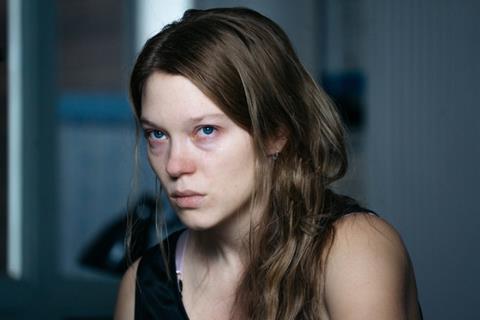 Dir: Arnaud Desplechin. France. 2019. 119mins
Cannes regular Arnaud Desplechin returns to the Croisette two years after opening the festival with Ismael's Ghosts. But Oh Mercy! is a complete change of tack from the playful semi-autobiographical mode of that star-packed excursion and its predecessor, 2015's My Golden Days. Based on a true story and the 2008 TV documentary that brought it to the attention of the French public, Oh Mercy! turns the routine police work of a commissariat in Northern France into a kind of tragic, fatalistic human drama .
Oh Mercy! is the story of a washed-up city as much as it is a true crime tale
Rambling but strangely compelling, Oh Mercy!'s documentary bedrock gives the investigation at the heart of the film a real authenticity. From around its midpoint, this uneven film becomes a riveting, compassionate interrogation drama. That should be enough to secure a small international arthouse tour following further festival play.
Oh Mercy! is the story of a washed-up city as much as it is a true crime tale. Roubaix, where the director grew up, is a former industrial town that never recovered from the collapse of its once thriving textile factories. At first we seem to simply be following the routine police work of the city's main commissariat around Christmas time; a domestic ruckus, a missing teenager, a sad-sack who burned his car and himself in an attempted insurance scam, a fire in an abandoned house in one of the city's most deprived areas.
Police captain Daoud (Roschdy Zem) is a compassionate father-figure presiding over a station where rookie Louis (Antoine Reinartz) has just arrived on a five-year placement. Daoud's whole family returned to Algeria a few years back, but he opted to stay in the city where he was born and grew up. Displacement is everywhere in this town of living ghosts; when a missing girl is said to have fled to Belgium (a few miles away), it's made to sound like she's jumped ship for America.
But gradually our attention comes to focus on a murder investigation and its two main suspects – a semi-destitute couple of co-habitees, perhaps lovers, convincingly played by Léa Seydoux and Sara Forestier. Desplechin's rangy approach to plotting and fondness for digression were amply proven in Ismael's Ghosts, and here there's more than one piece of excess baggage – including some voice-over narration by Louis, as he deliveres passages from letters written to a father we never see. Feeling like survivals from an early draft of the script, these poetic musings serve the useful purpose of telling us, for example, that 45% of Roubaix's population is living below the poverty line, but they feel a little lazy in a film that is mostly quite good at showing, not telling.
Everything here seems bathed in yellow-brown light; even the wallpaper in the bedroom where the old lady at the centre of the story was murdered is the same hue, peppered with sad little poppy motifs. Grégoire Hetzel's sombre soundtrack, with its Bernard Herrmann feel, pushes the tragic notes a little too insistently at times, but it feels right as we near the finale of a film in which an interrogation and crime reconstruction become a kind of ritual of expiation and redemption.
Production companies: Why Not Productions, Arte France Cinéma
International sales: Wild Bunch, ediederix@wildbunch.eu
Producers: Pascal Caucheteux, Grégoire Sorlat
Screenplay: Arnaud Desplechin, Léa Mysius
Production design: Toma Baqueni
Editing: Laurence Briaud
Cinematography: Irina Lubtchansky
Music: Grégoire Hentzel
Main cast: Roschdy Zem, Léa Seydoux, Sara Forestier, Antoine Reinartz