Bong Joon Ho presents the first Netflix title to compete at Cannes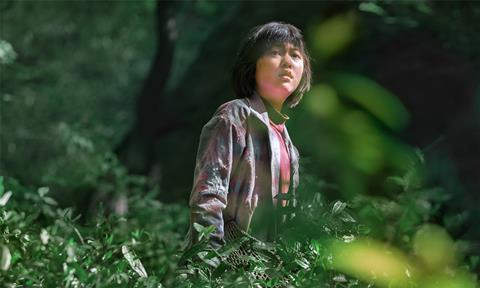 Dir: Bong Joon Ho. South Korea. 2017. US. 118 mins
No-one can fault South Korean maestro Bong Joon Ho on either versatility or ambition - his work ranging from bleak crime stories like Mother to his last film, the FX-laden, internationally cast sci-fi train epic Snowpiercer. He's in FX mode again in the similarly big-thinking Okja, a broad, sometimes strident satire on corporate cruelty and the horrors of the meat-based economy. In a very different mode to his earlier strictly-for-scares creature feature The Host, it's also the story of a young girl and her very unusual pet. To say that the two registers – political cartooning and intimate cuteness – don't mix would be an understatement, and Okja is a classic case of a film that you emerge from not knowing quite who it's intended for.
You absolutely believe the emotional and physical interplay between Okja and young Mija
This will be a problem when the film has a limited theatrical release in the US and UK on June 23, perhaps less of an issue when this Netflix production – controversially, the first to be screened in the Cannes competition – goes online the following week.
The film opens with a brassy fanfare of a prelude set in New York, where Lucy Mirando (Tilda Swinton), new CEO of the agrochemical Mirando Corporation, gives a press conference announcing that the hitherto nasty company has a new eco-friendly ethical face. The company's new project is the creation of a new breed of super-pig that will have a minimal environmental footprint, feed the world and, above all, taste good.
Twenty-six of these miracle beasts have been sent around the world to be raised, and ten years later we meet one - female specimen Okja, living in an idyllic mountain area in Korea, with a young girl named Mija (13-year-old An Seo Hyun) as her companion. A lumbering, floppy-eared pachyderm-skinned creature – a pigapotamus, roughly speaking – Okja is a tender, devoted creature, whose intrepidity and intelligence are shown in a jungle cliffhanger episode. But Okja is soon reclaimed by the corporation, so Mija embarks on an intrepid solo journey, first to Seoul then to New York, where she discovers the unpalatable facts about the food industry.
The adventure that ensues involves a gang of well-intentioned but ethically confused Animal Liberation Front activists, headed by the drolly neurotic Jay (Paul Dano). The film can't be faulted on its slapstick action sequences – notably a pursuit through the streets and malls of Seoul – nor on its VFX, under the aegis of Erik-Jan de Boer. Okja's physical heaviness and emotional softness emerge vividly, and the creature has a real corporeal presence, partly because of the delicate control of its movements and texturing of its rough hide. In addition, the integration of Okja into the jungle environment, is elegantly achieved. You absolutely believe the emotional and physical interplay between Okja and young Mija – not least because young An Seo Hyun, a natural, gives such a candid and touchingly downplayed performance.
It should be said that hers is one of the few controlled turns in a film that wildly overindulges madcap performances. Worst offenders are a wildly mugging Shirley Henderson and Jake Gyllenhaal - "squeaking and whining," as one character complains - in a manic comedy-nebbish role that Sacha Baron Cohen might have pulled off, but that is leadenly hysterical in a way that's hardly characteristic of this fine thesp. Even Swinton, who has a fine record of playing corporate neurotics (cf. Michael Clayton), pushes her neurotic Lucy into braying overdrive right from the start. A notable exception is Giancarlo Esposito, as a serpentine boardroom player, playing it satisfyingly close to his chest.
Okja is fun, if sometimes over-egged, as an adventure romp, but flounders in overstatement when it comes to satirical intent. It could be called either audacious or misjudged when the final act takes us to a factory farm for giant pigs, where the film startlingly turns into something between My Neighbor Totoro and Le Sang des Bêtes. This is the sort of moment that could be just too harrowing for younger viewers – and the same could be said for an episode of, no kidding, pig rape. As one character says of the new super-duper meat, "It's all edible except for the squeal." Viewers may feel there's rather more squeal here than they can easily swallow.
Production companies: Plan B Entertainment, Lewis Pictures, Kate Street Picture Company, Netflix
International distribution: Netflix
Producers: Ted Sarandos, Dooho Choi, Dede Gardner, Jeremy Kleiner, Woo Sik Seo, Lewis Taewan Kim
Screenplay: Bong Joon Ho, Jon Ronson
Cinematography: Darius Khondji
Production designer: Arnaud de Moleron
Editor: Yang Jinmo
Music: Jaeil Jung
Main cast: Tilda Swinton, Paul Dano, An Seo Hyun, Byun Heebong, Jake Gyllenhaal