A pair of ageing WWII veterans set out to exact revenge on the communist prosecutor who once jailed them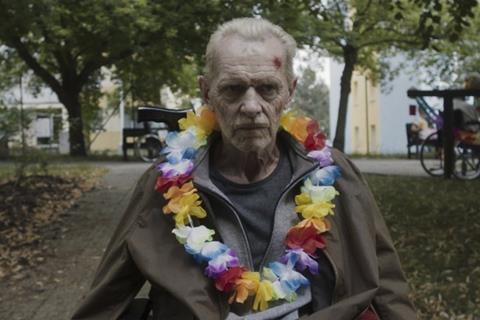 Dirs/scr: Martin Dušek, Ondřej Provazník. Czech Republic/Slovak Republic. 2019, 85mins
As individual as it may seem, this Czech comedy-drama about two elderly men who set out to murder the communist prosecutor who once jailed them has a couple of recent antecedents, in Atom Egoyan's Remember (2015) and Martin Šulík's The Interpreter (2018). That Old-Timers is closer to the latter says much about the directors in this part of the world, who are more willing to risk oddball humour while charting their dark histories.
Veteran actors Schmitzer and Mrkvička play well together, feeding very different energies into the mix
Written and directed by Martin Dušek and Ondřej Provazník, best known for the documentary A Town Called Hermitage (2007), it will certainly delight local audiences. It may prove, however, too under-nourished to travel well – a condition that. ironically, it shares with its protagonists.
Vlasta (Jiří Schmitzer) and Tonda (Ladislav Mrkvička) fought together in WWII, then suffered terribly at the hands of the Communists. Now elderly and infirm – Vlasta confined to a wheelchair, Tonda deaf and less mentally acute than his friend – they are nevertheless sparked to life by news that an old nemesis has escaped justice; namely, the Czech prosecutor who jailed them as political prisoners in the Fifties. Vlasta wants to exact his own justice; Tonda reluctantly agrees, as long as he can bring along his dogs. And so they take to the road in a beaten-up camper van in search of their prey.
The premise naturally contains both darkness and light. On the one hand, countless victims of war crime and totalitarianism endure lifetimes without justice or closure; on the other, there are definite chuckles to be had at the sight and sounds of grumpy old men attempting the mechanics of murder when they can barely put one foot in front of the other.
Yet the comic highlights don't lose sight of the pair's deadly intent: Vlasta's failure to smuggle a shotgun through airport security; the pair's subsequent retrieval of replacement weapons, stashed cunningly in the wall of a collaborator's farmhouse years before; Vlasta's impressive disarming of a policeman some 60 years his junior. Despite the cacophony of grunts, growls and gasps that accompany these would-be assassins' every move, they both happen to be very good shots.
Dušek and Provazník maintain a steady control of their tone. And after a deftly handled shock around the hour mark, they edge towards thriller mode as victim and tormentor finally meet. Even then, the passing of time has a part to play; there's something incredibly disturbing in the sight of enduring evil in fading, barely cognisant eyes.
It's a pity, then, that the film feels short of a beat or two – more background and colour to the old fellas' relationship, more introspection, an extra chapter on the road. Nevertheless, veteran actors Schmitzer and Mrkvička play well together, feeding very different energies into the mix. But ultimately Schmitzer dominates the film; with his clipped moustache and slicked-back white hair, he conveys a steely ferocity that defies the character's infirmity. And it's Vlasta who voices that specific emotional pain in being betrayed by a countryman. "I went through the Gulag," he reminds his friend, "but the worst butcher was here."
Production company/contact: endorfilm (endorfilm@endorfilm.cz)
Producer: Jiří Konečný
Production design: Antonín Šilar
Editing: Jana Vlčková
Cinematography: Lukáš Milota
Music: Hejl & Srnka
Cast: Jiří Schmitzer, Ladislav Mrkvička, Dušan Kaprálik, Milena Steinmasslová, Michal Suchánek