A torrid affair rocks life in small town Russia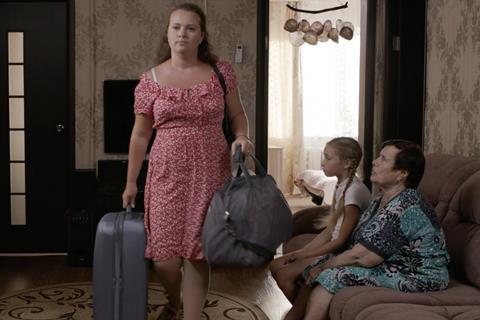 Dir/scr: Larisa Sadilova. 2019. 81mins
Better the devil you know in Once In Trubchevsk (Odnazhdy V Trubchevske) as the consequences of an adulterous affair play out in a Russian backwater. Writer/director Larisa Sadilova's first feature in almost a decade is a modest but precisely calibrated drama with a plangent feel for small-town life. Perhaps too modest a proposition for international distributors, it should still find a welcome on the festival circuit.
The star performance here comes from a radiant Kristina Schneider
Trubchevsk appears to be the kind of quiet little town where nothing ever happens. We first see it through dawn's early light as church bells peal and a man sits patiently fishing by a river bank. It is a place where everyone knows everyone else's business. It is a source of some satisfaction, then, that Anna (Kristina Schneider) has managed to keep her affair hidden from prying eyes. Her neighbour, never referred to by name, is a long distance truck driver. Every time, he (Egor Barinov) leaves his wife Tamara (Maria Semyonova) and their son, Anna seems to be catching the local bus. He then stops a little further down the motorway to pick up Anna.
Anna's unsuspecting husband Yura (Yury Kisilyov) believes that she is away on one of her regular trips to Moscow, selling the beautiful gloves, scarves and dresses that she knits. The affair unfolds in motorway hotels, stolen moments and the promise of a future together. The chickens come home to roost one New Year's Eve, however, when the truck breaks down far from home.
One of the most appealing aspects of Once In Trubchevsk is the way Sadilova firmly differentiates the response to events from Anna and her guilty lover. She is prepared to spill the beans, brazen things out , suffer the consequences and start afresh. He is a spineless procrastinator seeking to avoid confrontation and perhaps continue enjoying the best of both worlds. " Everything will work out" becomes his mantra, as he refuses to take any responsibility for the situation. Sadilova has one clever fantasy sequence in which he tries to have the courage of his convictions in a way that he never displays in life.
Yura and Tamara, meanwhile, have a very similar response to events. They bide their time, avoiding the wry stares of neighbours and the bitter words of family members. If they just wait, perhaps everything might turn out for the best. Could there even be some kind of political message in a tale that ultimately endorses the status quo rather than the great unknown?
The background bustle adds considerable interest to Trubchevsk whether it is the commemorations to mark the 75th anniversary of the town's liberation from the Nazis or the encounters with a garrulous elderly women offering sage words on how to handle love and marriage.
The star performance here comes from a radiant Kristina Schneider who makes Anna such a positive life force that you can sense immediately why she would want a more romantic life, or at least some fresh adventures. Dressed in bold yellows and bright colours, she is a ray of sunshine in a fairly drab world and Schneider makes her a vibrant survivor of whatever life and men decide to throw at her
Production companies: Shim Film, Arsi Film,
International sales: Loco Films info@locao-films.com
Producers: Larisa Sadilova, Larisa Schneidermann, Rustam Akhadov
Cinematography: Anatoly Petriga
Editing: Larisa Sadilova, Gleb Dragaytsev
Production design: Igor Stolyarov
Main cast: Egor Barinov, Kristina Schneider, Yury Kisilov, Maria Semyonova