Léa Seydoux is luminous in Mia Hansen-Løve's intimate drama about loss and love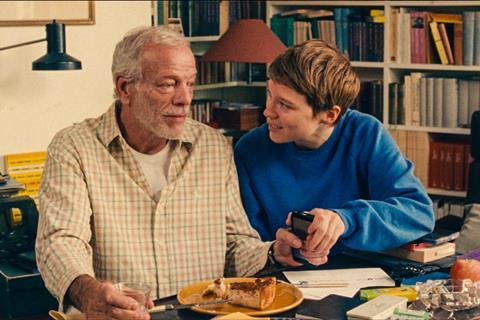 Dir/scr. Mia Hansen-Løve. France/Germany. 2022. 112 mins.
Mia Hansen-Løve is at her best exposing the kind of love and loss that can't help but feel deeply personal, and she is at her best here: One Fine Morning returns the French director to the tender pain of Father Of My Children, placing an empathetic Léa Seydoux in the central role of a young mother trying to deal with the velvet-fisted blow of the gradual loss of a beloved father while grappling with the meaning of love in her own small, guarded life. It comes as no surprise to read that this intimate film was inspired by the death of Hansen-Løve's father, much as Children dealt with the loss of a beloved mentor.
Seydoux is transcendent
In many ways, One Fine Morning treads a similar narrative path to last year's Cannes Competition entry from François Ozon, Everything Went Fine, and sits comfortably within that same Parisien milieu. Perhaps not so affluent, but this isn't the banlieue either: Sandra's (Léa Seydoux) ailing father Georg (Pascal Greggory), was once a professor of philosophy; her potential romantic partner is an astro-physicist, while she herself is a highly competent interpreter in multiple languages. Ozon's heroine had to arrange her father's assisted suicide, but all that Hansen-Løve's character can do here is watch as he becomes increasingly diminished, something which feels more brutally realistic despite Hansen-Løve's deceptively delicate delivery. (So fractured is his mind that when Georg seems to speak of euthanasia, his meaning is out of reach.)
Hansen-Løve's last two films, Bergman Island (whose Cannes Competition berth last year and eventual release was delayed by a year due to the pandemic) and Maya, from 2018, have failed to resonate as strongly as her earlier work. Helped by a luminous performance from Léa Seydoux, this audience-pleasing French drama, which plays in Director's Fortnight, should reignite arthouse interest in the Paris-based director.
Although young, Seydoux's Sandra finds herself in a classic mid-life dilemma: she has a young daughter, growing up fast, and an elderly father who is regressing even more dramatically. Her partner died five years ago, and it's not clear how — her mother Françoise, played with vivaciousness by Nicole Garcia, refers to "enough suicides in this family". Sandra operates on a very self-contained basis: from her tiny apartment, to school pick-ups, she's a go-between at work, where she translates, as she is with her father and long-since separated mother. She must face the fact that the unseeing Georg can no longer live alone in his rented apartment, while the family doesn't have enough means to secure him a comfortable end of life.
Meanwhile, a friendship with an old acquaintance Clément (Melvil Poupaud), a scientist, traveler, and unhappily married man, blossoms tenderly into something which could be love.
One Fine Morning is concerned with loss and love and the interplay between both. The fine mind of Sandra's father is being incrementally ruined, with his love for new partner Leila the only thing that can shine through the obscuring fog. His family tries to move him around Parisian care homes as they pack up his life and work into small boxes. Clement is a self-described cosmo-physicist, fixated with the permanence of science, but his comings and goings affect Sandra's daughter Linn (the sprightly Camille Leban Martins) to the point where she suddenly starts limping. Life is messy, and Sandra can seem passive in the face of it, boxed into her small apartment, yet her character is always true to herself. One Fine Morning can also yield up charmed moments in the middle of the pain, such as a Christmas Eve set piece which isn't really pertinent, but pleasing nonetheless.
Hansen-Love finds moments of truth in the melange, and Seydoux is transcendent, carrying a sadness inside which proves incredibly moving when the opportunity for love presents itself and she melts into it. Superb support from a stripped and defenceless Pascal Greggory make One Fine Morning something more powerful than the light-touch meditation that it initially appears. Shooting on 35mm, DoP Denis Lenoir gives Paris a softness that helps visually alleviate some of the harder issues at play here.
Production companies: Les Films Pelléas
International sales: Les Films du Losange, a.lesort@filmsdulosange.fr
Producers: Philippe Martin, David Thion
Cinematography: Denis Lenoir
Production design: Mila Preli
Editing: Marion Monnier
Main cast: Léa Seydoux, Melvil Poupaud, Nicole Garcia, Pascal Greggory, Camille Leban Martins