Berlin's Panorama section opens with a teen romance set in One Thousand, an estate in Northern Argentina's Corrientes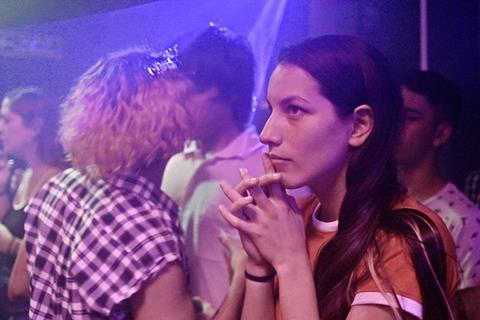 Dir/scr. Clarisa Navas. Argentina/Germany/Spain. 2020. 120 mins.
The teens who roam the housing estates of One In A Thousand are restless — as is the vivid, raw but slightly unfocused queer coming-of-age film they're in. Detailing the complicated reality of adolescent life in her own neighbourhood – Northern Argentina's Corrientes - writer/director Clarisa Navas delves into this insular world in gritty, realistic detail. But her follow-up to Today Match at 3 also feels torn: between exploring the central romance between shy and sporty Iris (Sofía Cabrera) and confident Renata (Ana Carolina Garcia), and painting a broader slice-of-life portrait of the setting.
A potent, defiant feature
Opening Berlinale's 2020 Panorama strand and likely to receive further festival attention, One In A Thousand strikes a chord but leaves audiences wanting more, both from the 17 year-old central couple and from the 'One Thosand' estate itself, including its residents (and Iris' cousins) Darío (Mauricio Vila) and Ale (Luis Molina). That's a good problem to have, and a testament to the fine work by the engaging young cast. And yet, clocking in at two hours, One in a Thousand can also meander — a sensation heightened by Navas' and returning cinematographer Armin Marchesini Weihmuller's penchant for long takes.
One such shot opens the film, following Iris as she bounces her basketball through the estate. Her summery days revolve around Dario and Ale — lazing around in their bedroom as their mother argues, mostly — until Renata returns to the barrio and immediately captures Iris' attention. She's instantly infatuated but, as tongues start wagging about Renata's promiscuous past and its consequences, she's also warned away. Corrientes might be a place where teens regularly party into the night, yet it's also a neighbourhood where scathing judgement spreads thick, fast and via graphic video text messages.
One In A Thousand incisively captures this juxtaposition: between the idea that anything goes for Iris, Renata, Dario, Ale, their fellow teens and the generation they belong to, including dancing for web cams and getting raunchy at neon-lit clubs, and the threat of bullying, violence and condemnation by their peers and the broader community. Already introverted and awkward, Iris is particularly troubled by that contrast.
Its ambitions might exceed its execution — there's no shortage of stories to tell among these Corrientes teens, as the film makes plain — but One in a Thousand remains a potent, defiant feature. While never as provocative as Larry Clark's Kids, as off-kilter as Gregg Araki's Teen Apocalypse Trilogy, or as glossy as recent HBO TV series Euphoria, this is a movie that depicts queer teen experiences in a matter-of-fact, warts-and-all fashion.
Indeed, even when the movie can't quite choose what to focus on, Navas revels in the ongoing complexity of Iris and her friends' lives, rather than charting neat dramatic arcs or offering easy resolutions. And, crucially, it never sullies its documentary-style visuals or its cast's naturalistic performances with easy, familiar life lessons.
Production company: Varsovia Films
Sales: Pluto Film, daniela@plutofilm.de
Producers: Diego Dubcovsky, Lucia Chavarri
Cinematography: Armin Marchesini Weihmuller
Editing: Florencia Gomez Garcia
Music: Claudio Juarez, Desdel Barro
Production design: Lucas Koziarski
Main cast: Sofía Cabrera, Ana Carolina Garcia, Mauricio Vila, Luis Molina, Marianela Iglesia, Pilar Rebull Cubells, Facundo Ledesma, Leo Espíndola