Powerful dramatisation of a couple's survival of the Bataclan terrorist attack in Paris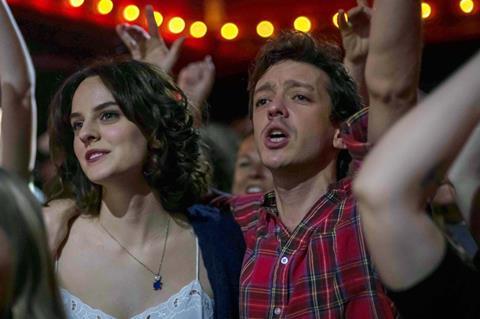 Dir: Isaki Lacuesta. Spain/France. 2022. 120 mins
One Year, One Night, Isaki Lacuesta's subtle and powerful follow-up to Between Two Waters, explores the consequences for a young couple in the crowd at the 2015 concert at the Bataclan theatre in Paris, where a terrorist attack killed 90 people. Based on survivor testimony and on Spaniard Ramon Gonzalez's memoir 'Peace, Love and Death Metal', this Spain/France coproduction brings to bear all Lacuesta's hallmarks, among them a quasi-documentary style grounded in realism and a deep compassion for the unfortunate. The result is an emotionally compelling psychological drama that, using Berlin as a platform, could bring Lacuesta wider international acclaim.
An emotionally compelling psychological drama
We first encounter hyper, angular bohemian Spaniard Ramón (Argentinian Nahuel Pérez Biscayart, BPM), and calm, pragmatic Céline (Noémie Merlant, Portrait of a Lady On Fire) in their cramped Paris apartment the morning after the Bataclan shootings. It quickly becomes clear that something is brewing in the supposed calm after the storm: Ramón is having difficulty breathing, while Céline has not felt able to tell her parents about the awful event.
From here on, the film will employ multiple flashbacks and forwards — initially disorientatingly, until we realise that seeing and feeling things from the characters' point of view is the whole point — to play out the differing consequences of their night in hell on Ramón and Céline. (Editing by Sergi Dies and Fernando Franco deserves special mention.) Ramón becomes increasingly distracted at work, seeking out peaceful places like art galleries, suffering anxiety attacks and, later, becoming increasingly obsessed with mentally recreating every detail of the event, including a glimpse of the face of one of the shooters, which he is unable to shake off.
Céline, meanwhile, represses her memories, making valiant attempts to carry on as though nothing has happened. She increasingly becomes a mother figure to the edgy Ramón, a situation that neither of them is happy with and which drives them to some authentically explosive and brilliantly delivered exchanges. Merlant and Pérez Biscayart are superb separately, but even better together, as the relationship of the loving but insecure Ramón and Céline slowly and painfully starts to fall apart. If one of terrorism's aims is to drive wedges between citizens, then on the evidence of One Year, One Night, it works all too well.
Images of particles floating in the air open the film and recur throughout it: like those particles, the film says, the aftermath of terrorism damages the bodies and minds and anyone who has breathed its awful air. This is the kind of project that requires a delicate moral antenna, but viewers needn't worry that their sensibilities will be trampled on.
The potentially complex, hard-to-watch Bataclan scenes are distributed throughout the film with no change in the jittery, hand-held camerawork that is its stylistic hallmark, pulling the viewer right into the claustrophobic experiences of Ramón and Céline as they lie terrified and trembling on the floor, the gunshots felt as dull thuds in the distance as the attackers go about their business. Céline´s father calls during the attack, and she whispers to him that they are in the cinema; 'Kiss the Devil', the song that the Eagles of Death Metal were playing when the terrorists opened fire, is rolled into the soundtrack.
The effects of the attack ripple out into the lives of others. Carlos (Quim Gutiérrez), a friend of the couple's, feels he must abandon Paris. Céline works in a center for refugees: ironically, her job is to protect them, but the provocations of one of her sullen and challenging charges will become too much for her to handle. Conversations with fellow survivors — this is a very chatty film — show how such a traumatic event can realign our views of politics and racism, perhaps coming down hardest on the uncomprehending media coverage.
Some will consider it a morally daring move to focus on the indirect victims of terrorism: One Year, One Night devotes little time to the dead and physically wounded. This could make things feel self-indulgent, but the script, cowritten with Lacuesta's long-term collaborators Isa Campo and Fran Araújo, skillfully reminds us that the experience of fear and uncertainty is not, in our society, limited to those have directly experienced terrorism. To this extent, One Year, One Night unhappily feels all too much like a film for our times.
Production companies: Mr. Fields and Friends, La Termita Films, Bambú Producciones, Noodles Productions
International sales: StudioCanal, info@studiocanal.de
Producers: Ramón Campos, Jérôme Vidal
Screenplay: Fran Araújo, Isaki Lacuesta, Isa Campo
Art direction: Sébastien Gondek
Production design: Laia Coll
Editing: Sergi Dies, Fernando Franco
Cinematography: Irina Lubtchansky
Music: Raül Refree
Main Cast: Nahuel Pérez Biscayart, Noémie Merlant, Quim Gutiérrez, Alba Guilera, Natalia de Molina, C. Tangana