An enthusiastically-lurid crime drama from director Özgür Yildirim, reuniting with actor Moritz Bleibtreu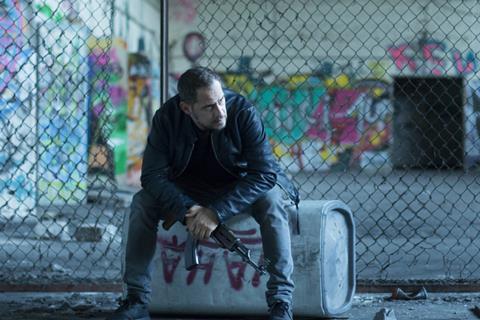 Dir. Özgür Yildirim. Germany. 2017. 99 mins
The photogenic neon-drenched squalor of Hamburg's criminal underworld is the backdrop to this enthusiastically lurid crime drama. The film marks a reunion between director Özgür Yildirim and actor Moritz Bleibtreu, star of his debut picture Chiko.
Yildirim is a director who favours style over basic common sense
Bleibtreu, who also produces, stars as Ricky, recently released from prison after a five-year stretch for a violently botched robbery. Ricky dreams of going into business with his prison buddy Psycho Altan. But if that sounds like an unpromising idea, just wait for the get-rich-quick scheme which is meant to set Ricky up with enough money to buy into Altan's bar. Everything that could go wrong does go wrong and the whole film could double as public service announcement designed to warn of the dangers of the criminal lifestyle.
Pulpy, highly-strung and trigger-happy, Only God Can Judge Me could garner further festival play outside its German release through Constantin in January. But lacking the subtlety of approach which could recommend it to an overseas arthouse audience, the film's prospects are perhaps healthiest at home.
An early flashback sequence establishes the fact that Yildirim is a director who favours style over basic common sense. A heist takes place in a huge warehouse. Ricky and his cohorts are attempting to rob an enormous and seemingly bulletproof Russian mobster. The backdrop is set-designed to within an inch of its life. But something seems slightly off. Then you notice that, despite the fact that the shoot-out is taking place in a building with a roof, the entire floor is soaking wet, the better to reflect the strip lights and gun flashes.
This robbery ends in failure and a prison term, but Ricky hasn't learned his lesson. He is barely out of jail before he is considering a high-paying job working covertly with a gang of Albanian heroin dealers. The wildcard is his younger half brother Rafael (Edin Hasanovic), who has been preparing to propose to his dancer girlfriend by systematically stealing from her dad. Meanwhile, in a parallel storyline, police officer and single mother Diana (Birgit Minichmayr) is struggling to find the money to buy a black-market heart transplant for her gravely ill daughter.
The scene which brings Ricky and his brother together with Diana and her partner is an uncomfortably-taut ticking time bomb. Ricky has been pulled over for a broken tail light but, sitting in a car full of drugs and semi-automatic weapons, Rafael is finding it hard to keep his cool. Other scenes lack this intensity of focus. From the grade – a retina-scalding teal and acid yellow palette – to the lighting, to the strident performances, it's all slightly heightened and magnified. In contrast, the religious element hinted at by the title and an opening shot which is reprised towards the end is curiously underdeveloped.
An electronic score which nods towards those of Hollywood action movies of the 1980s gives a hint of the influences that Yildirim brings to the picture. It's probably fair to assume that subtlety was never the aim here.
Production company: Rat Pack Filmproduktion GmbH, Paloma Film, Constantin Film AG
Contact: info@ratpack-film.de
Producers: Christian Becker, Moritz Bleibtreu
Screenplay: Özgür Yildirim
Cinematographer: Matthias Bolliger
Editor: Sebastian Thümler
Music: Peter Hinderthür
Main cast: Moritz Bleibtreu, Kida Khodr Ramadan, Edin Hasanovic, Birgit Minichmayr, Peter Simonischek, Franziska Wulf, Alexandra Maria Lara, Tim Wilde