Rachid Hami's French drama premiered at TIFF.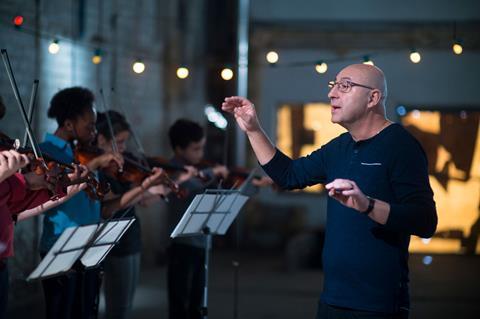 Dir: Rachid Hami. France. 2017. 101mins
While Algerian-born director Rachid Hami's film may tread familiar territory it refreshingly eschews the simplistic sentimental cinematic notion of 'musical misfits make good' and strikes an engaging harder-edged chord with its story of dour French-Algerian classical violinist who attempts to encourage, tame and ultimately inspire a raucous and resolutely rude Parisian music class. The film screened at the Dubai International Film Festival after its premiere at Toronto.
The raucous energy that the youngsters offer gives Orchestra Class (La Melodie) a gritty sense of momentum.
Welcome to the Sticks comedian/actor Kad Merad – in a far more serious role that barely allows a smile to pass over his face – is sullenly charismatic as serious would-be teacher Simon Daoud, whose introduction to a rowdy class of immigrant and second-generation immigrant children - who have no idea how to hold a violin let alone play it - is less than warm and welcoming.
These 12 year-old wannabe classical violinists swear and fight like troopers, and this is where actor-turned-director Hami is at his best as he films the brawling youngsters in gritty fashion, and doesn't try to offer easy clichés as to why they are in the class or what they seek out of it. But while initially refreshingly gritty, the film also can't resist heading in a relatively warm-hearted direction, as Simon has to try and change his attitude and inspire the youngsters.
Naturally a few rise to the challenge – especially good is Renely Alfred as the shy but warm-hearted Arnold, a plump youngster of African heritage who is picked on by others, but really takes a shine to the violin and with whom Simon truly bonds – as the film heads towards its suitably stirring finale as the youngsters have to perform at a formal concert, shot at the Philharmonie de Paris.
The film's real energy comes from the rougher hewed scenes of the tough-talking class bickering and fighting, with a sense of documentary-realism sitting nicely with the more genial story of a glum violin teacher explaining the joys of classical music. Their musical journey might feel familiar, but they are not won-over easily, while at the same time Simon is no genial convert to the joys inner-city teaching.
The raucous energy that the youngsters offer gives Orchestra Class (La Melodie) a gritty sense of momentum, and while the musical finale might feel familiar, there is a sense that both students and teacher have really had to work to get to their happy-ish ending.
Production companies: Mizar Films, UGC, France 2 Cinema, Cite de la musique - Philharmonie de Paris
International sales: Gaumont, www.gaumont.fr
Producer: Nicolas Mauvernay
Screenplay: Guy Laurent, Valerie Zenatti, Rachid Hami
Cinematography: Jerome Almeras
Editor: Joelle Hache
Production designer: Sebastien Gondek
Music: Bruno Coulais
Main cast: Kad Merad, Samir Guesmi, Renely Alfred, Slimane Dazi, Mathieu Spinosi, Constance Dolle, Sofiene Mamdi, Tatjana Rojo