Virgina Woolf's 1920 novel is the starting point for a fluid fact/fiction exploration of gender and identity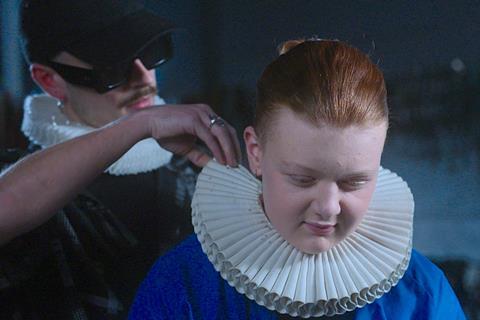 Dir: Paul B Preciado. France. 2023. 98mins
Writer and philosopher Paul B Preciado takes a bracingly intellectual approach to notions of transition and gender in his directorial debut, while also offering up a very personal perspective. Using Virginia Woolf's 1928 novel 'Orlando' as a touchstone – with its central story of a character who changes sex in the middle of a narrative that spans almost four centuries – he writes to the author at the same time as partially dramatising the book in ways that connect it to modern conversations around identity. This is a film all about transition and the assertion that everything is in continual flux; from the past to the present, from fact to fiction and from one gender to another or to one that doesn't fit within binary constraints.
A film that sees pigeonholes as something we should all fly away from.
While the dense nature of the argument Preciado is putting forward has not been made with the multiplex in mind, his often playful approach to the material means there's rarely a dull moment in a narrative which presents to us a series of different Orlandos, each articulating their own story alongside that of the literary character. The film screens at Thessaloniki following its premiere in Berlin, where it won a Encounters Special Jury mention and the documentary Teddy Award. Those accolades, together with its relevance to current global conversations around gender and its refusal to sit neatly in a documentary box, should help it to stand out from the crowd.
"I'd like to show you all my metamorphoses and crash tests," Preciado – whose books include 'Testo Junkie: Sex, Drugs, and Biopolitics in The Pharmacopornographic Era' – writes to Woolf. Through the course of his film there will be many evolutions as more than two dozen trans and non-binary people, each introducing themselves by name, step into Orlando's neck ruffle.
The sense of fluidity is emphasised by the way the film is shot, frequently drawing attention to the stagecraft of "scenery" being changed or manipulated, showing make-up being applied to alter an appearance or allowing a single voice to become a chorus before reverting back again. Preciado also achieves a real sense of flow between the words of Woolf and the personal experiences of those who take on the role of Orlando, drawing elegant parallels between the author's world and ours.
This is a delicate and detailed work that also finds time to consider Woolf's life and her sexuality, including her affair with fellow author Vita Sackville-West. While Woolf's Orlando transitioned in sleep, Preciado notes the road travelled by multitudes of real-life Orlandos to reach their ideal identity is much more difficult. As part of this acknowledgement, Preciado pays tribute via archive film to trans pioneers including French star Coccinelle and American Christine Jorgensen. Psychiatrists and doctors in general are singled out for scathing commentary. In an indication of the puckish nature of Preciado's approach, one psychiatrist's visit morphs into a full-blown disco number which declares, "Their categories are pathetic, you are much more poetic".
The categories in question are the binary genders, and the film is robust in its take-down of this idea of societal norm. Preciado not only challenges the notion that non-binary people should be forced to pick a side, but also notes the difficulty presented in many countries by identification documents that don't include non-binary as an option. As more than one person also notes here, to stop using the word "trans" in front of their gender would be to erase an earlier part of their life. Playful but challenging, moving and meticulous, this is a film that sees pigeonholes as something we should all fly away from.
Production companies: Les Films du Poisson, 24images
International sales: The Party Film Sales, clemence.lavigne@thepartysales.com
Producers: Yaël Fogiel, Laetitia Gonzalez, Annie Ohayon-Dekel, Farid Rezkhallah
Cinematography: Victor Zebo
Editing: Yotam Ben David
Music: Clara Deshayes
Main cast: Paul B Preciado, Oscar S Miller, Janis Sahraoui, Liz Christin, Elios Levy, Victor Marzouk, Kori Ceballos, Vanasay Khamphommala, Ruben Rizza, Julia Jimmy Postollec, Amir Baylly, Naelle Dariya, Jenny Bel'Air, Emma Avena, Lilie Vincent, Artur Verri, Eléonore Lorent, La Bourette, Noam Iroual, Iris Crosnier, Clara Deshayes, Virginie Despentes