Dir. Susanna White. UK, 2016, 105 mins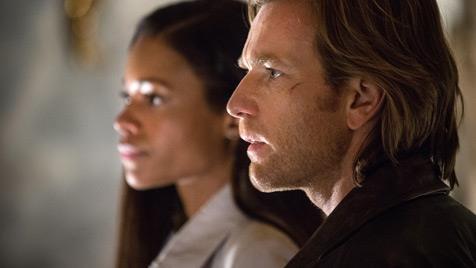 Much delayed, John Le Carré's Our Kind Of Traitor finally arrives in UK cinemas hot on the heels of the BBC's lavish, free-to-air The Night Manager. It's a little too close for comfort, but director Susanna White is keen to emphasise the cinematic values of her adaptation from the very first frame, opening with a colour-drenched shot of Carlos Acosta dancing at the Bolshoi Ballet.
Skarsgard's dynamic performance saves the day. Forget Hiddlesbum: the sight of the beefy, long-haired actor emerging from a sauna in his heavily-tattooed birthday suit is not easily forgotten.
The Cuban dancer has nothing whatsoever to do with the film, but White is warning the viewer that Our Kind Of Traitor will be a smart, upscale production. Adapted from the novel by Hossein Amini, richly shot by Antony Dod Mantle, designed by Sarah Greenwood and featuring Ewan McGregor, Damian Lewis and an on-form Stellan Skarsgard as a gone-to-seed Russian mobster, Our Kind Of Traitor boasts an exemplary technical package, helping this mid-range picture punch above its budget.
Our Kind Of Traitor may not reinvent the Le Carré lexicon, but will slide in very nicely with A Most Wanted Man (2014) and The Constant Gardener (2012), mining what has become a rich cinematic seam for Le Carre's more recent work (Traitor was published in 2010). Ewan McGregor delivers a buttoned-down, somber performance as a willing naif caught up in events he doesn't understand, immediately reviving memories of Polanski's The Ghost. Releasing in the UK on May 13 and the US on July 1 through Lionsgate, after opening the San Francisco Film Festival, Our Kind Of Traitor should have solid potential for StudioCanal and Film4 – perhaps mirroring the profitable progression of writer Amini's 2013 film, The Two Faces of January.
Le Carré 's Whitehall mandarins may struggle to fight a post-Cold War world of corruption and greed, but, as ever, the real enemy is within.
Amini's screenplay makes it somehow feel natural that a larger-than-life Russian mobster called Dima (Skarsgard) would approach a boring university lecturer called Perry (McGregor) in a Marrakech bar and draw him and his semi-estranged wife Gail (Naomie Harris) into a web of dangerous intrigue.
There's little vanity to McGregor's performance; emasculated, insecure about his relationship and aware of his own limitations, his Perry is easily tempted into a night out with Dima and his cohorts. Dod Mantle shoots this, and much of the rest of the film, as a shadowy yet garish world through which dark figures go about their dirty business. Yet it turns out that the gregarious, dangerous Dima runs money laundering for the Vory mafia and is about to fight tooth and nail for the survival of his family.
He asks Perry to bring a USB stick back to the UK to hand to Government agents there, and it turns out that Dima's photographic memory could implicate a key cabinet minister in a scheme to launder mob money through a bank in the UK. Enter Damian Lewis as Hector, Le Carré's classic, almost cliched, MI5 lone wolf operative with a burning issue to fight corruption and a personal grudge against his former boss.
Our Kind of Traitor demands the viewer accepts whole heartedly that a successful child-less couple of ten years would use the mafia to reinvigorate their marriage. White may have bought quite a lot of goodwill with her set-up, but as the film starts to frantically location-hop across Europe and Perry, Hector and Dima go increasingly out on a limb, the narrative does begin to twist in the wind.
But, while McGregor and Harris convincingly portray a couple in trouble, and Lewis's odball spook is an uneasy fit, it is Skarsgard's dynamic performance which saves the day. Forget Hiddlesbum: the sight of the beefy, long-haired actor emerging from a sauna in his heavily-tattooed birthday suit is not easily forgotten.
Our Kind Of Traitor touches on some hot-button topics of political and financial deception, and may well suit the current mood at the art-house. Oscar-nominated production designer Sarah Greenwood fills the screen with unusual locations and alluring sets, from Arsenal's Emirates Stadium where a Russian mobster comes to do his dirty business, to the spa, and a Bond-like tour of Europe, making this film consistently engrossing on a visual level.
Production companies: The Ink Factory, Potboiler Productions
International sales: Studiocanal, info@studiocanal.co.uk
Producers: Simon Cornwell, Stephen Cornwell, Gail Egan
Executive producers: Tessa Ross, Sam Lavender, Olivier Courson, Ron Halpern, Jenny Borgars, John Le Carré
Screenplay: Hossein Amini, adapted from the novel by John le Carre.
Cinematogaphy: Antony Dod Mantle
Editors: Tariq Anwar, Lucia Zucchetti
Production design: Sarah Greenwood
Main cast: Ewan McGregor, Naomie Harris, Stellan Skarsgard, Damian Lewis, Jeremy Northam, Grigoriy Dobregin