Albert Serra's latest is the strangely captivating tale of a colourful politician in French Polynesia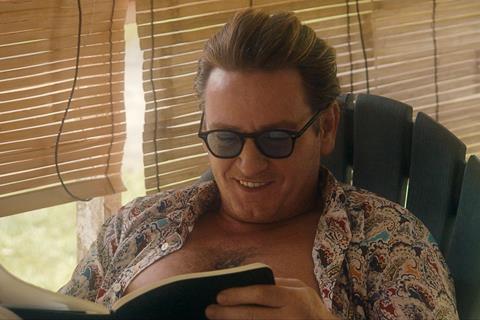 Dir/scr: Albert Serra, France/Spain/Germany/Portugal. 2022. 162 mins.
'Where Do We Come From? What Are We? Where Are We Going?' is the name Paul Gauguin gave to one of his most famous paintings, created while the artist was in voluntary exile in Tahiti. It could easily serve as the subhead of Catalan director Albert Serra's provocatively long yet strangely captivating study of a High Commissioner for French Polynesia, played magisterially by Benoît Magimel, who is one part canny politician and one part Enlightenment moral philosopher.
A series of reflections on tensions both political and natural in a post-colonial South Sea 'paradise' through a fascinatingly ambivalent lead character
Set in present-day Tahiti, Pacifiction marks a departure for a director more closely associated with quirky period films, from the Casanova-inspired Story of My Death (2013) and The Death of Louis XIV (2016) to his controversial 2019 study of 18th-century libertinage, Liberté. With its almost three-hour running time, dreamlike pacing and wafer-thin plot, Serra's latest – which marks his first appearance in competition at Cannes – isn't exactly going to light up the multiplexes. But, for resilient audiences, it provides a truly original cinematic experience. 'Cinematic' is a key word: the film was lavishly shot using three 4K Canon Black Magic Pocket cameras and comes with a rich soundscape that pushes the oneiric envelope and takes certain scenes into paranoid-thriller genre territory.
High Commissioner De Roller seems at first to be a man with as few creases in his smooth manner as there are in the neat linen suit and South Seas shirt he wears in pretty much every scene – even when he's on a jetski. A born politician, he's voluble yet also guarded, whether he's meeting local activists or giving a speech to honour Parisian novelist Romane (Cécile Guilbert) who, following in Gauguin's footsteps, has fled to Tahiti to free up her creative block, but seems to spend most of her time coaching a Polynesian folk dance troupe.
In between his official duties De Roller hangs out with other ex-pats at a club run by Sergi López's fleetingly seen Morton, where the native waitstaff and dancers go semi-naked – perhaps because that's how Europeans expect Polynesians to dress, or undress? Scored by a pulsating electro-dance soundtrack, some of these 'Morton's' scenes take on an abstract quality that teeters between Mullholand Drive and video art.
If Serra's Tahiti is, to borrow the title of an influential book by anthropologist Claude Levi-Strauss, part of the Triste Tropiques or 'Sad Tropics' that the exploitative colonial powers have left as their legacy, it's not quite the drab, tainted paradise of another Tahiti-set French film, Claire Denis' challengingly opaque 2004 work The Intruder. Rather, in what is his richest and most intriguing film to date, Serra structures Pacifiction around a series of dramatic but also ravishingly scenic tableaux linked by De Roller's ambiguous hero/narrator figure and leaves us to make up our own minds about the extent to which these are 'Pacific Fictions'.
Recurring characters include Shannah, a Gauguin-like Tahitian beauty, but even here there's a twist: she's played with tremendous poise and presence by Pahoa Mahagafanau, a biological male raised as a girl in line with the islands' RaeRae or Mahu tradition. Another local cast member, Matahi Pambrun, plays a young clan chief who is threatening to unleash civil disorder over the rumoured resumption of French nuclear tests in the area for the first time since 1995 – a rumour De Roller will neither confirm nor deny. However, he himself may be being played by his overlords back in Paris: the recently arrived hard-drinking, slightly buffoonish admiral (Marc Susini) seems to know more than he will give away about the matter. And wasn't that a submarine turret De Roller spied through his binoculars one evening?
A sharp-faced American who may or may not be a spy and a Portuguese man who claims to have lost his passport seem to be tracking De Roller's movements – or are they generated by his growing paranoia? Pacifiction certainly flirts with the conspiracy-tangled atmospheres of classics of the paranoid thriller genre like The Parallax View. But this is a background note in a film which reads more like an attempt to convey a series of reflections on tensions both political and natural in a post-colonial South Sea 'paradise' through a fascinatingly ambivalent lead character. In Benoît Magimel's engaging hands, De Roller comes on as a contemporary French spin on one of those colonial administrators Graham Greene gave fictional life to: a man who has come unanchored, one who no longer belongs fully to the European world he has left behind, but will never be fully accepted by the place that is his tropical home.
Production company: Ideale Audience Group
International sales: Films Boutique, contact@filmsboutique.com
Producers: Pierre-Olivier Bardet, Albert Serra, Montse Triola, Dirk Decker, Andrea Schütte, Joaquim Sapinho, Marta Alves, Laurent Jacquemin
Production design: Sebastian Vogler
Cinematography: Artur Tort
Editing: Albert Serra, Artur Tort, Ariadna Ribas
Music: Marc Verdaguer
Main cast: Benoît Magimel, Pahoa Mahagafanau, Marc Susini, Matahi Pambrun, Alexandre Mello, Montse Triola, Michael Vautor, Cécile Guilbert, Lluís Serrat, Mike Landscape, Sergi López