Shia LaBeouf leads Abel Ferrara's compelling historical drama about a canonised Franciscan Capuchin friar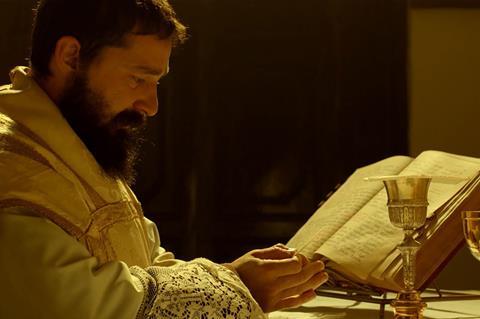 Dir: Abel Ferrara. Italy/Germany/UK. 2022. 104 mins.
Dedicated to the victims of the massacre of San Giovanni Rotondo in 1920 and the people of Ukraine, Padre Pio is a historical drama ripe with contemporary resonance. Abel Ferrara combines spiritual anguish and political turmoil in a film that is for the most part restrained, serious-minded and quietly compelling. One of the director's strongest works in recent years, it should flourish in the domestic Italian arthouse market and beyond following a world premiere at Venice.
Ferrara paints a vivid picture of brutal injustice
Padre Pio is a film that seems intent on defying expectations. It is probably not what many would have predicted from a collaboration between Ferrara and Shia LaBeouf, nor is it a conventional biography of the Franciscan Capuchin friar who was canonised in 2002. Instead, the film tries to reflect an Italy on the precipice of change. A few lurid touches aside, Padre Pio would not look out of place in the filmography of the Taviani brothers or Marco Bellocchio and has echoes of Mike Leigh's Peterloo.
Ferrara and screenwriter Maurizio Braucci (Gomorrah, Martin Eden) commence the story in the aftermath of the First World War. The streets of San Giovanni Rotondo are filled with homecoming soldiers. The injured veterans are welcomed back in a giddy excitement reflected in the roving swirl of handheld camerawork. Some of the soldiers have lost limbs, others are blinded. The question soon arises of what all their sacrifices have been for if nothing is to change.
Young priest Pio (LaBeouf) arrives. Wracked with guilt and self-doubt, he seems acutely aware of all the suffering in the world. His anguished search for purpose runs parallel to the villagers' growing political awareness. Pio's journey is measured in whispered prayers, confession, temptation, images of stigmata, and contemplation by the light of a candle in his stark priest's cell. A bearded LaBeouf's sincere performance is played at the ragged edge of emotional exhaustion; compassion leaks from Pio's eyes, nightmare visions unsettle him.
Filming on location in Apulia, Ferrara paints a vivid picture of brutal injustice. The colours are bleached, and the stone walls and paths reflect lives of hardship and poverty. Flickering candles and flaming torches provide the only glow of light or hope. Peasants work until they drop in fields strewn with rocks. Gnarled faces are hardened by weather and suffering. A child's funeral is held in the snow. Endless labour is accompanied on the soundtrack by Blind Willie Johnson's plaintive 'Dark Was The Night, Cold Was The Ground'. Marked by jangling guitars and pianos, regular Ferrara collaborator Joe Delia's score adds considerably to the feeling of stoical endurance.
The countryside is seen as fertile territory for socialism, but the opposition to such dangerous ideas is implacable. "This is Italy, not Russia," declares one supporter of the status quo. Ferrara provides a compact history lesson on the brutality of the ruling classes and the complicity of the church. A local priest accepts a bribe and is seen to bless the arsenal of weapons that will be used to suppress any unrest.
Pio is almost a secondary figure in the bigger picture, but he becomes more prominent as the film unfolds. There is a moment when a character billed only as Tall Man, and played by a severe-looking Asia Argento, comes to confess his sins. He outlines feelings of grief, rage and a growing desire for his daughter. "There is no penance that is adequate," vows Pio as he develops a righteous anger.
Events move inexorably towards the promise of the country's first free election. The refusal to accept the result, denigration of democracy and disdain for the will of the people all find chilling echoes in the present day, as well as illuminating what Ferrara sees as the roots of fascism's rise.
Production companies: Maze Productions, Interlinea Film, Rimsky Productions
International sales: Capstone, info@capstonepictures.com
Producers: Diana Phillips, Philipp Kreuzer
Screenplay: Maurizio Braucci, Abel Ferrara
Cinematography: Alessandro Abate
Production design: Tommaso Ortino
Editing: Leonardo Daniel Bianchi
Music: Joe Delia
Main cast: Shia LaBoeuf, Cristina Chiriac, Marco Leonardi, Asia Argento