Inspired by Claudio Noce's childhood, this assassination drama morphs into a father-son tale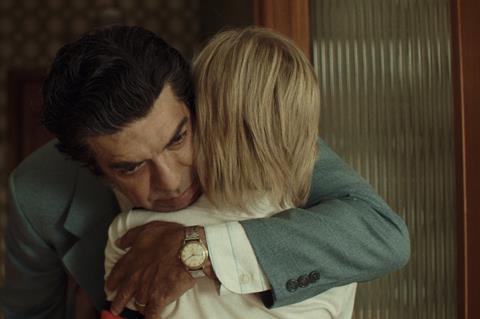 Dir. Claudio Noce. Italy. 2020. 122 mins.
The director and co-screenwriter Claudio Noce has loosely based Padrenostro on a terrifying incident in his own childhood in which his police chief father was gunned down on the street, and spun it out into an attractive slow-mo rites-of-passage ramble through Rome and Calabria of the 1970s. Dramatic crescendos rise and fall – often – but after the first explosive half hour not much really happens to Noce's blonde-haired 10 year-old mop-top alter-ego protagonist and his handsome mutton-chopped dad (producer/actor Pierfrancesco Favino) as they attempt to deal with the aftermath.
Favino is a solid, commanding presence in his kipper ties and wide-lapelled suits.
Despite this riveting premise, Padrenostro goes the way of 1970s cuisine in being over-cooked to the level of boil-in-a-bag. From its opening sequence, set in the present day, where a mysterious man on a train spots someone he knows as the station fills with smoke, Noce's third feature sits in a pressure cooker of its own self-importance. Decked in impeccable production design, Noce's story will draw the curious – although it took place when he was two, not 10. It does seem most suitable for domestic audiences after a Venice premiere, however, who will identify with the era and its psychological repercussions.
It's a beautifully-observed Spring of 1976 in Rome, so when Valerio's (Mattia Garaci) father is shot outside his apartment block, savvy viewers will sniff the sulphur of the Red Brigades. As Padrenostro gives us a child's-eye view of events, however, this key fact remains in doubt – Dr LeRose could be a mafioso, after all, and his son would be none the wiser. Valerio, or Vale, lives in his own world, and we've already been witness to one imaginary friend by the time this happens, so it's no surprise when a disheveled boy named Christian (Francesco Gheghi) suddenly appears on the street to provide this lonely child with a long-desired-for pal.
After the shootout, Vale and his family live under tight security which is so claustrophobic he can't wait to escape on his Chopper bike with his new friend. He cuts school, where he's alternatively bullied by children and praised by the nuns for his father's bravery. He remains mute, but the images of the attempted assassination play out constantly in his mind. The young boy has denied to his parents that he witnessed the shooting, in which one of the terrorists was killed. It's only with Christian that he can finally express how it happened – by helpfully drawing colourfully cinematic chalk outlines on the street outside his apartment, a sequence partially framed in slow-mo. Noce has drawn from family records and press coverage of his own father's attempted murder, and it's an authentic reconstruction which is played out from several angles throughout the film.
The family flees to Calabria to work out the psychological wrinkles and Christian comes along for the ride. Nobody seems interested in where this dirty boy comes from, but it's the 1970s after all, predating the concept of child protection. Perhaps he's not even real.
Somewhere in the trip, though, Noce himself gets lost. Perhaps it's just all too personal. There's certainly a sense that he's over identifiying with his lead character, and he starts to throw everything he has at the camera (including fantastical elements and apparations). 1970s Calabria, the cars, the big country house, a weathered patriarch, a dose of Vivaldi strings and more slow mo. Soon it begins to feel like you've eaten a little too much Black Forest Gateau, over indulged on the babycham.
As the film becomes less of a drama and more of a father-and-son story, Favino's part comes to the fore and he's a solid, commanding presence in his kipper ties and wide-lapelled suits. As Vale's mother Gina, Barbara Ronchi seems constantly on the verge of tipping over into hysteria. It's the first screen role for young Mattia Garaci, and he's a soothing, natural presence in front of the camera, bringing pathos to a child's search for a connection to his absent, almost disappeared father.
Production company: Vision Distribution, Lungta Film, PKO Cinema & Co, Tendercapital Productions
International sales: Vision Distribution, atia.rossi@visiondistribution.it
Producers: Andrea Calbucci, Pierfranceso Favino, Maurizio Piazza
Screenplay: Enrico Audenino, Claudio Noce
Cinematography: Michele D'Attanasio
Editing: Giogiò Franchini
Production design: Paki Meduri
Music: Ratchev & Carratello
Main cast: Pierfrancesco Favino, Mattia Garaci, Barbara Ronchi, Francesco Gheghi, Francesco Colella, Antonio Gerardi