Dir: Christian Schwochow. Germany/France. 2016. 123 mins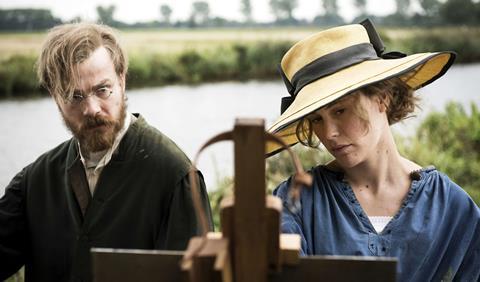 Paula bluntly sets out its stall from the opening moments as budding artist Paula Becker (Carla Juri) is told that she can never be a painter. She should find a steady job as a governess or a teacher but much better would be to find a man to marry who might be of a generous enough disposition to allow her to paint in her spare time. The injustice embodied in the well-intentioned advice inspires Paula to prove the world wrong and challenge the patronising orthodoxies of the early 20th century.
It is a hugely demanding role with Paula present in virtually every scene and Carla Juri responds with a suitably big, emotional performance
The film constantly labours the point of her struggle and sacrifices to leave an impression on a man's world, however, and the result is an often one-dimensional biography of a fascinating life told with an air of worthiness and an agenda that swamps everything else. Arthouse audiences retain a seemingly insatiable interest in both the Impressionist movement and the lives of its artists, which means Paula might still attract a share of the viewers who embraced titles as diverse as Seraphine (2008), Renoir (2012) or Camille Claudel 1915 (2013).
Christian Schwochow's handsome biopic depicts Paula as a dangerously radical woman who will not do as she is told. Defiance and a stubborn belief in her own talent sustain her through years of discouragement. As a young woman she joins the artists colony Worpsede in northern Germany. She bristles under a tutor who demands that she aims for precision and realism in her paintings but she also finds a kindred spirit in fellow painter Otto Modersohn (Albrecht Abraham Schuch). They are married and Paula's giddy ambitions are to be an established artist by the time she is 30 and lead a life where her happiness will be measured in creating three great paintings and having a child.
At 30, howeverm she has endured five years of an unconsummated marriage to Otto and leaves him for the possibilities of a more fulfilling creative life in bohemian Paris.
Paula does look as pretty as a picture and there is pleasure to be had in simply luxuriating in the period settings and images of misty morning marshes, snow-dusted rural landscapes and an array of dapper costumes and elaborate hats that seem to resemble a bowl of fruit. Paula has a great capacity to savour the joy and sensuality of living and as she runs through the woods with her best friend Clara (Roxane Duran) or screams with joy and laughter, the film echoes the series of films on artists lives that secured the initial reputation of director Ken Russell.
However, the screenplay is crammed with lines that seem designed to jump out and poke the viewer in the ribs. Characters constantly spout dialogue like "women will never produce anything creative - apart from children" and "they think that wanting something is enough," to the extent that you feel you are more than aware of the point that is being made.
Carla Juri plays Paula as a woman driven to be true to herself. There is a great deal of furious stabbing at canvases and attempts to find her style as a painter. Her knowing grins, childlike moods and awkward presence hint at something autistic in Paula (although, her bedraggled, fur-clad appearance struggling through the snow in one scene vividly calls to mind Jennifer Jason Leigh's Daisy Domergue in The Hateful Eight). It is a hugely demanding role with Paula present in virtually every scene and Juri responds with a suitably big, emotional performance. She is well-matched by Albrecht Abraham Schuch who makes Otto a sympathetic figure, staunchly loyal to a wife whose only wish is to be set free.
The passion project screenplay by Stefan Kolditz and Stephan Suschke draws out the attitudes of an era in which Otto is advised to have Paula confined to a mental asylum and the mere notion of a woman as a trail-blazing artist can cause gales of laughter. There is a sense of satisfaction in the closing titles informing us that when Paula died she left behind 750 paintings and became the subject of the first museum in the world to be dedicated to the work of a female painter. Her pioneering life holds valuable lessons and remains relevant to a world in which women are still trying to breaking glass ceilings in all walks of life, but the heavyhandedness of the approach means this filn hasn't quite done it justice.
Production Companies: Pandora Film Produktion, Grown Up Films
International sales: The Match Factory info@matchfactory.de
Producers: Ingelore Konig, Christoph Friedel, Claudia Steffen
Screenplay: Stefan Kolditz, Stephan Suschke
Cinematography: Frank Lamm
Editor Jens Kluber
Production design Tim Pannen
Music Jean Rondeau
Main cast Carla Juri, Albrecht Abraham Schuch, Roxane Duran, Joel Basman