Emmanuelle Bercot returns to Cannes with a tough cancer drama starring Catherine Deneuve and Benoit Magimel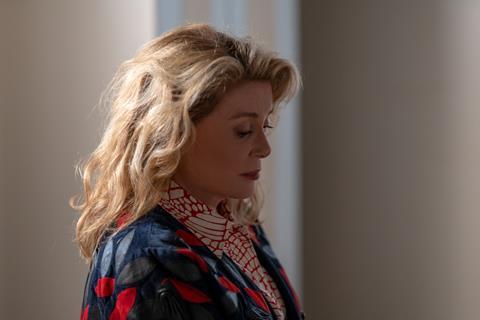 Dir: Emmanuelle Bercot. France. 2021. 123 mins
Benjamin (Benoit Magimel), a man with incurable stage four pancreatic cancer, finally makes peace with his imminent death, while his controlling mother Crystal (Catherine Deneuve) comes to realise that there are aspects of his life and his demise that she cannot micro-manage in Emmanuelle Bercot's somewhat laboured medical melodrama. Unfolding over the course of a year, and divided into seasons, the film digs deep into the psychology of dying but is curiously unmoving, despite milking every last cancer-afflicted frame for sentiment.
Bleak subject matter and overbearing approach
The film reunites Magimel and Deneuve, who previously starred together in Bercot's 2015 Cannes Film Festival opener, Standing Tall. But while that film, also a workplace drama of sorts, approached its subject – the juvenile court system – with a brisk efficiency and rigorous lack of padding which served it well, this gets rather bogged down in the central character's emotional baggage and his slow decline. The star power of the two leads should ensure domestic interest, but the bleak subject matter and overbearing approach might mean that the picture is a tough sell elsewhere.
Perhaps the most notable aspect of the film is the decision to cast a real-life cancer specialist, Dr Gabriel Sara, in the role of Dr Eddé, the deeply humane and patient doctor who acts as Benjamin's spiritual guide through the process of dying. Sara, who also served as a consultant on the film, is essentially playing himself, and is an empathetic and wise presence on screen. But the scenes between Sara and Magimel – and there are many – don't always gel. Interestingly, Sara's authentic gentleness and naturalistic performance serves to highlight the mannered elements in Magimel's approach to his role. Benjamin is an actor – "a failed actor" – he clarifies sourly to Eugenie (Cécile De France), the nurse who goes above and beyond the call of duty (and possibly medical ethics) to provide him with special care. And there's a lot of emphatic acting on show in the character, particularly in the earlier stages of the film, as Benjamin grapples with rage and bitterness.
In contrast, Deneuve is more muted – her character's arc involves learning both to let go and also to step back and allow her son the agency to die as he wishes, without her involvement. It's not something that comes naturally – as the film progresses, we learn that, to quote one of Dr Eddé numerous terminal disease allegories, Benjamin has a lot of clutter left on his "desk of life". And much of it relates to an event several decades before to which Crystal took a very hands-on approach.
Before he becomes too sick to work, Benjamin teaches acting to a group of fresh-faced students. An alert, engaged hand-held camera indicates that he's good at it, flickering around the class to show the intent gazes of young people, moved and inspired by his passion.
The film's use of music is somewhat heavy-handed, ranging from wafting, swirling pensive orchestral motifs, to happy-clappy cancer ward staff sing-alongs, part of the group therapy during which Dr Eddé encourages his team to accept the emotional toll of their work. And it's here, in these glimpses of the ordinary men and women who do extraordinary work at considerable emotional cost, that the film is at its most compelling.
Production company: Les Filmes Du Kiosque
International sales: Studiocanal www.studiocanal.com
Producers: François Kraus, Denis Pineau-Valencienne
Screenplay: Emmanuelle Bercot, Marcia Romano
Cinematography: Yves Cape
Editing: Julien Leloup, Yann Dedet
Production design: Laurent Ott
Music: Eric Neveux
Main cast: Catherine Deneuve, Benoît Magimel, Gabriel Sara, Cécile De France