Vinothraj P.S. wins the 2021 Tiger Award at IFFR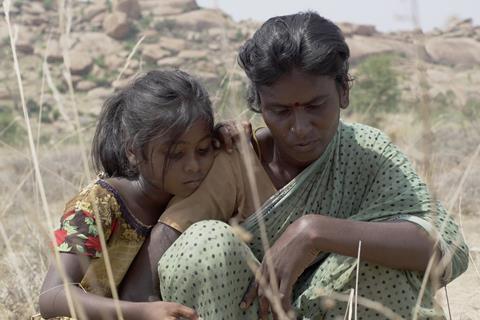 Dir/scr: Vinothraj P.S. India, 2021. 74 minutes
Heat and dust drive drought-stricken residents of Tamil Nadu to desperation and distraction in Indian writer-director Vinothraj P.S.'s blunt little fable Pebbles (Koozhangal). Essentially a mid-lengther stretched out to minimal feature length, it evokes rural poverty and family breakdown with simple, observant strokes, grandly elemental widescreen images and sparse, fiery dialogue. Landing the top prize at Rotterdam ahead of very stiff competition is an ebullient start for what will surely prove a busy festival career.
A series of discrete mini-vignettes
This is the second Tiger win for India in the six years since Rotterdam abandoned its stance of awarding three equal trophies, never having received it at all prior. Presenting the tempestuous passions of adults through the semi-comprehending eyes of a child, Pebbles is much more accessible and audience-friendly than the 2017 victor, Sanal Kumar Sasidharan's nightmarish, nocturnal Sexy Durga.
Unfolding over a few hours of unremittingly harsh daylight, Pebbles begins with little Velu (Chellapandi) being yanked out of his school-classes by his father Ganapathy (Karuththadaiyaan). The latter could be accused of many things but certainly not "apathy." Paying little heed to the sapping temperatures and the general air of sun-stunned torpor, the choleric fellow barrels around at full angry speed, motivated by a toxic combination of simmering resentment and hard liquor. It's a one-note characterisation of relentless glowering and malevolent dynamism, but the crashing boor's antics do at least endow proceedings a very necessary kick up the pants every few minutes.
Clearly an abusive husband of the very old school, Ganapathy has been abandoned by his wife Shanthi — often referred to but never seen. Using Velu as a go-between, he seeks to retrieve his spouse from her mother's village, with violently abortive results. Father and son's long journey home then becomes an emotional and physical ordeal: Velu impusively shreds the cash intended for bus-fare, forcing the semi-estranged duo to make the 13km trek on foot; in hard-charging Ganapathy's case, barefoot.
Vinothraj P.S. and editor Ganesh Siva assembles Pebbles as a series of discrete mini-vignettes, occasionally moving away from the central duo to observe other elements of this sparsely-populated area's social tapestry. The perilous toughness of the times is most harrowlingly underlined by an episode featuring a quartet of starving hunters — identified in the end-credits as "rat-eating family." This sequence includes brief, troubling images of rodents in terminal physical distress that the picture could manage perfectly well without; likewise superfluous are the occasional musical-score accompaniments and some fleeting deployments of slo-mo.
The end-credits actually start after little more than an hour of narrative has elapsed. They take up seven minutes of screen-time, including, remarkably, 144 individual thank-yous (to "those who walked for Pebbles") — courteously and exhaustively expressed over no fewer than 32 separate title-cards. Such practice has, of course, long been the classic giveaway of projects extended to fit externally-imposed stipulations. Clearly operating within very tight budgetary restriction, Vinothraj P.S. will access greater resources as a direct result of Pebbles' Rotterdam success. Such a prestigious prize, however, may trigger audience expectations that his essentially modest, rough-edged miniature could struggle to fulfil.
Production companies: Rowdy Pictures, Learn and Teach Production
International sales: Rowdy Pictures, Chennai (therowdypictures@gmail.com)
Producers: Nayanthara, Vignesh Shivan, Sai Devanand S.
Production design: Njan Oodu, Sinju
Editing: Ganesh Siva
Cinematography: Vignesh Kumulai, Parthib (Jeya Parthiban)
Music: Yuvan Shankar Raja
Main cast: Chellapandi, Karuththadaiyaan