The latest Disneynature wildlife documentary follows six months in the life of an Adélie penguin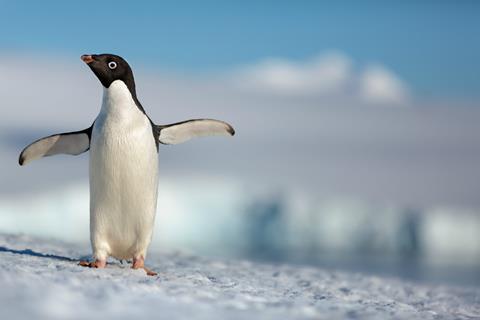 Dirs: Alastair Fothergill, Jeff Wilson. US. 2019. 76mins
Awe outpaces awwwww — just barely — in Penguins, the latest aggressively cutesy wildlife documentary from Disneynature. Charting approximately six months in the life of an Adélie penguin as he finds a mate, starts a family and cares for his young chicks, the film follows a familiar template, balancing information with overly adorable digressions and some captivating photography. Considering it's geared towards children — although not afraid to show some of the harsher realities of the animal kingdom — Penguins is more instructional tool than scintillating nonfiction investigation. But resistance to these sweet, wobbly critters is futile.
It is very hard to argue with an entire film devoted to penguins running, walking, swimming and jumping
Arriving April 17 in the States, the film looks to do the same sort of business as other recent Disneynature instalments, such as Bears ($21.3 million worldwide) and Born In China ($25.1 million). Those susceptible to the charms of these flightless birds — which seems to be approximately 98 per cent of the population — will probably be enchanted, and the success of the 2005 Oscar-winning Warner Bros. release March Of The Penguins ($127 million) suggests there's an audience hungry for more penguin adventures.
Narrator Ed Helms introduces us to a five-year-old adult Adélie penguin named Steve, who is in Antarctica joining up with his colony in the spring to begin mating. Over the next couple seasons, we see Steve as he and his partner Adeline negotiate the challenges of their frigid climate, which include predators by air and sea.
As with previous Disneynature narrators, Helms tends to talk in an excessively jovial way, which is obviously meant to be pleasing to kids, but the strained cheerfulness can be hellacious for everyone else. Additionally, the producers' instinct to anthropomorphise these penguins — including giving them names and having Helms occasionally voice Steve's thoughts and imagined dialogue — will surely help young moviegoers' relate to these lovable creatures. But it's also somewhat patronising, turning these wild animals into cuddly, kid-friendly Disney creations. (Even the effort involved in shaping the footage so that it becomes an easily accessible coming-of-age narrative feels manipulative, even disingenuous.)
But if one can tolerate those limitations, directors Alastair Fothergill and Jeff Wilson have crafted an undeniably arresting look at the South Pole, which is both beautiful and foreboding. For every endearing image of big, lazy elephant seals warming themselves in the sun, there are moments when hungry hunters like the skua, killer whale and leopard seal prey on the penguin colony, introducing an element of danger that's an important counterpoint to the otherwise treacly tone.
With the world grappling with the possibly irreversible effects of global warming, it's disappointing that Penguins doesn't speak more to the dangers of rising temperatures in Antarctica. There's nary a mention of how a changing climate might endanger these adorable penguins, which seems like a missed opportunity considering that Fothergill and Wilson take great pains to illustrate the other threats faced by the Adélie.
And yet, it is very hard to argue with an entire film devoted to penguins running, walking, swimming and jumping. Penguins doesn't pretend to be particularly ambitious narratively or formally — although the end-credits outtakes help highlight the physical demands required of the camera-people involved in capturing these pristine images. But with Harry Gregson-Williams' demonstrative score underlining every suspenseful or light-hearted moment, Penguins can mostly go on autopilot, immersing the viewer in this awww-inspiring tableaux.
Much like other Disneynature films, Penguins seems chiefly designed to make the natural world as inviting as possible. That's a noble endeavour, and if some corny jokes and silly song choices from the likes of Whitesnake and REO Speedwagon help get kids and their parents to think more about the environment and the animals that could be endangered, perhaps the movie's clear shortcomings can be temporarily overlooked.
Production company: Silverback Films
Worldwide distribution: Disney
Producers: Alastair Fothergill, Jeff Wilson, Keith Scholey, Roy Conli
Original story by: Alastair Fothergill, Jeff Wilson
Narration written by: David Fowler
Editing: Andy Netley
Principal Photography: Matthew Aeberhard, John Aitchison, Doug Anderson, Tom Beldam, Martyn Colbeck, Sophie Darlington, Ted Giffords, Max Hug Williams, Michael Kelem, Jamie McPherson, Julie Moniere, Didier Noirot, Mark Smith, Rolf Steinmann, Tom Walker, Jesse Wilkinson
Music: Harry Gregson-Williams