Dir/scr: Olivier Assayas. France – Czech Republic - Germany. 2016. 105 mins.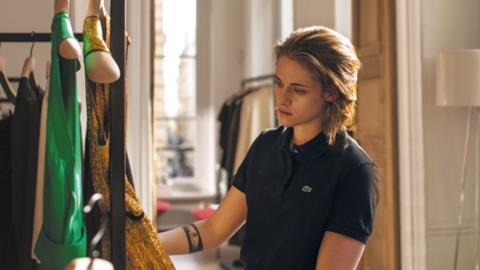 A teenager's fascination with ouija boards and ghostly communications from the other side lurks just beneath the grown-up, arthouse surface of Personal Shopper, Olivier Assayas second successive collaboration with Kristen Stewart after 2014's The Clouds of Sils Maria. And it's Stewart's committed account of an introverted young woman's attempt to find emotional closure after her twin brother's death that keeps this odd hybrid of ghost story, thriller, psychological drama and celebrity-culture satire from breaking up into its component parts.
Olivier Assayas' last film, The Clouds of Sils Maria, casts a shadow over Personal Shopper.
In some ways, Personal Shopper feels like a Gallic cineaste's attempt to recapture some of the freewheeling, kooky genre-drama of a 1980s Brian De Palma movie – and there's more than an echo of Body Double here – but what's missing is the latter's style and verve. The lack of glamour in Stewart's introverted, depressed personal shopper character leaches into the visual style of a film that, with the exception of a couple of scenes set in a scary old house and a spoof period movie reconstruction, often feels flat and conventional.
This won't necessarily harm the commercial prospects of a film that hardly contains a scene where Stewart isn't present. In fact, one might argue that now those teenybop Twilighters are in their sophisticated twenties, an artsy Euro genre piece that swaps vampires for ectoplasm and gothic garb for Chanel and Balenciaga – but still features Kristen – is the perfect fit. Downbeat critical notices – presaged by the loud boos the film received at its Cannes press screening – may, however, prove a stumbling block for older audiences for whom Stewart is not automatically worth the price of a ticket.
Assayas' last film, The Clouds of Sils Maria, casts a shadow over Personal Shopper. Not only are both works about the relationship between a young assistant, played in both cases by Stewart, and the cantankerous diva she serves, but it seems this latest was even inspired by an exchange in Sils Maria centring on whether fantasy, in cinema, can sometimes be more real than realism.
This time round, Stewart is Maureen, a Paris-based personal shopper for Kyra (Von Waldstätten), a fashion-world celebrity. Maureen's job takes her from boutique to atelier, where she knows all the staff and makes the call on which costly garments and accessories will catch the attention of her boss. Buying two handbags at $2000 a pop, she confides to the assistant that Kyra will probably never use either one.
As for Kyra, we see her as little as Maureen does. Her one big chunk of screen time is also the film's best-aimed swipe at celebrity culture: she's in a conference call with the head of an African gorilla refuge she funds, which she will soon be visiting for a promo photoshoot – the only problem being that the gorillas have inconsiderately headed up the mountain. "I'm hearing problems, I'm not hearing solutions", drawls Kyra's manager.
It's not as a personal shopper that we first meet Maureen, however. A friend drops her off in a big house somewhere in the Euro-woods, empty but for a few scraps of furniture. Here, in a sequence that provides a nicely understated but still scary take on a classic horror trope, she has some kind of encounter with a spirit presence. This may or may not have something to do with her brother Lewis – a medium himself, when not cabinetmaking – who recently died from a heart attack at the age of 27, and who Maureen is desperate to connect with, so she can – yes – move on.
It turns out that the house belonged to Lewis, whose girlfriend Lara (Bouaziz) has rather quickly found herself a new flame. Maureen herself has a thing going with IT guy Gary (Olwin), seen only as a pixellated Skype face calling from Oman where he's on assignment, while Kyra has just dumped her fashion-editor love interest, the smooth but rather creepy Ingo (Eidinger).
Shoehorned into the action are what feel like two undigested chunks of Assayas' research into spiritualism, one regarding Victor Hugo's dalliance with the craze between 1853 and 1855, while the French writer was living in self-imposed exile on the island of Jersey, and the other revolving around Hilma af Klint, a Swedish artist-medium, who from 1906 on produced a series of startlingly modern abstract canvases which she claimed were painted not by her but through her.
We know this because Maureen googles her and, in fact, we spend much of the time looking at her smartphone, especially in a Eurostar shopping trip to London when she ill-advisedly begins an initially tense but ultimately wearing sms conversation with a mysterious text stalker, who persuades her to trade in her grungey look for some pricey clothes.
That all of the film's women are never in the same space at the same time as their current or former lovers is a thematic trill that could, after a few more rewrites, have become long-held chords, like the ones in the melancholic Jordi Savall Renaissance viol music that provides much of the film's tasty soundtrack. But, ultimately, all we have to hold on to in a story that lurches inexorably into CGI absurdity is our emotional connection with Stewart's lost, lonely character.
Production company: CG Cinéma
Co-production: Vortex Sutra, Sirena Films, Detail Films, Arte France Cinéma, Arte Deutschland/WDR
International sales: MK2 International, intlsales@mk2.com
Producer: Charles Gillibert
Executive producer: Sylvie Barthet
Cinematography: Yorick Le Saux
Editor: Marion Monnier
Production designer: François-Renaud Labarthe
Main cast: Kristen Stewart, Lars Eidinger, Sigrid Bouaziz, Anders Danielsen Lie, Ty Olwin, Nora Von Waldstätten