A bold and challenging film from the Iranian director of 'A Dragon Arrives!'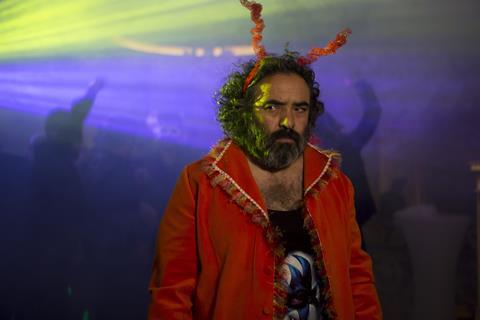 Dir/prod/scr. Mani Haghighi. Iran, 2018, 108 mins.
Two years after A Dragon Arrives!, Iranian writer-director Mani Haghighi returns to the Berlinale competition with another bold and challenging concoction. And it's a little surprising that Pig (Khook) doesn't have its own exclamation point. There's much to enjoy in this social satire that centres on an egotistical film director who is affronted when a serial killer targeting filmmakers apparently deems him too insignificant to die. But despite its flamboyant direction, a frequently funny script and a vivid central performance, it is Haghighi himself who fails to go in for the kill. With a promise that badly peters out, and perhaps nuances in the characterisations that don't translate well, it's difficult to see this roaming far outside the festival sty.
Like most whining egotists, Hasan eventually becomes tiresome
Hasan Kasmai (Hasan Majuni) is a mess. Blacklisted, he hasn't been able to make a film in two years; his favourite actress, Shiva (Leila Hatami), with whom he's also in love, is about to start filming with a rival; worst of all, a serial killer is beheading filmmakers, carving 'pig' into their severed foreheads, but hasn't yet targeted Hasan. The killer is demonstrating "no criteria, no sense of stature," he complains to his elderly mother Jeyran (Mina Jafarzadeh). "Why won't he come after me?" Jeyran does what all mothers do: she reassures him. "Don't worry, he will. He's saving the best for last."
The main reason Hasan is finding his fate difficult to deal with is that he's far too pampered, not least by women. His mother is prepared, quite literally, to take up arms for him; his wife tolerates his open infatuation with Shiva; his daughter acts as a very efficient private secretary. As stalkers go, Annie is amusing and even, at times, practically useful; for a balding, bear-like man whose standard garb is shorts and a heavy metal t-shirt, his young female fan base is inexplicable.
And for a director whose signature work is called Rendezvous In The Slaughterhouse, Hasan has a surprising level of celebrity and respect. Yet here he is, a neurotic mother's boy wondering why he isn't loved by a murderer. Not surprisingly, he's even less prepared for becoming a suspect himself.
For a time, this is a rich mix that hangs together pretty well. Presenting filmmakers as being at the mercy of both a killer and the government slyly brackets one with the other, which is daring given the restrictions Haghighi's community actually faces (most notably Jafar Panahi). There's a number of witty and visually eye-catching set-pieces, with good work by cinematographer Mahmoud Kalari and production designer Amir Hossein Ghodsi, including a Fellini-esque moment when the deranged director imagines that he's fronting a heavy metal band comprised of models dressed as cockroaches, who have previously featured in his insecticide commercial. And Majuni skilfully makes us believe that this glowering blob of neediness might actually be able to make a movie.
But then, when Haghighi needs to decide what to do with his anti-hero – and what to make of his serial killer – his film stops in its tracks. A darker-than-necessary turn of events and an hysterical (if prescient) attack on social media witch-hunting seem like desperate throws of the dice rather than considered resolutions. Like most whining egotists, Hasan eventually becomes tiresome.
Production company: Dark Precursor Productions
International sales: Films Boutique contact@filmsboutique.com
Cinematography: Mahmoud Kalari
Production design: Amir Hossein Ghodsi
Editor: Meysam Molaei
Music: Peyman Yazdanian
Main cast: Hasan Majuni, Leila Hatami, Leili Rashidi, Parinaz Izadyar, Mina Jafarzadeh, Aynaz Azarhoosh, Siamak Ansari, Ali Bagheri