Dir/scr: Ben Sharrock. Spain/UK 2015. 98mins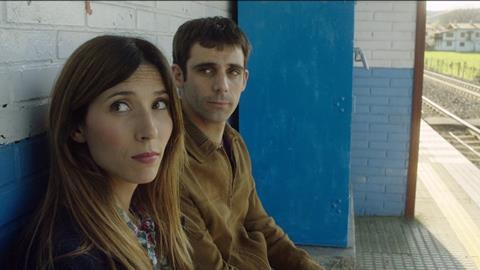 Spain's economic crisis plays havoc with the romance of one young couple in Pikadero, an assured, low-budget Basque-language debut feature from Scottish writer/director Ben Sharrock. The deadpan sensibility and lugubrious, slow-burn pacing may give potential distributors concerns about its theatrical viability, but this should still attract attention from those willing to nurture a small film and recognise the promise of an impressive new talent.
Pikadero mines a considerable amount of dry humour from the comedy of frustration
Infused with an absurdist streak and melancholy humour reminiscent of Bill Forsyth or Aki Kaurismaki, Pikadero has been widely seen on the Festival circuit since its debut at San Sebastian in September, winning the Critics Choice Award at Zurich and the FIPRESCI prize at Molodist-Kiev. Sharrock's partner, producer Irune Gurtubai, is from the Basque area and their frequent trips to her homeland provided the inspiration for a film that attempts to find a human way of conveying the impact of Spain's financial woes.
Gorka (Joseba Usabiaga) is nudging thirty and still lives at home with his parents. His sleepy mountain village relies on a local factory that is shedding jobs. Everyone with a pulse seems to be plotting their escape, including Gorka's friend Inaki (Lander Otaola) who is attempting to learn German.
Gorka's one passion is playing rugby. When he meets art student Ane (Barbara Goenaga) he seems to have found a kindred spirit. A tentative romance begins that is constantly frustrated by their inability to find somewhere private. The world seems to conspire against their intimacy from grandpa invading their privacy at Gorka's home to a rude interruption in a toilet where a stranger takes a fancy to Gorka's shirt.
Eventually, they go in search of a pikadero, a Spanish word meaning a riding school or, in this case, a public place to have sex.
Pikadero mines a considerable amount of dry humour from the comedy of frustration but Sharrock tilts towards a more serious consideration of what lies ahead for these star-crossed lovers in a time when their native land seems to offer them no future. Gorka's biggest dream is to secure a permanent position at the factory.
Carefully composed throughout with a fondness for long static shots and precise framing, especially in the couple's frequent retreats to a railway station shelter, the film is a triumph for cinematographer Nick Cooke who contributes to a sense of lives diminished by their oppressive surroundings. Gorka's family seem to be squashed into a home that is too small for all of them. Cooke also provides some beautiful images of starry night skies, piercing sunshine and the way bright colours intrude into an otherwise drab world.
Pikadero does require that you buy the premise of a young couple who cannot find anywhere to have sex but it is well enough sustained to justify the suspension of your disbelief. Jose Usabiaga's silent, stoical Gorka seems an unlikely partner for the adventurous, ambitious Ane but in the end they are both victims of the times, clinging to each other in the fragile hope of better days.
Production company/international sales: Caravan Cinema irune@caravancinema.com
Producer: Irune Gurtubai
Cinematography: Nick Cooke
Screenplay: Ben Sharrock.
Editor: Karel Dolak
Production design: Eider Ruiz
Music: Atzi Muramatasu
Main cast: Barbara Goenaga, Joseba Usabiaga, Lander Otaola