Tom Hanks stars in Robert Zemeckis's straight-to-streaming Disney remake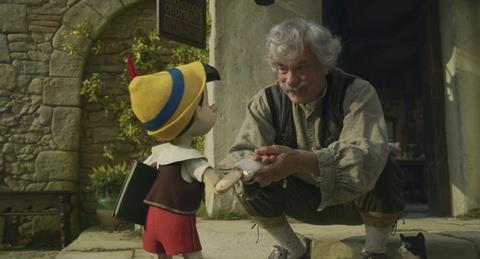 Dir: Robert Zemeckis. US. 2022. 105 mins.
Trying to recapture the magic of the 1940 animated classic, Robert Zemeckis' live-action Pinocchio is a wooden, laboured affair. The Oscar-winning filmmaker hews closely to the plot — and even the look — of the 82-year-old Disney picture, telling the story of a puppet who longs to be a real boy; an unfortunate metaphor for a film that struggles to come alive. Pinocchio remains an adorable creation — and the tale's depiction of loss and fragile childhood innocence remains potent — but the prevailing sense of deja vu does this remake no favours.
Like Pinocchio, Zemeckis' picture is too eager to please
Pinocchio will be skipping theatres, premiering on Disney+ on September 8. There's plenty of star power in an ensemble that includes Tom Hanks, Joseph Gordon-Levitt, Keegan-Michael Key and Cynthia Erivo, and younger viewers may respond favourably. But reviews will tell no lies about what's lacking here, leaving discriminating audiences to wait for Guillermo del Toro's animated Pinocchio, which arrives later in the year. Those looking for authenticy in an adaptation of Carl Collodi's 1883 book can always seek out Matteo Garrone's much-praised 2019 live-action version, with Roberto Benigni.
Kindly widowed woodcarver and clockmaker Geppetto (Hanks) sets about crafting a puppet that resembles his beloved young son who has died. Naming him Pinocchio, Geppetto makes a wish that he becomes real — a wish that will be granted by The Blue Fairy (Erivo). That night, Pinocchio (voiced by Benjamin Evan Ainsworth) springs to life, befriended by Jiminy Cricket (voiced by Gordon-Levitt), assigned to act as his conscience. Geppetto is overjoyed, but when Pinocchio heads off to school, he'll face the temptations of the wider world.
The 1940 film earned Oscars for its score and the original song 'When You Wish Upon A Star,' and one of the rare strengths of this remake is its reprisal of some of those enduring numbers. Zemeckis blends live-action with CGI, keeping the late-19th-century Italian setting while trying to find ways to make the material contemporary. These attempts tend to feel forced, however, the director shoehorning in impish references to modern celebrities, social-media phenomena and recent Disney properties.
There's no denying the story's emotional underpinnings, but because Zemeckis (who also cowrote the screenplay) works so hard to mimic the feel of Disney's previous Pinocchio, his remake isn't terribly dissimilar from the series of live-action redos that the studio commissioned over the last half-decade. Granted, most of those were massively commercially successful but, as with the new Beauty And The Beast, Aladdin and the others, this Pinocchio comes across as an eerie, somewhat soulless reproduction. Like Pinocchio, Zemeckis' picture is too eager to please, which leads to our main character learning an important lesson about being true to oneself — a warning that should have been heeded by a film that doesn't have much personality of its own.
Zemeckis' frequent collaborator Hanks overdoes Geppetto's cosy paternal warmth, making this his second performance of 2022 — after Col. Tom Parker in Elvis — in which he plays an outsized personality sporting a slightly ludicrous accent. That said, the actor does locate what's eternally poignant about this tale of a lonely older man who lost everything but hopes to reclaim a little of it with this puppet. But both he and Ainsworth are a bit broad, Geppetto's sweetness and Pinocchio's boyish naivety each turned up a couple notches too high.
Those who remember the 1940 film will recognise the plot's twists and turns — not to mention the mischievous, sometimes dangerous characters Pinocchio meets along the way. The best of the bunch is Key as the no-good schemer J. Worthington Foulfellow, whose malicious edge is laced with an acerbic wit. It's a credit to Zemeckis that he doesn't shy away from the previous film's darker aspects — there are still dire consequences for visiting Pleasure Island — but those brief flashes of grownup terror only underline what's otherwise insubstantial here.
To be sure, the director of Forrest Gump and The Polar Express hasn't lost his eye for spectacle (Pinocchio's inevitable encounter with Monstro is suitably stirring), but the wonderment that used to power his pictures is largely missing. Zemeckis adds new songs, cowritten by his longtime composer Alan Silvestri and Glen Ballard, and some new characters, placing them alongside this fable's sturdy observations about navigating the world and being honest. (After all, you wouldn't want your nose to start growing by fibbing.) But no amount of Blue Fairies can keep this Pinocchio from being lifeless.
Production companies: Depth of Field, ImageMovers
Worldwide distribution: Disney
Producers: Andrew Miano, Chris Weitz, Robert Zemeckis, Derek Hogue
Screenplay: Robert Zemeckis & Chris Weitz
Cinematography: Don Burgess
Production design: Doug Chiang, Stefan Dechant
Editing: Jesse Goldsmith, Mick Audsley
Music: Alan Silvestri
Main cast: Tom Hanks, Benjamin Evan Ainsworth, Joseph Gordon-Levitt, Keegan-Michael Key, Lorraine Bracco, Cynthia Erivo, Luke Evans