Young Neapolitan gangsters run roughshod over the city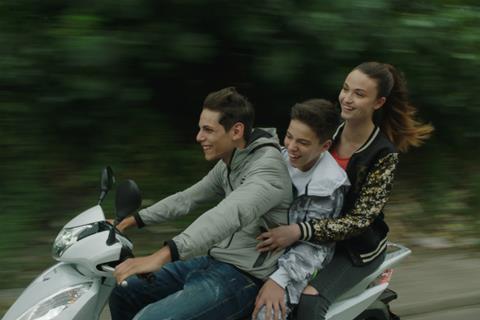 Dir: Claudio Giovannesi. Italy. 2018. 110mins
Italian director Claudio Giovannesi's new film is something of a baby Gommorah, not only in its focus on a gang of Neapolitan gangsters who are barely halfway through their teens, but also in its curious tone. Uncritically in love with its fresh-faced, coked-up subjects, it narrates their life of crime as something of a lad's adventure. There's merit in an approach which shows just how easy it in a place like Naples to cross the line between playing at being Mafiosi and being Mafiosi. But there's a risk too. Piranhas feels a bit like a teen movie that just happens to have a Cammora backdrop, rather than a serious, nuanced drama about the paranza system – essentially, the grooming of underage kids as drug runners and Mafia footsoldiers.
As in a classic boys' adventure, most of the conflict is on the surface
Buoyed by confident production values and a classy electro-pop soundtrack, it should post decent box-office results on home turf, where the source material – a book by Gomorrah writer Roberto Saviano, who lives under police protection following Mafia threats – became a bestseller. Elsewhere, the popularity of Italian underworld TV series like Gomorrah or Suburra could propel Piranhas to some theatrical action, but it may find its best fit on the same streaming platforms that picked up those Mafia sagas.
At the centre of the story is a teen romance with an underplayed Romeo and Juliet angle. Nicola (Francesco Di Napoli) and Letizia (Viviana Aprea) don't belong to warring families, but they do come from different districts of a city that is divvied up by rival Camorra clans. The son of a single mother who barely looks much older than him, Nicola lives in the ramshackle quartiere of La Sanità, where he's the unofficial leader of a pack of buddies that include bestie Tyson (Ar Tem). School is never once glimpsed or mentioned as, piloted by the street-smart Nicola, the six friends graduate from small-time hooliganism to dealing drugs for a local boss.
Using his youth, good looks and ability to play the well-brought-up 'bravo ragazzo' to access all areas, Nicolà plays rival bosses and neighbourhood power brokers off against each other, and before long the gang has entered into an alliance with the Staino brothers, heirs to a recently deposed Camorra clan. With suspicious ease they're soon in control of the 'hood and awash with the kind of serious money that allows them to buy status with flashy clothes and VIP tables at cheesy discotheques.
Lensed with smooth handheld intimacy by DoP Daniele Ciprì, Piranhas uses its setting inventively, showing how the decaying grandeur of Baroque Naples is reproduced, in degraded modern form, in the interiors these Camorra fledglings aspire to – gilded palaces packed with ornate antiques and tacky neo-rococo fakes, like a drinks cabinet masquerading as a double bass. It's telling that for their first proper date, Nicola takes his proletarian princess of a girlfriend to the city's San Carlo opera house, and there's an odd formality in the codes of respect that these baby hoodlums absorb with their mother's milk, a bastardised echo of courtly rituals.
The film's most inspired moment comes when Nicola – charismatically incarnated by rising star Di Napoli – dresses up as a girl to carry out a solo punitive raid on an ageing drug handler who has crossed him. Like the point where these lads check out a YouTube tutorial to find out how to use a submachine gun they've been given, it stresses how close these murderous kids are to the playground, but adds an element of shape-shifting, a hint that everything is fluid in this shifting urban world of the young, even gender identity.
Such intuitions, however, are scattered sparingly through a story that feels dramatically flat for long stretches. As in a classic boys' adventure, most of the conflict is on the surface, in the ebb and flow of executions and reprisals; little seems to percolate through to the characters' hearts and souls.
Production companies: Palomar, Vision Distribution
International sales: Elle Driver semira@elledriver.fr
Producers: Marco Camilli, Margherita Murolo, Luigi Pinto, Davide Nardini
Screenplay: Maurizio Braucci, Roberto Saviano, Claudio Giovannesi, based on the novel by Roberto Saviano
Production design: Daniele Frabetti
Editing: Giuseppe Trepiccione
Cinematography: Daniele Ciprì
Music: Andrea Moscianese, Claudio Giovannesi
Main cast: Francesco Di Napoli, Ar Tem, Viviana Aprea, Pasquale Marotta, Renato Carpentieri