A manic, hit-and-miss affair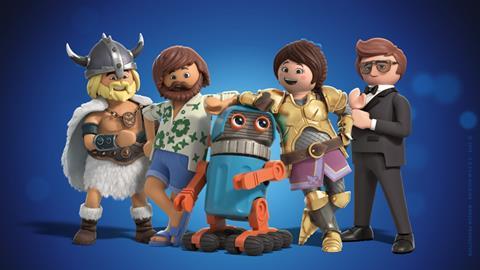 Dir Lino DiSalvo. UK/France/Germany. 2019. 98 mins
If you can create a hit movie franchise from pieces of Lego then there's no reason to suppose the feat can't be repeated with Playmobil -The Movie, although reaching a wide demographic could be a trickier proposition for a film that lacks the subversive wit and inventiveness that distinguished the first The Lego Movie. Still, Playmobil's smiling, flat-faced toy figures with the cup holder hands have been delighting children since 1974. There should be a guaranteed pre-school and young-family audience for this hectic, madcap plunge into their world when the film is released across Europe and in the USA throughout August. The French release on August 7th follows the world premiere at Annecy.
The plot often seems little more an excuse to visit (and heavily promote) as many Playmobil worlds as possible
Director Lino DiSalvo was head of animation on Frozen and briskly disposes of the maudlin live action introductory scenes in Playmobil -The Movie before settling into the animated body of the film. Eighteen year-old Marla (Anya Taylor-Joy) has a thirst for adventure and is about to go backpacking around the world when her parents are killed in an accident. Four years later, she has become the responsible adult, keeping house and caring for her ten year-old brother Charlie (Gabriel Bateman) who resents the fact that they never have fun any more.
When Charlie runs away to a vast toy fair, Marla tracks him down. During a strange power shortage, they are both sucked into an animated Playmobil world where Charlie is transformed into a bearded, tattooed, strapping Viking warrior called Charles The Destroyer.
The busy plot has Charlie among the human warriors captured by evil Roman Emperor Maximus (Adam Lambert) to fight a fiercesome creature. Marla sets out to rescue him with a little help from laid-back food van driver Del (Jim Gaffigan) and suave, conceited secret agent Rex Dasher (voiced by Daniel Radcliffe in finest Roger Moore mode).
The plot often seems little more an excuse to visit (and heavily promote) as many Playmobil worlds as possible with Marla straying into a lawless wild west town, a land where dinosaurs roam, encounters with salty sea dog pirates and more.
It is a manic, hit and miss affair complete with slapstick antics and wisecracking one-liners- "I thought your voice would be a little deeper," someone observes of the boy Viking. You might assume the sugar-rush energy of the pace and the whirlwind plotting would leave little room for a song or a dance. Think again as there are constant interruptions for brash, Broadway-style showstoppers and even the odd knees up in the style of Busby Berkeley.
Di Salvo throws everything he can at the screen including a robot companion and an enchanted pink hay that gives horses wings and glitter. Kids are never likely to be bored although adults may find it wearying. Through it all there are still standard-issue connecting narrative threads as valuable life lessons are learnt. The empowered brother and sister discover there are no limits to their capabilities and agree that a little adventure is the spice of life, bland variations on familiar themes that leave Playmobil -The Movie in need of some of the adventurous spirit that it so relentlessly advocates.
Production company: ON Animation Studios
International sales: Lionsgate
Producers: Aton Soumache, Dimitri Rassam, Alexis Vonarb, Axel von Maydell, Moritz Borman, Timothy Burrill, Bin Wu
Screenplay: Blaise Hemingway, Jason Oremland, Greg Erb
Cinematography: Andre Turpin
Editing: Maurissa Horwitz
Music: Heitor Pereira
Production design: Jean-Andre Carriere, Rémi Salmon
Main cast: Anya Taylor-Joy, Daniel Radcliffe, Gabriel Bateman, Kenan Thompson