Ryan Reynolds lends his voice to Rob Letterman's live-action Pokemon adventure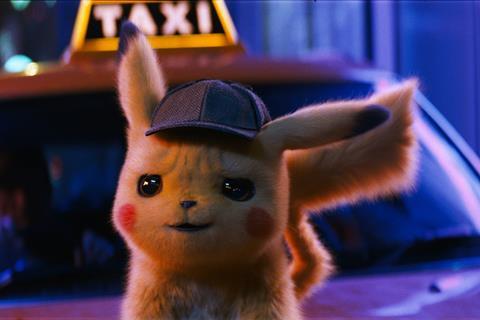 Dir: Rob Letterman. US. 2019. 104mins.
Much like its title character — an adorable little fuzzy yellow whatsit bearing the smart-aleck voice of Ryan Reynolds — Pokémon Detective Pikachu is an odd creation powered by contradictory impulses. An aggressively cute family film that's also a spectacle-driven sci-fi noir-mystery with hints of Blade Runner and the third act of every Marvel movie, this adaptation of the popular 2016 video game throws everything at the audience with such vehemence that the sum effect is overwhelming more than it is entertaining. Detective Pikachu has real vision, but too often director Rob Letterman seems to have cobbled it together from disparate influences — the film is muscularly constructed, yet oddly hollow.
One can't write off Detective Pikachu entirely, thanks to the film's giddy oddity
Those reservations may matter little to legions of Pokémon fans, who have loved this media empire since the mid-1990s. Warner Bros. will release the event picture in the UK and North America on May 10, and no doubt Reynolds' voice casting will only help visibility. Detective Pikachu hopes to hit the sweet spot on the release calendar between two behemoths, Avengers: Endgame and Aladdin, and good word-of-mouth could lead to sizable profits.
Justice Smith (Jurassic World: Fallen Kingdom) plays Tim, a young twentysomething who's summoned to the massive metropolis of Ryme City for bad news: His estranged detective father Harry has been killed in a fiery car crash. Devastated, Tim vows to uncover what caused the accident, aided by Detective Pikachu (voiced by Reynolds), who used to be Harry's partner but has amnesia and can't remember what happened — or explain why no one can find Harry's body.
Detective Pikachu's conceit is that, in this world where humans and Pokémons coexist, although they speak different languages, Tim and Pikachu alone can understand one another. Pikachu is convinced Harry is alive, which gives Tim hope, although it only draws them into a deeper mystery concerning the nefarious forces behind Harry's accident.
Letterman (Monsters Vs. Aliens, Goosebumps) specializes in kids' films that overflow with B-movie pleasure, often mashing genres together. Detective Pikachu is no different, balancing big action set pieces with moments of father-son pathos and buddy-cop humour. The new film possesses a superficial grittiness nowhere evident in the animated Pokémon movies that Warner Bros. put out in the late '90s and early '00s, and the comedy is far more sarcastic and ironic, sometimes mocking the franchise's cheesier elements. (Those who grew up with the adrenalized Pokémon theme song will chuckle in recognition at the snarky treatment it receives here.)
Reynolds hit commercial pay dirt as the wisecracking Deadpool, so it would seem to be perfect casting for him to essentially play a family-friendly version of that cynical superhero. But although he delivers some choice quips, much of his dialogue feels improvised, creating an impression that Reynolds needed to adlib in order to punch up a mediocre screenplay, which is credited to several writers.
Unfortunately, once Pikachu's cute-exterior/sassy-mouth dichotomy is established, the film has nowhere to go with the characterization. That said, the CG work that has gone into rendering this diminutive Pokémon is impressive — as is the care put into other iconic characters, such as the catlike Mewtwo.
Pikachu and Tim prove to have only a moderately engaging rapport, diminished by their lacklustre banter as well as a mystery plot that's overly busy but only occasionally compelling. Trying to compete with other blockbusters, Detective Pikachu strains to be supersized, featuring the same city-spanning action sequences and life-or-death stakes that are now commonplace at the multiplex. Oscar-nominated cinematographer John Mathieson (Gladiator) gives the story a moody grandeur — this is that rare studio film to be shot on 35mm — but our heroes are dwarfed by the special effects and visual panache.
Still, one can't write off Detective Pikachu entirely, thanks to the film's giddy oddity. On the whole the movie misses more than it hits, but ideas are executed boldly, even when they're mishandled. (As a plucky aspiring journalist and potential love interest for Tim, Kathryn Newton gives an over-caffeinated performance that's so cartoonish that she's nearly as inhuman as the digital Pikachu.) What Detective Pikachu most shares with the earlier films is an unapologetic disregard for logic or physics, sometimes making up its own rules with such confidence that the viewer has no choice but to acquiesce. To be sure, none of this is successful, exactly, but because the film zooms along on its own curious wavelength, it may leave you intrigued, if never entirely happy with where it goes.
Production company: Legendary Pictures
Worldwide distribution: Warner Bros.
Producers: Mary Parent, Cale Boyter, Hidenaga Katakami, Don McGowan
Screenplay: Dan Hernandez & Benji Samit and Rob Letterman and Derek Connolly, story by Dan Hernandez & Benji Samit and Nicole Perlman, based on the Detective Pikachu video game developed by Creatures Inc.
Production design: Nigel Phelps
Editing: Mark Sanger, James Thomas
Cinematography: John Mathieson
Music: Henry Jackman
Main cast: Ryan Reynolds, Justice Smith, Kathryn Newton, Suki Waterhouse, Omar Chaparro, Chris Geere, Ken Watanabe, Bill Nighy