Dir. Gil Kenan. US, 2015, 93 mins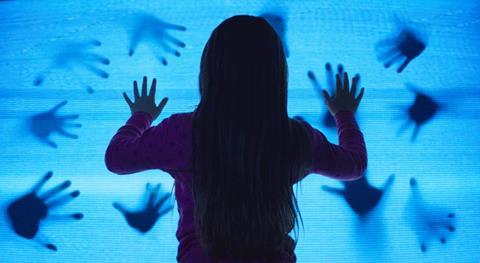 If there's a case to be made for "re-imagining" classic cinema, Poltergeist isn't part of it. A workmanlike exhumation of the sprightly 1982 family-friendly horror written and produced by Steven Spielberg, this Poltergeist never seems convinced of the urgent need to re-emerge from that upstairs closet. A good cast including Sam Rockwell and Jared Harris wander around sincerely in what feels, at times, almost a shot-by-shot remake, and at others, an obstinately wrong-footed exercise in dabbling with the narrative.
The biggest emotion Poltergeist arouses is a surge of respect for how good the original really was.
Produced by Sam Raimi, this Poltergeist will ghost its way into cinemas from May 22, haunting the multiplex half-heartedly and hoping to pick up some nostalgia-led interest , scattered genre addicts, and those intrigued by the casting of Sam Rockwell as lead. Facing into Mad Max: Fury Road, Tomorowland and Pitch Perfect 2, its best hope is for an afterlife on VOD, where it may be scared off by the original, still out there, still good.
What Poltergeist has to offer over and above the original is a 3D imagining of the ghostly netherworld into which Carol Ann, now named Maddy, has been dragged, but a physical rendition of the Limbo-like afterlife doesn't add much to the proceedings. Some things are best left imagined.
Cleverly, director Gil Kenan and writer David Lindsay-Abaire have re-worked the California suburb into which the soon-to-be-terrorized family move – not visually, as the Ontario-shot Poltergeist sets are drab and undistinguished, but as a last-resort for a family wounded by the recession and teetering on the edge of bankruptcy. Dad Eric (Rockwell) has been laid off and seems a bit boozy. Mother Amy (Rosemarie DeWitt) is an unsuccessful writer who looks after sulky teenager Kendra (Saxon Sharbino), the neurotic Griffin (Kyle Catlett) and sweet little Maddy (Kennedi Clements).
Spielberg's family were perched tenuously on the frontier, living in fake comfort which ran against the natural grain of the land. Now the suburbs are not a desirable place for the upwardly-mobile, but the last-chance resort for those on their way down. Giant electricity pylons surround the development, which seems overcast and depressing, even before the otherworldly spirits come knocking (although we don't have to wait long for them to show their hand).
Poltergeist abruptly dispenses with formalities some 20 minutes in to the proceedings, when Amy and Eric are attending a dinner party. They are told by their hosts that their new house is built on an old tribal burial ground even as their teenage daughter is abruptly being attacked by skeletal hands emerging from the basement floor, Griffin is being waved around by a tree, and Maddy has been sucked into the TV.
With an hour still left to run and little in the way of suspense to dole out, Poltergeist introduces Jared Harris – son of Richard – as a TV psychic sporting a porkpie hat and a cod Irish accent who has been rapidly brought in by the local university's department of paranormal activity to help fetch Maddy back, He's no replacement for Zelda Rubinstein, and the segue from a missing child to the TV psychic is a big leap for Poltergeist. Spielberg made it all seem so easy, but that's why he's Steven Spielberg.
Director Gil Kenan (the superior Monster House) provides a good few shocks of the look-behind-you- variety. Production values are solid, but unremarkable, and the 3D neither adds nor detracts from the proceedings. Rockwell is effective as usual, although DeWitt's role is diminished from the original, and Jared Harris is good fun. The biggest emotion Poltergeist arouses, though, is a surge of respect for how good the original really was.
Production companies: Ghost House Pictures, Vertigo Entertainment
Worldwide distribution: 20th Century Fox
Producers: Produced by Sam Raimi, Rob Tapert, Roy Lee
Cinematography: Javier Aguirresarobe
Screenplay: David Lindsay-Abaire
Editors: Jeff Betancourt, Bob Murawski
Production designer: Kalina Ivanov
Cast: Sam Rockwell, Rosemarie DeWitt, Kyle Catlett, Jane Adams, Jared Harris, Nicholas Braun, Kennedi Clements, Susan Heyward, Saxon Sharbino