Two worlds collide in the New York kiki scene in Danielle Lessovitz's feature debut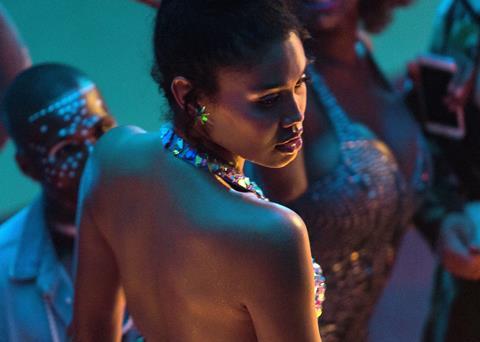 Dir/scr: Danielle Lessovitz. France/US. 2019. 100mins
A troubled male drifter from the blue-collar sticks finds solace and romance in New York's transgender 'kiki ballroom' voguing scene in scriptwriter Danielle Lessovitz's first feature,. Mixing tough US social realism with butch femme poses is an intriguing exercise, although this small, sincere drama never quite resolves the awkwardness of the meld.
There's a sweetness in the central love story between 'femme queen' Wye, played by Leyna Bloom, and Fionn Whitehead's probation-dodging cis-gender loner
Like ongoing Netflix series Pose, Port Authority places the world of vogue houses and kiki balls in a wider urban context. But unlike that 1980s-set streaming project, this is not declaredly a period film. Recessionary America (also the backdrop of Lessovitz's last co-written script, 2017's Mobile Homes) and trans culture fuse in a New York that seems stuck somewhere between Taxi Driver and today, with only mobile phone models and a few other pointers flagging the here and now. There's good and bad in this – the chief fault being that the timelessness drains the drama of urgency.
There's a sweetness in the central love story between 'femme queen' Wye, naturally played by transgender model turned actress Leyna Bloom, and Fionn Whitehead's probation-dodging loner, his performance (or is it his character?) milking the Method just a little too insistently in the city that spawned the acting style. This boy-meets-girl story should drive indie traffic beyond LGBT festivals and circuits, but Port Authority is still essentially a small urban arthouse film.
The location that bookends the action gives the film its title: New York's Port Authority bus terminal, little changed since Madonna made her film debut there in Desperately Seeking Susan. Nervous, edgy Paul (Whitehead) arrives here from Pittsburgh on the archetypal Greyhound bus. When he fails to make contact with a sister who may or may not have invited him to stay, two worlds immediately beckon, pulling him and his angry, insecure maleness in two opposing directions.
The first is the macho bro support network offered by Lee (McCaul Lombardi), an outwardly genial but deeply coercive chancer who works as the boss of a semi-legal repossession gang that preys on those who default on their rent. The second is the 'brothers' – and other family members – of the black gay and transgender ball-culture 'house' that Paul discovers when love drives him into Wye's arms, via a house member who conveniently also hangs out at the hostel where Paul beds down.
There's more script necessity than chemistry in the Paul-Wye bond, especially given the almost total emotional lockdown of the young, troubled cisgender male, which seems an odd romantic fit for such an assured and outgoing transgender woman – not to mention a challenge to the audience's empathy.
But Lessovitz has some nice points to make about how those from dominant cultures – a young white American male in this case – can be attracted to the subcultures of the oppressed. There's a lot about bodies in movement here – the angular elegance of the kiki balls' voguing moves contrasting with the lumpen stomp of the arcade platform-dance game that Lee and Paul play in one scene. Encoded in claustrophobic camera angles and scored by a Matthew Herbert soundtrack that sounds like music for an underwater world, these insights and themes are more interesting than the story, which will cause Paul's two incompatible support networks to collide just as we always knew they would.
Production companies: Sikelia Productions, RT Features, Madeleine Films
International sales: mk2 Films, fionnuala.jamison@mk2.com
Producers:Rodrigo Teixeira, Virginie Lacombe, Zachary Luke Kislevitz, Paris Kassidokostas-Latsis, Terry Dougas
Production design: Emmeline Wilks-Dupoise
Editing: Clémence Samson, Matthew C. Hart
Cinematography: Jomo Fray
Music: Matthew Herbert
Main cast: Fionn Whitehead, Leyna Bloom, McCaul Lombardi, Louisa Krause, Will Dufault, Stephen Cavalieri, Eddie Plaza, Taliek Jeqon, Devon Carpenter