Tatiano Huezo's intimate tale of Mexican adolescents makes its bow in Un Certain Regard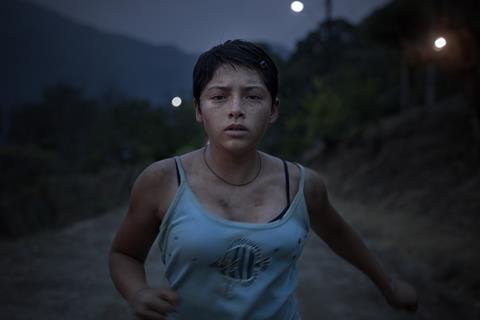 Dir-scr: Tatiana Huezo. Mexico/Germany/Brazil/Qatar. 2021. 110mins
The first fiction feature from Tatiana Heuzo (her documentary Tempestad was Mexico's submission to the International category of the 90th Academy Awards), Prayers For The Stolen confirms her as a considerable talent. It's an intimate, tactile study of the fabric of female friendship set against a blood-stained backdrop of Mexico's cartel-based conflict; a coming of age journey in a world that is poisoned – literally – by violence. But bleak as the facts of life undoubtedly are in this mountainous region in central Mexico, Huezo creates a beguiling, heady sense of enchantment which links the lives of Ana (played by Ana Cristina Ordóñez González as an 8-year-old and Marya Membreño as a 13-year-old) and her two friends.
Superb performances across the board and deft, light-footed direction
The latest film to address Mexico's epidemic levels of "disappeared" individuals (following, among others, Ai Weiwei's documentary Vivos and Fernanda Valadez's Identifying Features), Huezo's picture, which is loosely adapted from a novel by Jennifer Climent, is distinctive in its child's-eye-view of this most abnormal of normalities. Superb performances across the board, and the film's deft, light-footed direction should make this a title of interest for specialist arthouse distributors. Like Heuzo's previous pictures, Tempestad (2016) and The Tiniest Place (2011), Prayers For The Stolen will likely enjoy a healthy festival run.
The child-sized hollow that Ana and her mother scrape in the earth beyond the home they share seems, at first, to be a prop in some elaborate game. Any sense of threat that Ana and her best friends, Paula and Maria, register is more likely to be triggered by nature's lurking dangers: the poisonous milk snakes and skittering scorpions.
But there's something transmissible about the fear that stiffens Ana's mother's shoulders whenever the black 4X4s with the tinted windows roll through the valley. The adult world might be frightening and full of mysteries – Ana's first hint of just how frightening comes when she spies the mother of one of the other village girls grieving the fact that her daughter has been abducted – but a survival instinct is pre-programmed from an early age.
Even so, at eight-years-old, it's hard for Ana and her friends to accept the need to have their long hair cropped into short, boyish pixie cuts. Paula silently reaches out and clasps Ana's hand as they stare miserably at their shorn reflections; the lithe camera seeks out these fleeting connections between the girls. Their mothers tell them that the severe cut is necessary to control lice, but the tacit message is that to be female is to be vulnerable in this trauma-torn landscape. Ana and her friends, exploring the homes that have been abandoned by fleeing neighbours, covertly try out their womanhood like a game of dress up.
Huezo neatly divides the film into two sections: one follows the girls as young children, the other rejoins them as teenagers. There are echoes between the two time periods – they return to the same sparsely attended classroom; they play the same games of telepathic communication; they hum their close connection in eerie little harmonies, which feed into the lovely haunting score. But the threats are a little more real: Paula gets caught by the helicopter which sprays poison on the cartel's poppy crops. And the men in the black 4X4s return once again, with loaded guns and bad intentions.
Production company: Pimienta Films
International sales: The Match Factory info@matchfactory.de
Producers: Nicolás Celis, Jim Stark
Cinematography: Dariela Ludlow
Editor: Miguel Schverdfinger
Production design: Oscar Tello
Music: Jacobo Lieberman, Leonardo Heiblum
Main Cast: Ana Cristina Ordóñez González, Marya Membreño, Giselle Barrera Sanchez, Alejandra Camacho, Mayra Batalla, Norma Pablo, Eileen Yáñez, Memo Villegas, Blanca Itzel Perez, Camila Gaal