Filmmaker Matias Bize presents a selection of eight intimate pandemic-inspired monologues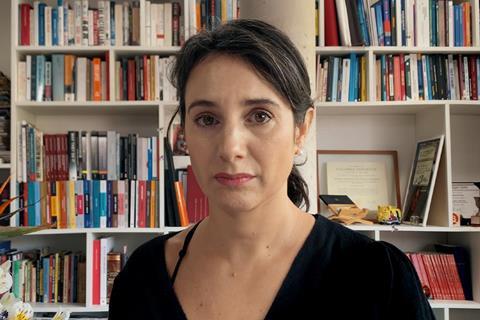 Dir: Matias Bize. Chile. 2022. 77 mins

Conceived in response to pandemic lockdowns, Private Messages (Mensajes Privados) treats the camera as confessional. Director Matias Bize and a stellar cast present a series of intimate monologues drawn from the lengthy possibilities for self-reflection. Family is a recurring theme in anguished tales of life-changing events, betrayals and emotional reckonings. Initially jarring as it flits between random stories and stark settings, it gradually builds an emotional connection to these individual experiences. The result is an intriguing experiment that is involving enough to attract festival audiences.
There are tales of deception and insecurity; lost opportunities and feelings of inadequacy, suicide attempts and self-harm
Best known as the director of The Life Of Fish (2010) and The Memory Of Water (2015), Bize has assembled a strong cast to impart a succession of self-filmed stories that are all true. Some of them are the actual experience of the actors who impart the stories – but we are never told which. In keeping with pandemic lockdowns, the film has the feel of a Zoom call or a succession of audition tapes. Cast members are also credited as cinematographers and screenwriters, and we assume they had responsibility for their own lighting and the locations in which they chose to perform. The camera is static throughout but, like many a Zoom call, the eye wanders around the image picking out the volumes on shelves groaning with books, the Nick Cave album cover, the crimson walls of a kitchen, the bleak white of a bathroom and the drab surroundings of a woman who has fled an abusive husband to protect herself and her son.
One individual expresses the notion that lockdowns have provided the luxury or the curse of being obliged to spend more time at home, alone or with families and loved ones. It has been a chance to confront disappointments, reflect on significant events of the past, reconsider priorities, scrutinise relationships or contemplate the heavy burdens of parenthood. Some of the individuals look like hostages, trapped at home and negotiating their release through an honest reckoning with their circumstances.
Bize breaks up the eight stories into bite-sized morsels which can frustrate the simple desire to know what happens next. He begins with one of the strongest vignettes, in which a woman (an intense Antonia Zegers) recounts the desperate measures she took to place herself and her five year-old son out of harm's way. Later, in another highlight, a man (Nicolas Poblete) reveals the family issues that have scarred his entire life, detailing mental health problems and panic attacks, and the way he was finally able to make sense of what lay behind his anxiety.
Elsewhere, there are tales of deception and insecurity; lost opportunities and feelings of inadequacy, suicide attempts and self-harm. Musician (Me llamo) Sebastian tells one of the stories and has also composed a soulful song. The pacing and rhythm of the film accelerates in the closing stages, moving more frequently between stories as we reach a pay-off.
It is the dark side of family that dominates here, with instances of absent fathers, violent partners and abuse. There is also a prevailing sense of messy, flawed people trying to do their best. Bize includes footage provided by Argentine actor Veronica Intile who had filmed the home birth of her son; fitting for a film which acknowledges the circle of life, the rebirth of hope and the endless chances for imperfect individuals to try again.
Production companies: Ceneca Producciones, Filmo Estudios
International sales: Ceneca Producciones. adrian@ceneca.cl
Screenplay: Matias Bize, Nicolas Poblete, Nestor Cantillana, Vicenta Ndongo, Veronica Intile, (Me Llamo) Sebastian
Cinematography: Antonia Zegers, Nicolas Poblete, Nestor Cantillana, Blanca Lewin, Vicenta Ndongo, Alex Brendemuhl, Veronica Intile, (Me Llamo) Sebastian
Editing: Rodrigo Saquel
Music: Rodrigo Jarque, (Me Llamo) Sebastian
Main cast: Antonia Zegers, Nicolas Poblete, Nestor Cantillana