Luke Evans, Rebecca Hall and Bella Heathcote star in a drama about a sexual liason which helped give rise to the character of Wonder Woman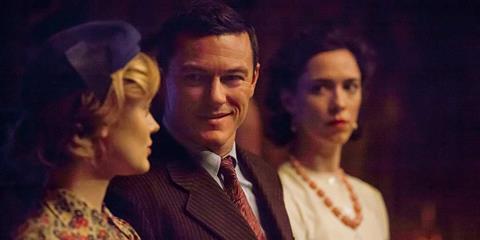 Dir/scr. Angela Robinson. US. 2017. 108mins
A very different kind of comic book origin story is presented in Professor Marston And The Wonder Women, a biopic that traces the history of William Moulton Marston, the Harvard psychologist who dreamed up Wonder Woman with the help of his wife and their mutual lover. Writer-director Angela Robinson chronicles a complex love story that investigates kinkiness, social mores and the impetus for art, resulting in a drama that's far more intellectually intriguing than emotionally engaging. Guided by Rebecca Hall's fine performance as William's sharp, brittle wife, Professor Marston is a film about sexual freedom than ends up feeling a little too conventional.
Professor Marston takes care to explain how William's attraction to bondage, submission and punishment helped captivate readers when his superhero engaged in the very same pursuits
Professor Marston hits US theatres on October 13, no doubt hoping that Wonder Woman's massive grosses will spur interest in this biopic. (Also a plus: Luke Evans was one of the stars of this spring's live-action Beauty And The Beast.) Spanning about 20 years, the film focuses on William (Evans), a professor and psychologist, and his equally brilliant wife Elizabeth (Hall). Interested in inventing a lie-detector test during the late 1920s, they recruit one of his students, a beauty named Olive (Bella Heathcote), to help with their experiments. But they soon realize they both have feelings for the young woman — and that she has feelings for them — which inspires them to try a polyamorous relationship, even if it means they must be secretive around their neighbours and peers.
Robinson, a prolific writer, director and producer of TV dramas (The L Word, True Blood), ambitiously balances the trio's evolving relationship with William's interest in popularising his theory about the distinct emotional categories (including dominance and compliance) he believes define all human interactions — a theory that will, ultimately, be utilised in the creation of Wonder Woman. Professor Marston takes care to explain how William's attraction to bondage, submission and punishment helped captivate readers when his superhero engaged in the very same pursuits.
The filmmaker quickly establishes the three principal characters' different personalities. Where Elizabeth is caustic and witty, William is more gregarious, and Olive is impressionable, sweet and a little intimidated by their brains and self-confidence. And as Professor Marston dramatises the development of the lie-detector machine, there are elements of eroticism and danger mixed into the experiments. When William is rigged up to the machine, Elizabeth asks him point-blank about his feelings for Olive, whom he swears he doesn't love. Once the lie-detector indicates he's not being truthful, the suspense and sexual tension grow.
Professor Marston proves less compelling once the characters dive into their relationship. Societal scorn and the challenges of making a polyamorous relationship work — especially when the possibility of jealousy always exists — are dramatically rich obstacles, and the film helps normalise a romantic arrangement that, even now, is viewed as odd, even perverse. Unfortunately, Professor Marston slowly and inextricably drifts into biopic clichés, pummelling the viewer with bland montages, an uninspired flashback-laden structure and other on-the-nose narrative devices.
Nonetheless, Hall is superb as a woman held back by a sexist society who has used her intellect to shield herself from disappointment. Once Olive enters the picture, Elizabeth has a much harder time hiding her feelings, and the character's journey to be more honest about her emotions is quietly affecting. Evans is broader as William, whose determination to make his name in the world isn't expertly drawn. As for Heathcote, she's suitably bewitching, but Professor Marston ends up reducing her to a third wheel in this relationship, mostly empowering the other characters' agenda.
Production companies: Stage 6 Films, Topple Pictures, Boxspring Entertainment
International sales: Annapurna Pictures, michaelt@annapurnapics.com
Producers: Terry Leonard, Amy Redford
Executive producers: Andrea Sperling, Jill Soloway
Cinematography: Bryce Fortner
Production design: Carl Sprague
Editor: Jeffrey M. Werner
Music: Tom Howe
Main Cast: Luke Evans, Rebecca Hall, Bella Heathcote, JJ Field, Chris Conroy, Alexa Havins, Oliver Platt, Connie Britton