Online thriller crackles with tension, despite some credibility issues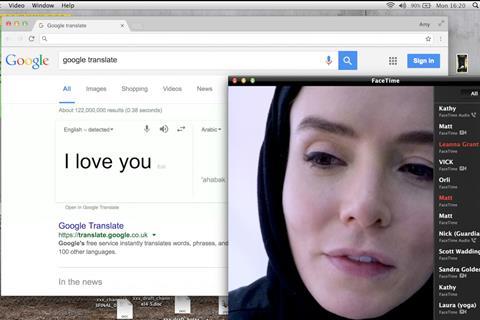 Dir: Timur Bekmambetov. US/United Kingdom/Cyprus/Russian Federation. 2018. 105 mins
Amy (Northern Irish actress Valene Kane), an ambitious freelance television reporter, sets up a fake Facebook profile, posing as a new convert to Islam in order to investigate the recruiting and trafficking of young women as ISIS brides. But the rapport she develops with Bilel (Shazad Latif), a dashing Isis recruiter with a penchant for kalashnikovs and cutesy cat gifs, blurs the line between investigative journalism and real life.
Like Search, which premiered in Sundance and was produced by Profile director Timur Bekmambetov, the story is told entirely on a computer screen, through skype, social media and editing programs. And despite the restrictions of this device, the film crackles with tension. However, the romantic charge in this 'skyping with the enemy scenario' is not entirely credible – although the film is based on the book 'In The Skin Of A Jihadist' by French reporter Anna Erelle, this element of the story is fictional.
Given that many of the unpolished images we see are captured on phones or webcams, it is not as unpleasant to watch as might be expected.
The formal novelty, plus the newsworthy subject matter should attract both buyers and audiences to this timely thriller from Timur Bekmambetov. And while the device of letting the story play out on a computer screen would seem to make it uniquely suited to distribution through streaming platforms, it could also work theatrically. The distinctive approach to the storytelling means that the film is rather more effective at exploring the dark side of the digital world than previous attempts, such as Nerve and Chatroom, which have failed to connect with audiences.
With the rent overdue on her East London flat, and her ballbusting producer barking for content, Amy takes a risk. Search engine windows flash up cautionary tales of young girls sold as ISIS sex slaves, and murdered for attempting to return home from Syria. But with emails from her landlord hectoring from her inbox, and her boyfriend Matt (Morgan Watkins) suggesting that they downgrade their expectations of the flat they plan to share together, Amy creates an alternate identity; Melody Nelson, nineteen-year-old convert to Islam.
Attracting the interest of an ISIS recruiter is unnervingly easy. A few reweeted beheading videos – a fortuitous skype call obscures the actual execution – and Bilel pops up in Facebook messenger, deploying emojis and promises of a better life with him in Syria. Soon Amy is juggling identities and skype conversations with Bilel, while fielding video calls from a producer who is salivating over the story, a boyfriend unilaterally planning their future and her boozy best friend. Crucial to her survival in this hostile online territory is the IT support worker, Lou (Amir Rahimzadeh), himself of Syrian extraction.
The fascination that Bilel soon exerts over Melody/Amy is tricky to reconcile with the sophisticated, ambitious young woman we meet at the film's opening. Yes, he's dangerously charismatic, but it's hard to believe that anyone but the most credulous teenager would have their head turned by his phone footage love letters and juvenile gifs. Amy's professional ambition is the more credible explanation for the lengths to which she goes to snare Bilel.
Music comes from iTunes and Spotify on shuffle – Serge Gainsbourg's 'Ballade de Melody Nelson' gives Amy a name for her alter ego. Occasional moments of humour come from her frantic googling: "Is skype marriage legal?" she types. And given that many of the unpolished images we see are captured on phones or webcams, it is not as unpleasant to watch as might be expected.
Production company: Bazelevs
International sales: New Regency
Producers: Timur Bekmambetov, Olga Kharina
Screenplay: Brittany Poulton, Timur Bekmambetov, Olga Kharina
Editor: Andrey Shugaev
Production design: Ben Smith
Main cast: Valene Kane, Shazad Latif, Christine Adams, Amir Rahimzadeh, Morgan Watkins